Euro-2025 (U-21): the draw determined the rivals of Ukraine in the qualifying tournament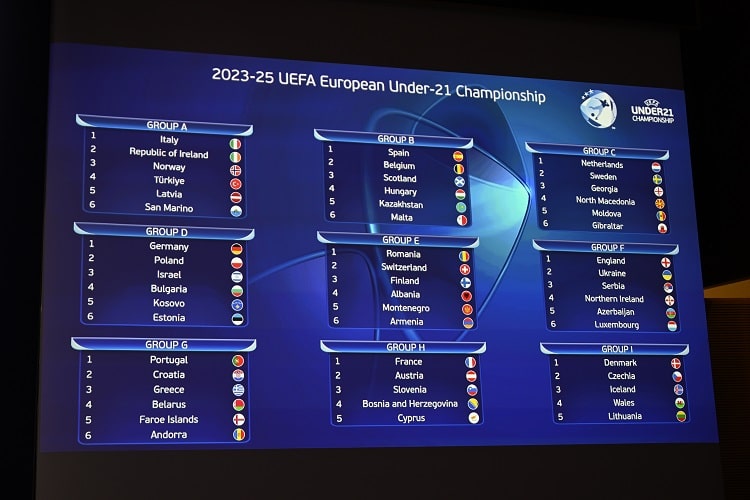 Today, February 2, the draw ceremony for the Euro-2025 qualifying tournament (U-21) took place in Nyon.
There will be 2025 teams participating in the 53 European Championship among the youth national teams, one of which, Slovakia, as the host, already has a ticket to the final tournament. Liechtenstein did not qualify, and Russia, according to the decision of the UEFA Executive Committee, was not allowed to participate in the competition.
Thus, 52 national teams will play in the selection. According to the UEFA rankings (indicators in the qualifying and final competitions of Euro-2019, Euro-2021 and in the selection for Euro-2023) teams was divided into six baskets. Ukraine was in the second place.
According to the results of the draw, our team got into group F, where its opponents will be the national teams of England, Serbia, Northern Ireland, Azerbaijan and Luxembourg.
The composition of the groups of the Euro-2025 qualifying tournament (U-21)
Group A: Italy, Ireland, Norway, Turkey, Latvia, San Marino.
Group B: Spain, Belgium, Scotland, Hungary, Kazakhstan, Malta.
Group C: The Netherlands, Sweden, Georgia, North Macedonia, Moldova, Gibraltar.
Group D: Germany, Poland, Israel, Bulgaria, Kosovo, Estonia.
Group E: Romania, Switzerland, Finland, Albania, Montenegro, Armenia.
Group F: England, Ukraine, Serbia, Northern Ireland, Azerbaijan, Luxembourg.
Group G: Portugal, Croatia, Greece, Belarus, Faroe Islands, Andorra.
Group H: France, Austria, Slovenia, Bosnia and Herzegovina, Cyprus.
Group I: Denmark, Czech Republic, Iceland, Wales, Lithuania.
During the drawing procedure, 52 teams were divided into nine groups. Seven of them have six national teams and two have five.
The final part of Euro 2025 (U-21) will feature 16 teams: Slovakia and 15 more national teams that will join it based on the selection results (nine group winners, three best teams among runners-up and three play-off winners, in which will be played by six runners-up).
Windows for matches of the group stage of qualification
2023:
March 20-28;
June 12-20;
September 4-12;
October 9-17;
November 13-21.
2024:
March 18-26;
September 2-10;
October 7-15.
Playoffs: November 11-19, 2024.
We will remind that this year the youth national team of Ukraine will also take part in the final tournament of Euro-2023 (U-21). 21 teams will participate in the forum, which will be held from June 8 to July 16 in Georgia and Romania. According to the results of the draw, which had happened On October 18 of last year in Bucharest, the blue and yellow got into group B, where will meet with Romania, Spain and Croatia. The three best teams of Euro 2023 (except France and England) will book their places at the 2024 Olympic Games.