Conference League. "Dnipro-1" lost to AEK Cyprus in the play-off round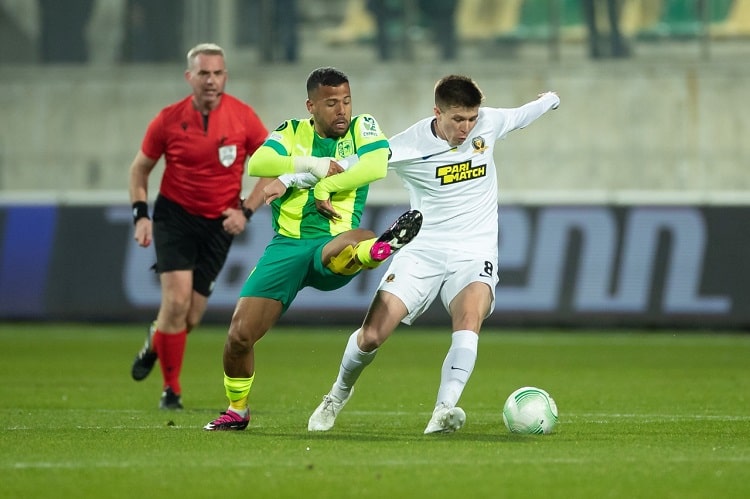 Ukrainian "Dnipro-1" started in the first round of the Conference League playoffs with an away match against Cypriot AEK.
Oleksandr Kucher's wards took it the second step in the E League group of conferences, so in their debut season in the European Cups, they continued the fight in the spring part of the tournament. In the stick round of the playoffs in black and yellow dropped out to meet AEK, well known to Ukrainian fans. It was the team from Larnaca that knocked out "Dnipro-1" in the qualification of the Europa League, and then competed with "Dynamo" from Kyiv in the group stage of the League.
It was the first official match of 2023 for the Dnipro people. At the same time, the coach immediately threw into the battle the Brazilian newcomers Heiner and Peglow. These factors affected the guests, because AEK dominated at the start of the Cypriot match. Trichkovsky made several dangerous shots, and Lopes, getting caught in the penalty area, hit the crossbar. In the 22nd minute, Dnipro responded with Dovbyk's blocked shot after Amash's cross. In the future, the game went without moments at both goals until the break.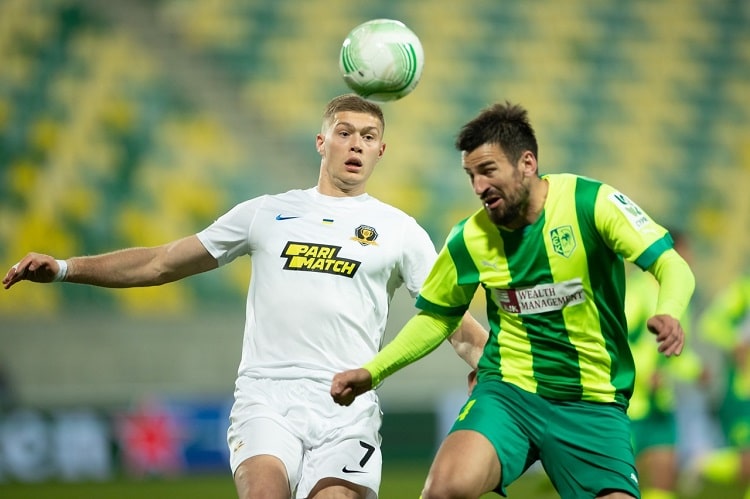 Photo by scdnipro1.com.ua
In the second half, the teams played evenly. First, Valef parried Farage's shot in the "nine", then Dovbyk checked Pirych after a corner. In the 58th minute, Faraj shot past the goal from a great position, then Hutsulyak hit the target. Subsequently, the Cypriots had inaccurate shots from Jakolysh, García and Nikolich, and in "Dnipro-1" a great moment after Dovbyk's kick was not used by Pikhalyonok - it was saved by Pyrych.
And yet, in the 84th minute, AEK did score - Garcia blocked Gustav's pass from the set piece. Moreover, soon Valef had to save after Nikolich's shot. As a result, Dnipro lost in Cyprus - 0:1. The return match will be held on February 23 in Kosice, Slovakia, at the Košice Football Arena stadium.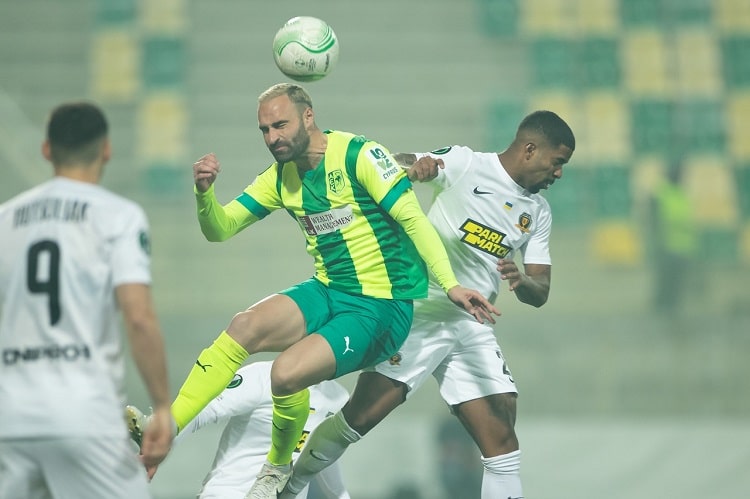 Photo by scdnipro1.com.ua
In the Dnipro-1 team, the players who were called up for the last national team training took part in the match: Sarapii, Pikhalyonok (replaced in the 89th minute), Dovbyk (replaced in the 89th minute).
Conference League. Contact round. The first match
AEK (Cyprus) — "Dnipro-1" (Ukraine) — 1:0 (0:0)
Goal: Garcia (84).
AEK: Pyric, Rosales, Milicevic, Tomovic, Garcia, Pons, Gustavo (Gonzalez, 90+2), Farage (Englezu, 90+2), Trichkovski (k) (Nikolic, 65), Jakolish (Casas, 88), Lopes (Oyer , 88).
Substitutions: Toumbas, Stylianidis, Kypros, Naum, Andreu, Mamas.
Trainer: Jose Luis Oltra.
"Dnipro-1": Valef, Hayner, Svatok (k), Sarapiy, Amash (Gorbunov, 46), Babenko, Rubchinsky (Tanchyk, 58), Hutsuliak, Pikhalyonok (Kogut, 89), Peglow (Blanko, 46), Dovbyk (Nazarenko, 89).
Substitutions: Rybak, Kinareykin, Kononov, Adamiuk.
Trainer: Alexander Kucher.
Referee: Jacob Kehlet (Denmark).
Booked: Garcia (40) — Amash (20), Tanchyk (59), Kucher (90+4, not on the field).
February 16. Larnaca. AEK Arena.