WU-19: the youth women's national team of Ukraine learned the dates and venues of the matches of the second round of Euro-2023 selection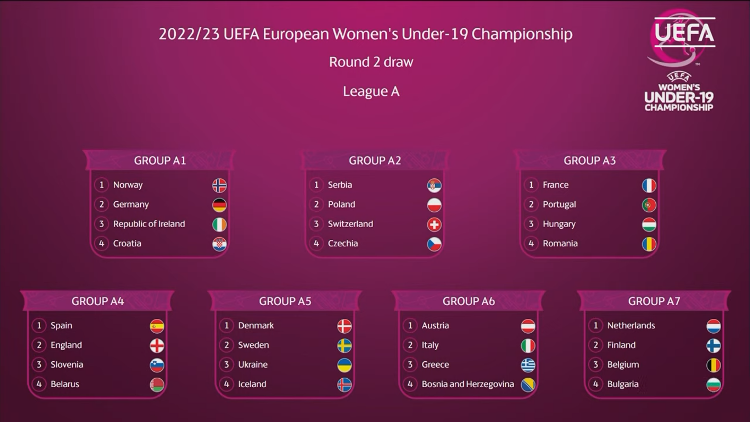 Soon, the youth women's national team of Ukraine WU-19 will take part in the matches of League A of the second stage of the Euro-2023 selection and will try to make it to the final tournament.
Valery Palamarchuk's team is waiting for the second stage of selection in League A Euro-2023. The blue and yellow will play in group 5 together with the teams of Denmark, Sweden and Iceland. Tournament in our quartet will kick-off in Denmark in the period from April 5 to 11. The cities of Kege and Brondby will host the matches.
Euro-2023 (WU-19). Second round. Group A5
05.04.2023
Ukraine — Sweden (15.30)
Denmark - Iceland (20.00)
08.04.2023
Denmark - Ukraine (15.30)
Sweden — Iceland (20.00)
11.04.2023
Sweden - Denmark (15.30)
Iceland - Ukraine (15.30)
The kick-off is Kyiv time.
In League A, 28 teams will play in seven groups, including seven national teams that were promoted from League B following the results of the first round. The seven group winners from the second round of the A-League (and the best runner-up if Belgium finishes first in the group) will qualify for the final stage, which will be played from 18th to 30th July. The fourth-placed teams in the groups will start the first round of the 2023/2024 season in League B.
Teams in League B, including those relegated from League A after the autumn stage, in seven groups (three with four participants, four with three) will fight for tickets to the first round of League A in the next draw.
We will remind, the youth women's national team of Ukraine took it third place in their first round group and kept their registration in League A.
Euro-2023 (WU-19). Second round
League A
Group A1: Norway, Germany, Ireland, Croatia.
Group A2: Serbia, Poland, Switzerland, Czech Republic.
Group A3: France, Portugal, Hungary, Romania.
Group A4: Spain, England, Slovenia, Belarus.
Group A5: Denmark, Sweden, Ukraine, Iceland.
Group A6: Austria, Italy, Greece, Bosnia and Herzegovina.
Group A7: The Netherlands, Finland, Belgium, Bulgaria.
League B.
Group B1: Israel, North Macedonia, Georgia, Gibraltar.
Group B2: Turkey, Moldova, Lithuania, Andorra.
Group B3: Northern Ireland, Kosovo, Cyprus, Latvia.
Group B4: Malta, Faroe Islands, Armenia.
Group B5: Slovakia, Montenegro, Azerbaijan.
Group B6: Wales, Kazakhstan, Estonia.
Group B7: Scotland, Albania, Liechtenstein.