WU-17: players of the girls' national team of Ukraine — about success in the second round of Euro-2023 selection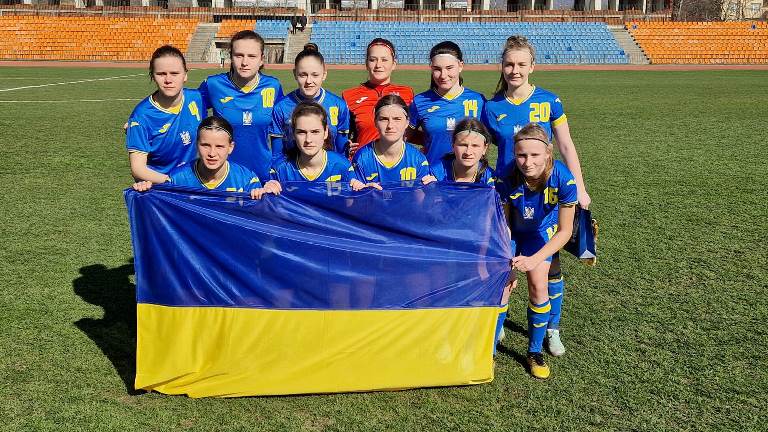 Football players of the women's national team of Ukraine WU-17 commented on the return to League A of the qualification for the European Championship.
In group B6 of the second round of Euro-2023 selection, Serhiy Sapronov's wards secured the first step. Ukrainian women managed to win over Bulgaria - 2:1 and Latvia (5:0). After the second match, the players of our national team shared their emotions.
"The team was preparing for this game, we were determined to win because we needed to get back to League A. It was our only option. We are very happy that we won with such a score. The coaches gave us the setup, showed us how to play. We got together, repeated what they showed us," said Anastasia Zhigadlo.
"We were preparing for this match, we knew that Latvia would be stronger than Bulgaria. But we played to the end, showed our character, our game, achieved the goal. We were a little unlucky in the first half, but we got our way in the second. This victory is for all Ukrainians, for the Armed Forces, for the whole country in such a difficult time," Lidia Zaborovets said.
"We analyzed the rival team on theory and were ready for anything. We are very happy, because we worked a lot. I want to congratulate the team and all of Ukraine," Diana Borovska shared her emotions.
Euro-2023 (WU-17). Second round. Group B6
03.03.2023
Bulgaria - Ukraine - 1: 2
06.03.2023
Ukraine — Latvia — 5:0
Standings
| | | | | | | | |
| --- | --- | --- | --- | --- | --- | --- | --- |
| | | G | W | D | L | GD | P |
| 1 | Ukraine | 2 | 2 | 0 | 0 | 7-1 | 6 |
| 2 | Bulgaria | 1 | 0 | 0 | 1 | 1-2 | 0 |
| 3 | Latvia | 1 | 0 | 0 | 1 | 0-5 | 0 |
09.03.2023
Latvia — Bulgaria (14.30:XNUMX p.m.)
Euro-2023 (WU-17). Second round
League A
Group A1: Czech Republic, Poland, Estonia, Romania.
Group A2: England, Norway, Belgium, Croatia.
Group A3: Germany, Portugal, Hungary, North Macedonia.
Group A4: Switzerland, Slovenia, Austria, Slovakia.
Group A5: Ireland, France, Italy, Kosovo.
Group A6: Spain, Denmark, Serbia, Belarus.
Group A7: Netherlands, Finland, Sweden, Wales.
League B.
Group B1: Greece, Faroe Islands, Lithuania, Moldova.
Group B2: Bosnia and Herzegovina, Kazakhstan, Azerbaijan, Montenegro.
Group B3: Scotland, Israel, Georgia.
Group B4: Iceland, Luxembourg, Albania.
Group B5: Northern Ireland, Turkey, Armenia.
Group B6: Ukraine, Latvia, Bulgaria.
Teams in League B, including those relegated after the autumn stage from League A, in six groups (two with four participants, four with three) fight for tickets to the first round of League A of the next draw. They will be awarded to the winners of the groups, as well as to the best second team.
We will remind you that the women's national team of Ukraine is in its group of the first round took it last place and relegated to League B.
In League A, 28 teams play in seven groups, including seven national teams that were promoted from League B following the results of the first round. The seven group winners from the second round of the A-League (and the best runner-up if Estonia finishes first in the group) will qualify for the final stage, which will take place between 14 and 26 May. The fourth-placed teams in the groups will start the first round of the 2023/2024 season in League B.