Vbet League. "Dynamo" defeated "Dnipro-1", and "Shakhtar" topped the table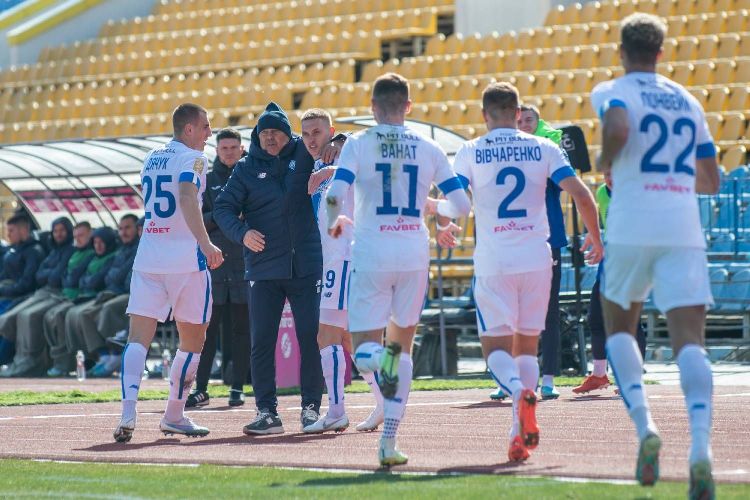 On Sunday, March 12, the final four matches of the 17th round of the championship of Ukraine took place.
In the central game of the weekend, "Dnipro-1" and "Dynamo" met in Uzhgorod. The fate of the match was decided by Buyalskyi's goal after a mistake by the opponents in defense, which became Vitaliy's 11th in the championship. The end of the meeting turned out to be emotional, and after the final whistle, the author of the winning goal received a red card.
As part of both teams, football players took to the field, who got calls Ruslan Rotan for the March meeting of the national team. In "Dnipra-1" it is Svatok, Pikhalyonok, Dovbyk, in "Dynamo" - Karavaev (yellow card), Sydorchuk, Buyalskyi (goal, substituted in the 89th minute, red card).
"Shakhtar" took full advantage of the defeat of "Dnipro-1", which became the leaders of the Ukrainian Premier League. The players went to Kryvyi Rih between the Europa League matches with Feyenoord. There they pressed Kryvbas in the second half: first Sudakov scored, then Kelsey scored the debut goal for Shakhtar, and Shved, who returned from injury, scored the third goal.
As part of the orange and black team, the players of the Ukrainian national team entered the field: Trubin, Konoplia, Matvienko (goal assist), Stepanenko (replaced at the 60th minute), Zubkov (replaced at the 71st minute), Bondarenko (replaced at the 87th minute ), Sudakov (goal, assist).
In Rivne, "Veres" miraculously did not manage to press "Vorskla". The home team earned two penalties in stoppage time, but Poltava goalkeeper Isenko parried both. It is also worth noting the striker of the visitors Seferi, who scored six goals in the last four UPL matches.
Finally, in Lviv, Orihovsky's goal brought "Colossus" a minimal victory over the local "Rukh".
Vbet League
17 round
11.03.2023
"Mynai" - "Alexandria" - 1:1
"Zorya" — "Lviv" — 3:1
"Ingulets" — "Metalist" — 2:1
"Chornomorets" - "Metalist 1925" - 1:1
12.03.2023
Dnipro-1 - Dynamo - 0: 1 (0: 1)
Goal: Buyalsky (41).
Sent off: Buyalskyi (90+9, not on the field).
Veres - Vorskla - 2: 2 (0: 1)
Goals: Kravets (48, own goal), Haiduchyk (60) — Seferi (25, 85, from the penalty).
In the 90th + 2nd minute, Klots ("Ver") missed a penalty kick (goalkeeper).
In the 90th + 3rd minute, Vovchenko ("Ver") missed a penalty kick (goalkeeper).
"Kryvbas" — "Shakhtar" — 0:3 (0:0)
Goals: Sudakov (58), Kelsey (80), Shved (83).
Rukh - Kolos - 0: 1 (0: 0)
Goal: Orikhovskyi (64).
Standings
| | | | | | | | |
| --- | --- | --- | --- | --- | --- | --- | --- |
| | | G | W | D | L | GD | P |
| 1. | Shakhtar | 16 | 12 | 3 | 1 | 43-12 | 39 |
| 2. | Dnipro-1 | 16 | 11 | 3 | 2 | 33-13 | 36 |
| 3. | Zorya | 17 | 10 | 4 | 3 | 38-25 | 34 |
| 4. | Dynamo | 17 | 10 | 3 | 4 | 25-15 | 33 |
| 5. | Oleksandriya | 16 | 7 | 6 | 3 | 29-25 | 27 |
| 6. | Kolos | 17 | 6 | 5 | 6 | 15-19 | 23 |
| 7. | Kryvbas | 17 | 6 | 3 | 8 | 12-19 | 21 |
| 8. | Metalist 1925 | 17 | 4 | 8 | 5 | 17-28 | 20 |
| 9. | Vorskla | 17 | 5 | 4 | 8 | 22-25 | 19 |
| 10. | Inhulets | 16 | 5 | 4 | 7 | 16-19 | 19 |
| 11. | Veres | 17 | 5 | 3 | 9 | 20-25 | 18 |
| 12. | Rukh | 16 | 4 | 5 | 7 | 19-24 | 17 |
| 13. | Metalist | 17 | 4 | 4 | 9 | 17-27 | 16 |
| 14. | Chornomorets | 17 | 3 | 6 | 8 | 14-22 | 15 |
| 15. | Mynai | 17 | 3 | 6 | 8 | 12-21 | 15 |
| 16. | Lviv | 16 | 3 | 3 | 10 | 11-24 | 12 |
18 round
17.03.2023
"Metalist" — "Alexandria" (13.00)
18.03.2023
"Vorskla" — "Metalist 1925" (13.00)
Dynamo - Zorya (14.00)
"Lviv" — "Kryvbas" (14.00)
"Veres" — "Dnipro-1" (15.00)
19.03.2023
"Ingulets" — "Chornomorets" (13.00)
Kolos - Minai (14.00)
Shakhtar vs Rukh (15.00)