Euro-2023 in women's futsal. The main figures of the national team of Ukraine - about the historic victory over Hungary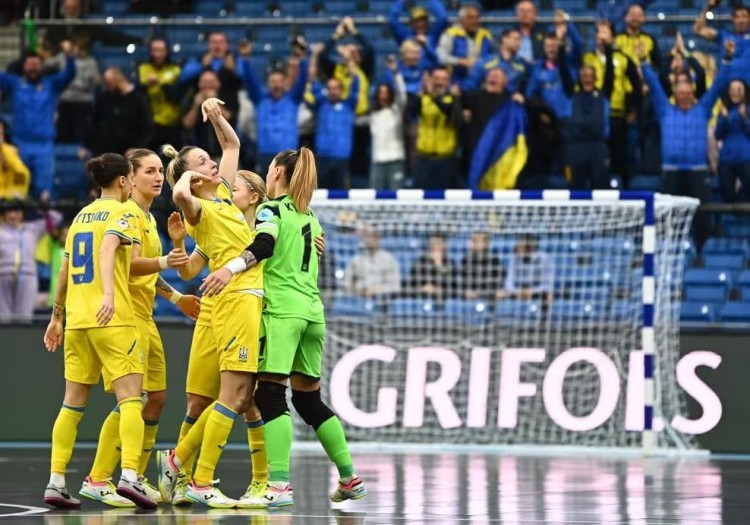 Head coach of the women's futsal team of Ukraine Oleg Shaitanov and team player Anna Shulga commented on the entry into the final of the European Championship.
In the semifinals of Euro-2023, the blue-yellow team beat Hungary (2:1) thanks to Anna Shulga's double. The post-match comments of the representatives of the women's futsal team of Ukraine leads the UEFA official website reports..
"It's a really incredible feeling to reach the final! We are glad to be at this tournament. We were prepared for the kind of game it turned out to be, with our opponents defending deep, but we didn't feel that the winning goal wasn't going to come.
I am happy that my injury problems are behind me and I am making up for missing the last tournament. It's a really fantastic feeling to score the two goals that took us to the final. Although it doesn't matter who scored, the main thing is that we are in the final!" Anna Shulga said.
"It was not an easy journey. We've had a lot of injuries, a lot of sweat and tears, but we're in the finals, and it's incredible!
We expected Hungary to be a very tough opponent. We had several difficult matches with the Hungarians in Cherkasy and at the last Euro. Maybe sometimes we didn't take our chances as well as we should have, but the result is important, because our goal was to reach the final, first of all," Oleg Shaitanov said.
The women's futsal team of Ukraine made it to the Euro finals for the first time in history. The champion of both previous tournaments - the Spanish team - will be waiting for her there. The match will be held on Sunday, March 19 (start at 21.00:XNUMX p.m. Kyiv time).
Women's Futsal Euro-2023
17.03.2023
1/2
Ukraine - Hungary - 2:1 (1:1)
Goals: Shulga (15, 32) — Horvat (12).
Ukraine: Kislova — Shulga, Hrytsenko, Dubytska, Forsyuk (k); Mitrofanska, Terek, Drozd, Tytova, Kyrylchuk, Volovenko, Skibina, Babenko, Dyatel.
Hungary: Torma — Fyulep, Tot, Kraschenych, Horvat; Hargash, Salkai, Fabian, Volk, Gruber, Ivegesh, Kota, Varga (k), Koch.
Booked: Dubytska (29) — Kota (37).
Spain — Portugal — 3:2 (2:1)
19.03.2023
Match for 3rd place
Hungary — Portugal (18.00)
Final
Ukraine - Spain (21.00)
The kick-off is Kyiv time.