News from the camp of the Ukrainian national team: Sydorchuk and Tsygankov have a cold and the announcement of a closed match with "Brentford"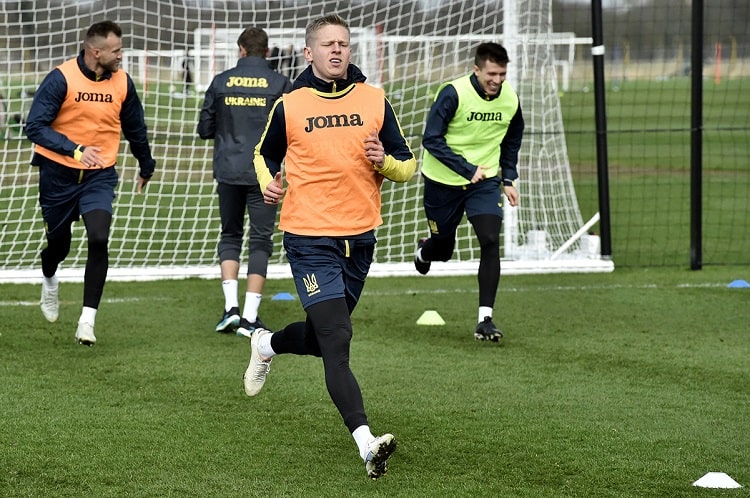 The second day of the meeting in London presented a sunny morning in contrast to the variable cloudiness characteristic of Foggy Albion on Tuesday.
The blue and yellow team arrived for the second time at the small but comfortable base of FC "Brentford" for a morning training session. 23 players took part in training, 20 of which were field players. Serhii Sydorchuk and Viktor Tsygankov caught a little cold, so the doctors advised these performers to stay at the hotel to normalize their health.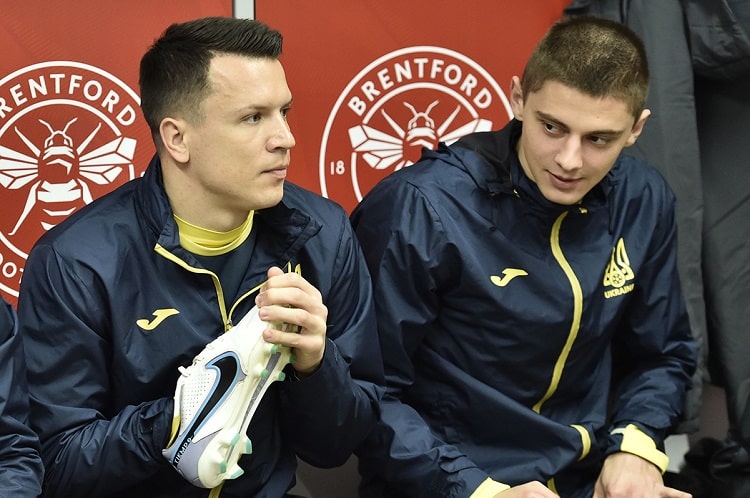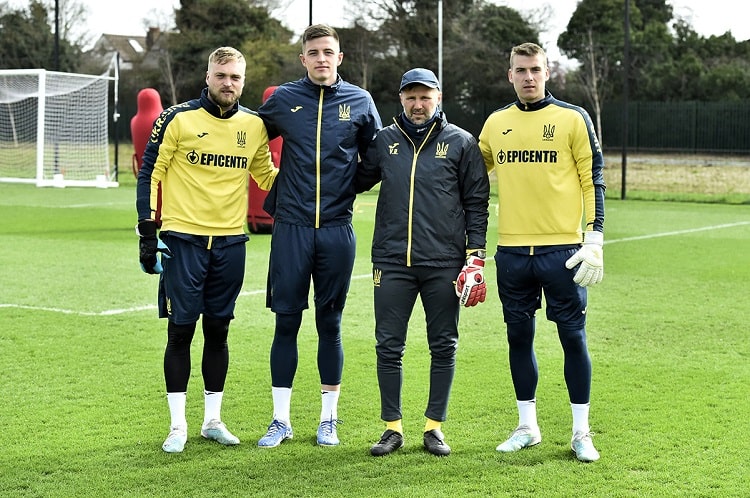 Photo by Pavlo Kubanov
As Andrii Yarmolenko continues to work on an individual schedule, the coaching staff used the playing conditions of assistant head coach Serhiy Kravchenko to balance the lineups during the game series. Thus, for Serhii, who not so long ago officially ended his career as a player, there was a kind of return to the national team not only in the role of a coach.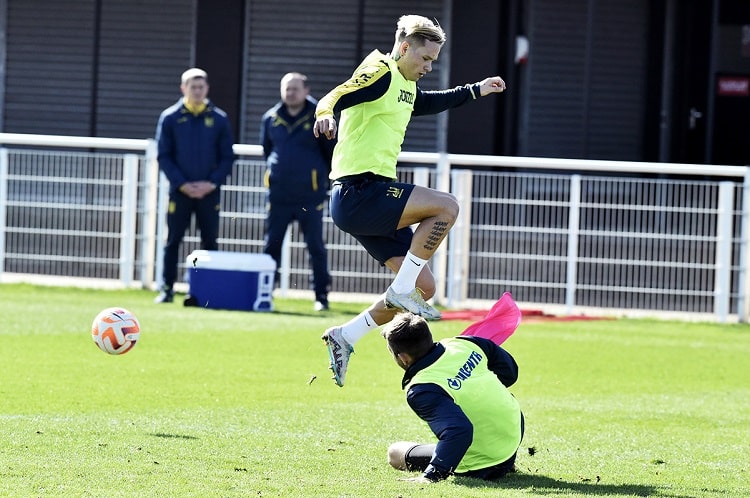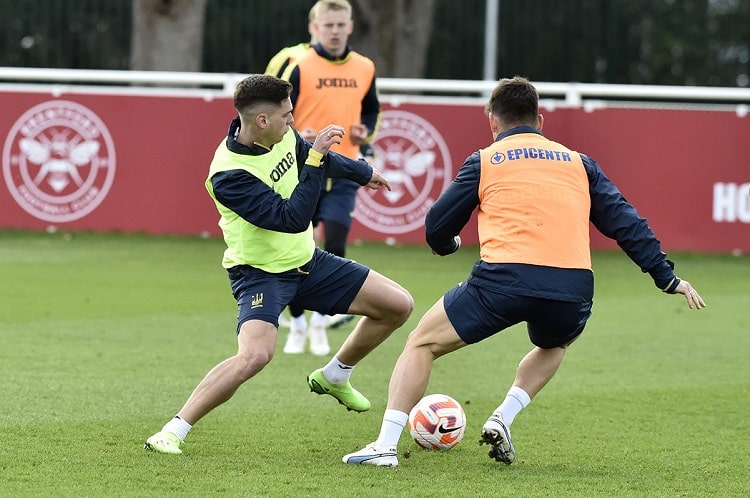 Photo by Pavlo Kubanov
After the warm-up and a game of squares, the team moved on to working out the structure of the game and performing tactical tasks in the format of game series.
Yehor Yarmolyuk, a player of FC "Brentford" and the youth national team of Ukraine, who is currently recovering from an injury, came to watch the training of the national team. After the class, the coach of the team, Ruslan Rotan, approached him to inquire about the affairs of the young compatriot: Yehor, after a course of treatment, should start working on the treadmill this week.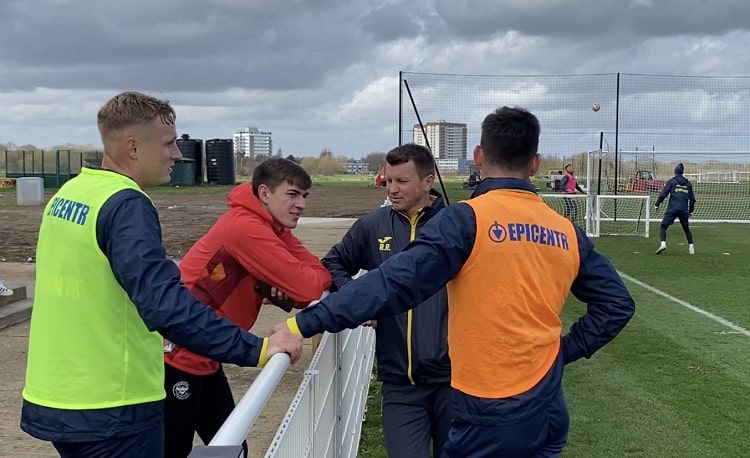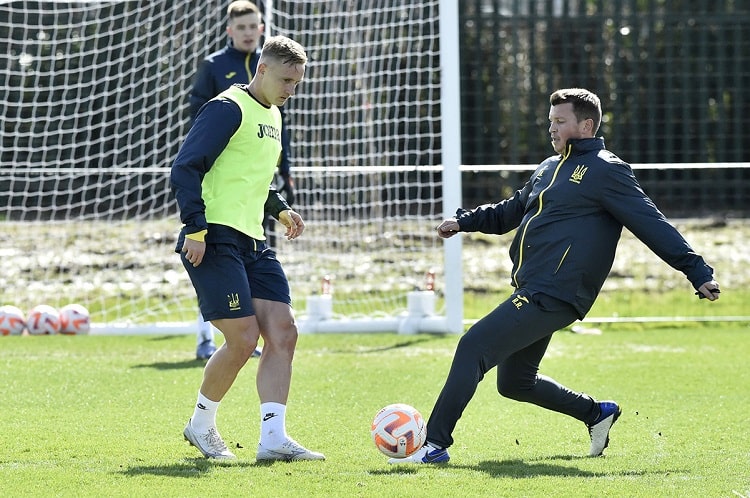 Photo by Pavlo Kubanov
After training acting head coach Ruslan Rotan met with mass media representatives in the conference hall of the "Brentford" training base.
Tomorrow, the national team will play a training game with Brentford. The match will be closed to fans and the media, but its result and video clips will be available post-facto on UAF resources.
The roster of the national team of Ukraine
Goalkeepers: Andriy Lunin (Real Madrid, Spain), Anatoly Trubin (Shakhtar Donetsk), Nikita Shevchenko (Alexandria).
Defenders: Oleksandr Karavaev, Denys Popov (both from Dynamo Kyiv), Mykola Matvienko (Shakhtar Donetsk), Vitaly Mykolenko (Everton, Liverpool, England), Eduard Sobol (Strasbourg, France), Oleksandr Svatok, Eduard Sarapiy ( both - "Dnipro-1" Dnipro), Denys Miroshnichenko ("Alexandria").
Midfielders: Taras Stepanenko, Georgy Sudakov, Artem Bondarenko (all Shakhtar Donetsk), Serhiy Sydorchuk, Vitaly Buyalskyi (both Dynamo Kyiv), Oleksandr Pikhalyonok (Dnipro-1 Dnipro), Andriy Yarmolenko (Al-Ain ) "Krakowia" Krakow, Poland).
Forwards: Roman Yaremchuk (Club Brugge, Belgium), Artem Dovbyk (Dnipro-1 Dnipro).
Oleksandr Hlyvynskyi, spokesman for the national team of Ukraine