"We will do everything to ensure that the blue and yellow colors continue their liberation movement." Address of the President of Ukraine Volodymyr Zelenskyi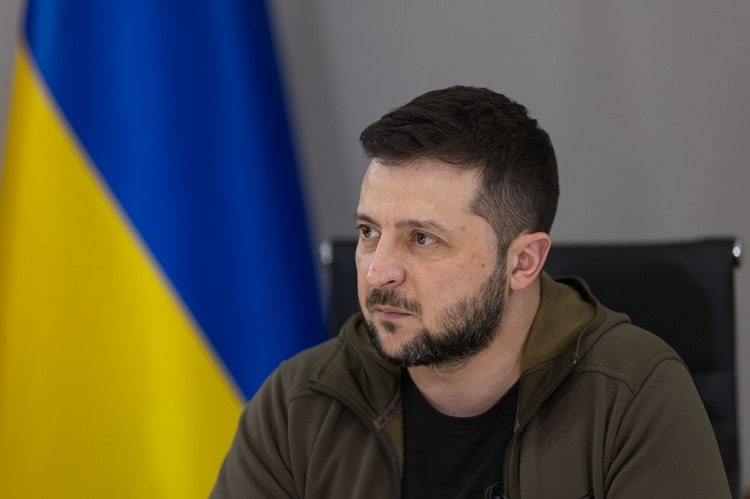 President of Ukraine Volodymyr Zelenskyy addressed the people, talking about his work in the Donbass and Kharkiv region and the need to return freedom to our Crimean Tatar community.
"I wish you health, dear Ukrainians!
Today I work all day in the regions. Donbas is the front line, our soldiers, the region. Then - Kharkiv region. The situation in Kharkiv, on the border, in all areas of the region, restoration, protection of critical infrastructure.
I started from the front, from the Bakhmut district. It is an honor for me to support our soldiers who defend the state in the harshest frontline conditions. He presented state awards, thanked our fighters for their bravery, for their resilience, for Ukraine, which we protect thanks to such heroes, thanks to each and every one who fights against Russian evil.
Visited wounded soldiers. I wished them - and I'm sure I wished on behalf of all of you, all of our people - a speedy recovery.
He thanked the doctors and nurses. And now I want to thank everyone who supports our soldiers recovering from injuries. Who helps our doctors, everyone who works for rehabilitation after injuries. I am grateful to every volunteer, every partner of ours who helps!
It is painful to look at the cities of Donbas, to which Russia has brought terrible suffering and ruin. The almost constant, hourly air-raid siren in Kramatorsk, the constant threat of shelling, the constant threat to life... Right there, in the Donbass, in the Kharkiv Region, wherever Russian evil has come, it is obvious that the terrorist state cannot be stopped by anything other than one - our victory. And we will ensure it - a Ukrainian victory.
In all areas of the east of our country, where there is a Ukrainian flag, there is also hope. It is felt. We will do everything to ensure that the blue and yellow colors continue their liberation movement, to return normal life to our entire land, from Donetsk to the border.
We will certainly respond to the occupier for every attack on our cities... Today's Russian strikes on Zaporozhye, the night attack on the Kyiv region... All Russian strikes will receive a military, political, and legal response.
Russia will lose this war. There is no subject in the world who would not feel this right now. Everyone understands all this. And every Russian murderer should understand: an arrest warrant is the best thing that can happen to them.
My condolences to all our people who lost their relatives and loved ones due to Russian terror!
In the second half of the day, I, my team, the head of the Office - we all worked in Kharkiv region. As in Donetsk region, he held a meeting on the situation in the region, on social and security needs.
It is very important that Kharkiv holds firm. Well done! Thank you, people of Kharkiv! Stay safe. The city lives, the city fights, Kharkiv gives strength to our entire east. I thank everyone who stayed in Kharkiv, who works, who gives work to others, who maintains security, protects the border! Thank you to everyone — in positions, at posts, at critical infrastructure facilities, utility workers, local authorities, businesses, educators...
The representatives of the region informed me about some issues that must be resolved by the government for stable social security of all those who work for our people in the Kharkiv Region. These issues were discussed. They discussed issues of reconstruction, humanitarian demining, restoration of energy networks. Everything that is within the competence of the government will be done without fail.
And, of course, I was very pleased to present Kharkiv with a special award. Award of the hero city, a ribbon on the city flag, denoting the special bravery of Kharkiv residents.
And one more.
This evening begins the holy month of Ramadan for Muslims. A significant part of our Ukrainian Muslim community, the Crimean Tatar people, is forced to meet Ramadan under occupation, under the threat of Russian repression and abuse in Crimea, under shelling in other parts of Ukraine and in frontline battles.
I have no doubt: we will return freedom, respect, and security to our entire state and communities. And may the power of prayer in this holy month help us to cleanse Ukraine from Russian godless evil, from those who do not really believe in anything and are capable of such terror. Let the next Ramadan begin in peace and on the entire Ukrainian land free from Russia. Ramadan Mubarak!
Glory to all who are now fighting for Ukraine and the people!
Thanks to everyone who helps every day!
Glory to Ukraine!"