Georgy Sudakov: "We don't expect the English to be tired after the match with Italy"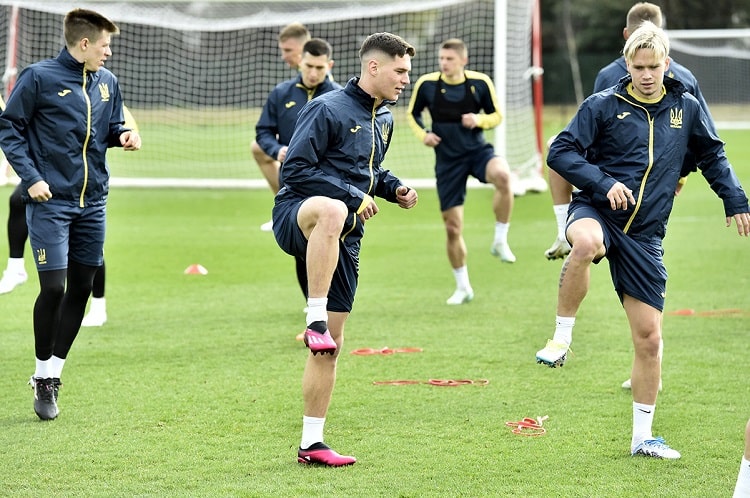 Midfielder of the Ukrainian national team Heorhiy Sudakov talked about the team's work in preparation for their first match in the Euro 2024 qualifier against England.
On March 22, the national team of Ukraine held a second training session in London at the base of the EPL club "Brentford". 23 players took part in training, 20 of which were field players. After the warm-up and a game of squares, the team moved on to working out the structure of the game and performing tactical tasks in the format of game series.
Shakhtar Donetsk midfielder Georgy Sudakov spoke about the peculiarities of the national team's training under the leadership of Ruslan Rotan.
"Our mood is positive, we are preparing for the match. The atmosphere is just great. I am glad to see all my partners. For me, Ruslan Rotan is a well-known youth team coach. His coaching style has not changed, although the "youth team" has a slightly different training schedule. This is the first gathering of the national team under the leadership of Ruslan Petrovych, and he wants to convey his ideas to all players, so he pays a lot of attention to tactics. But the training itself is the same as in the youth team.
In the current season, as part of Shakhtar, we have already had difficult matches - the Champions League, the Europa League. But I have not played for the national team at such a level yet. Only in friendly matches, and that was two years ago. During this time, a lot has changed - both the coach and the team itself. But I have changed too. Therefore, this is a new challenge.
As for the England national team, they have a very strong squad, a wide selection of performers. In my opinion, it doesn't really matter who will play them. There, everyone can go on the field and not be dropped from the team. We do not count on the fatigue of the Englishmen after the match with Italy. We have to prepare one hundred percent for this very important and difficult confrontation," said Georgy Sudakov.
We will remind you that the Euro 2024 selection match between England and Ukraine will take place on March 26 in London (starting at 19.00:XNUMX Kyiv time).