Birthday of the national team of Ukraine. 300 matches in 31 years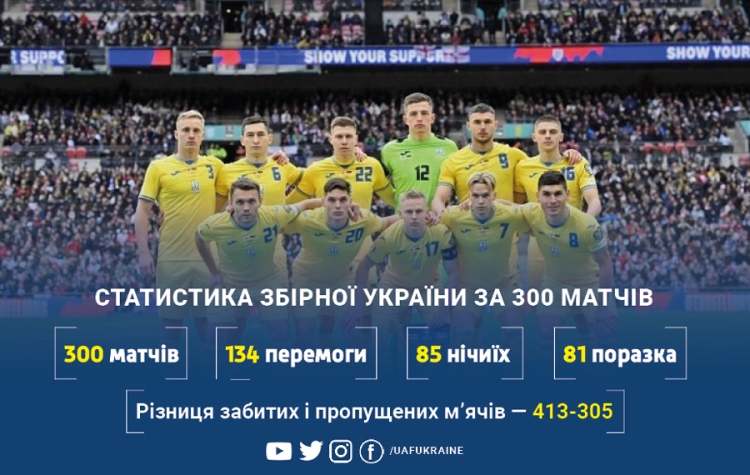 Today, the national team of Ukraine celebrates 31 years since the day of the first official match, which, we will remind, took place at the Uzhgorod stadium "Avangard" with the team of Hungary. Our south-western neighbors then turned out to be more skilled than the debutant of the international arena, and won — 3: 1.
For 31 years, our main team has played 300 matches, we have 134 victories in our assets, and 81 losses in our liabilities. A draw was recorded 85 more times. The total difference between scored and missed goals is 413-305.
We remind you that these statistics take into account the sparring match with Malta (0:1) in 2017, which is not included in the FIFA register due to too many substitutions. But we take it into account, because a large number of substitutions in friendly matches happened in our country before. And this is not a reason to delete these meetings from the biography.
National team matches by status
| | | | | | |
| --- | --- | --- | --- | --- | --- |
| Status of matches | G | W | D | L | GD |
| World Cups | 5 | 2 | 1 | 2 | 5-7 |
| World Cup qualifyings | 80 | 38 | 28 | 14 | 122-62 |
| Euro final finals | 11 | 3 | 0 | 8 | 8-19 |
| Euro qualifyings | 63 | 29 | 17 | 17 | 90-59 |
| UEFA Nations League | 16 | 8 | 2 | 6 | 20-22 |
| Friendlies | 125 | 54 | 37 | 34 | 168-136 |
| Together | 300 | 134 | 85 | 81 | 413-305 |
The national team of Ukraine in the final tournaments of the world championships
| | | | | | | | | |
| --- | --- | --- | --- | --- | --- | --- | --- | --- |
| Tournament | Coach | G | W | D | L | GD | P | Pidsumok |
| World Cup 2006 | Blochin | 5 | 2 | 1 | 2 | 5-7 | 7 | 1/4 |
The national team of Ukraine in the selection of world championships
| | | | | | | | | |
| --- | --- | --- | --- | --- | --- | --- | --- | --- |
| Tournament | Coaches | G | W | D | L | GD | P | Pidsumok |
| World Cup 1998 | Clogs | 12 | 6 | 3 | 3 | 11-9 | 21 | a playoff loss |
| World Cup 2002 | Lobanovsky | 12 | 4 | 6 | 2 | 15-13 | 18 | a playoff loss |
| World Cup 2006 | Blochin | 12 | 7 | 4 | 1 | 18-7 | 25 | exit to the World Cup from the 1st place |
| World Cup 2010 | Mikhailchenko | 12 | 6 | 4 | 2 | 21-7 | 22 | a playoff loss |
| World Cup 2014 | Blokhin, Ball, Fomenko | 12 | 7 | 3 | 2 | 30-7 | 24 | a playoff loss |
| World Cup 2018 | Shevchenko | 10 | 5 | 2 | 3 | 13-9 | 17 | 3rd place in the group |
| World Cup 2022 | Shevchenko, Petrakov | 10 | 3 | 6 | 1 | 14-10 | 15 | a playoff loss |
The national team of Ukraine in the final tournaments of the European Championships
| | | | | | | | | |
| --- | --- | --- | --- | --- | --- | --- | --- | --- |
| Tournament | Coaches | G | W | D | L | GD | P | Pidsumok |
| WHE-2012 | Blochin | 3 | 1 | 0 | 2 | 2-4 | 3 | 3rd place in the group |
| WHE-2016 | Fomenko | 3 | 0 | 0 | 3 | 0-5 | 0 | 4th place in the group |
| WHE-2020 | Shevchenko | 5 | 2 | 0 | 3 | 6-10 | 6 | 1/4 |
The national team of Ukraine in the selection of European championships
| | | | | | | | | |
| --- | --- | --- | --- | --- | --- | --- | --- | --- |
| Tournament | Coaches | G | W | D | L | GD | P | Pidsumok |
| WHE-1996 | Basilevich, Sabo, Konkov | 10 | 4 | 1 | 5 | 11-15 | 13 | 4th place in the group |
| WHE-2000 | Clogs | 12 | 5 | 6 | 1 | 16-7 | 21 | a playoff loss |
| WHE-2004 | Beet | 8 | 2 | 4 | 2 | 11-10 | 10 | 3rd place in the group |
| WHE-2008 | Blochin | 12 | 5 | 2 | 5 | 18-16 | 17 | 4th place in the group |
| WHE-2016 | Fomenko | 12 | 7 | 2 | 3 | 17-5 | 23 | access to the European Championship through the playoffs |
| WHE-2020 | Shevchenko | 8 | 6 | 2 | 0 | 17-4 | 20 | exit at the European Championships from the 1st place |
| WHE-2024 | Rotan | 1 | 0 | 0 | 1 | 0-2 | 0 | ? |
The national team of Ukraine in the UEFA League of Nations
| | | | | | | | | |
| --- | --- | --- | --- | --- | --- | --- | --- | --- |
| Tournament | Coaches | G | W | D | L | GD | P | Pidsumok |
| LN-2019 | Shevchenko | 4 | 3 | 0 | 1 | 5-5 | 9 | 1st place in League B group |
| LN-2021 | Shevchenko | 6 | 2 | 0 | 4 | 5-13 | 6 | 4th place in League A group |
| LN-2023 | Petrakov | 6 | 3 | 2 | 1 | 10-4 | 11 | 2nd place in League B group |