The national team of Ukraine with FIFA reached the upper grid of the FIFAe Nations Cup 2023 qualification playoffs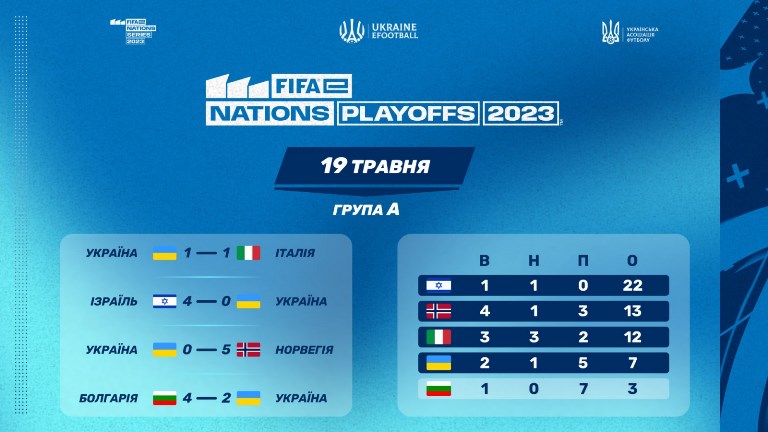 On Friday, May 19, the national team of Ukraine with FIFA held the matches of the second game day in the play-offs of the e-football world championship — FIFAe Nations Cup 2023.
This is the third stage of the selection of the world championship, the game series of which takes place in the 2vs2 format in the FIFA 23 simulator on the PS5 platform.
Oleksandr CIG Grishay Grishay and Andrii CIG ST92 Shakalov, who represent the Ukrainian national team at these competitions, started the game day with a draw with the Italian team. The blue-yellow team won throughout the match, but conceded an unfortunate goal before the final whistle.
This result affected the mood of the Ukrainian cyberfootball players, who at first could not put up a decent resistance to the Israelis (0:4), and later conceded five dry goals from the Norwegians.
In the final match of the game day, which no longer had tournament significance, our team lost to the Bulgarian national team — 2:4.
Thus, the Ukrainians finished the group stage of the FIFAe Nations Cup 2023 selection playoffs in fourth place in Group A and made their way to the upper grid of the competition.
As early as May 20, there will be head-to-head matches in the upper grid, which will determine the first winners of tickets to the e-Football World Championship. The Ukrainian team will play a two-game series against the French team.
Turn on the broadcast at 18.00 on the UAF YouTube channel and support the blue and yellow in the decisive cyber football battle of the year!