"The more Russian prisoners we take, the more we will return our people." Address of the President of Ukraine Volodymyr Zelenskyi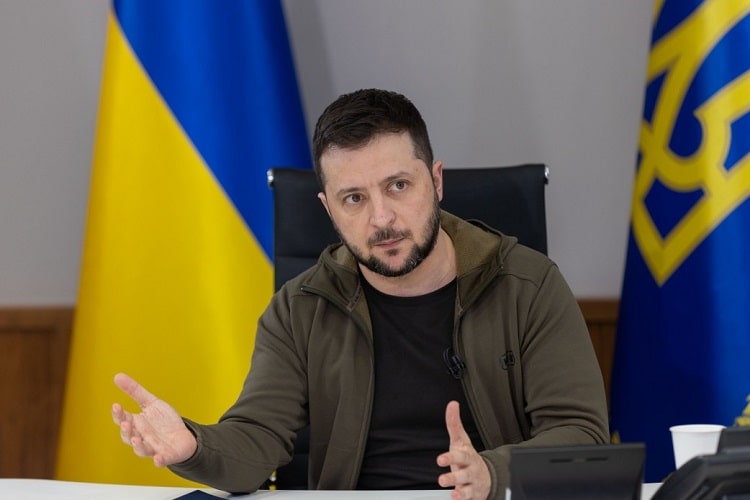 President of Ukraine Volodymyr Zelenskyy addressed the nation, talking about the return of another 106 of our soldiers from Russian captivity and about the important decision of the Council of the European Union for our country.
"I wish you health, dear Ukrainians!
Today, our exchange team has yet another positive result. Another 106 of our soldiers were returned from Russian captivity - they fought in the Bakhmut direction.
It is very important that many of these 106 people had no information at all - they were considered missing. But we found them. Returned home. Eight officers, 98 soldiers and sergeants...
Thanks to everyone who gave this result. Budanov, Yermak, Usov, Lubinets, Malyuk, Klymenko - all who prepared this exchange, well done! Just well done!
Of course, thanks also to each of our fighters who ensured that we have an adequate exchange fund. Everyone on the front lines should remember this: the more Russian prisoners we take, the more of our people we will return.
Had a meeting today in Kyiv with the Minister of Defense of Sweden. He thanked for the constant support for our country, for our soldiers. Special emphasis was placed at the meeting on strengthening our defense with armored vehicles. We also discussed our aviation coalition, which we are creating with our partners.
Today, Finland sent a new package of defense support — the 16th. The total volume of this package is more than 100 million euros. Thanks for that!
Today, there is also an important decision of the Council of the European Union for Ukraine — trade liberalization for Ukrainian products has been extended for another year. In fact, this is the complete cancellation of customs duties and quotas until June 24. And this is a new stage of sectoral integration of our economy — Ukraine and the entire European Union, something that definitely makes all of us in Europe stronger.
In the process of our promotion to the European Union, we must make such liberalization, while temporary, permanent and without any exceptions or limitations. Actually, as it should correspond to the spirit of a united and free Europe — without barriers.
I thank our European partners for this decision! Anyone who seeks strength and stability for the whole of Europe makes exactly such decisions.
We must be aware that even after this there is a risk that certain restrictions may still remain. If the pressure of individual governments on the EU continues.
But domestic politics should not overlap with common European goals. Therefore, I am sure that we will be able to find such a solution, in particular for farmers in Ukraine and in some neighboring countries, which will meet our common European interests and standards.
Today I had the honor to congratulate our State Service for Special Communication and Information Protection of Ukraine on its professional day. He thanked for the fact that communication in Ukraine remains stable for the state, our military, and ordinary citizens despite all the threats. This is an important result that helps us to sustainably and effectively oppose the Russian invaders.
There is something to thank our soldiers of the National Guard for, in particular in the Zaporozhye region. A pair of Russian "dryers" were destroyed by the 15th operational brigade of our National Guard. Thanks to two of our particularly accurate soldiers. By the way, one of them has already been awarded the title of Hero of Ukraine and has to his credit not only enemy planes, but also a downed cruise missile. Thanks guys! Well done!
Donetsk direction. The 128th Separate Mountain Assault Brigade, the 18th and 137th Separate Marine Infantry Battalions and the 74th Separate Reconnaissance Battalion were especially distinguished. Thank you - every soldier! To everyone!
Glory to all who fight for Ukraine! Thanks to everyone in the world who helps us!
By the way, I had the opportunity to address the community of the American John Hopkins University. This is one of the leading educational institutions in the USA. Its graduates are powerful personalities, and some of them have had a significant impact on politics. I wanted to appreciate time as much as possible. Because every day is important. The more we do today, the sooner we will end the war with our victory. And only ours.
Glory to Ukraine!"