Serhiy Rebrov: "I am satisfied that I have returned to Ukraine and will work for our state"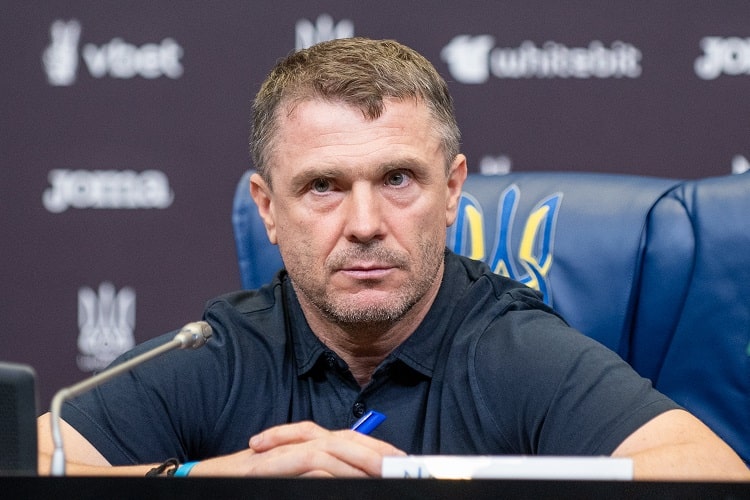 Today, June 7, the capital's House of Football took place introduction of the new head coach national team of Ukraine.
The main team of the country was headed by Serhii Rebrov, whose headquarters at the moment entered five assistants. After the presentation, the coach of the blue and yellow team answered questions from journalists during the press conference.
— First of all, I want to thank the Armed Forces of Ukraine for defending our independence, enabling us to talk about football and holding the championship of Ukraine. I personally (and, I believe, all Ukrainians) will continue to help the Armed Forces and our people who suffered from racist aggression. I am satisfied that I returned to Ukraine and will work for our state. My family is also coming back, I am very happy that my wife is so accepting of my decision. As I said earlier, we will continue to work for Ukraine.
— Serhii Stanislavovych, we have been waiting for your appointment for two years. Andriy Pavelko said that he expects from you not only a result in the first team, but also that you will build a national team system. Can you tell me if you discussed any specific tasks? Should the coach be responsible for the structure of all national teams, or is it more the job of the association?
— I was working at that time, I heard about some interest, but I had a contract. Now, when I don't have a contract, I have the opportunity to sign a contract with the Ukrainian national team. As for the institute of national teams, it is possible. The employer must decide what functions he assigns to me. If he wants me to do it, then I will do it with pleasure, because this is my country. I did it in Kyiv "Dynamo". This is very important for all national teams, because if you want a player to work, to go from one age to another, he has to work in the same structure.
— Do you already have a candidacy for the position of coach of the youth national team of Ukraine? Did you have a conversation with Ruslan Rotan about the players who are the backbone of the youth and national teams? Is it true that Ilya Zabarny will ask for permission not to participate in the Euro for personal reasons?
— I don't think that football players are very busy now, especially Zabarny, who hasn't played for a while. I have not heard anything about it, but I am sure that Ilya will never refuse if I or the coach of the youth team offer him to play. In the last six months, you, the journalists, created this atmosphere when there were many rumors about me or another coach. I had a contract that I finalized. Now I'm here, happy to have led the national team. We'll see what happens next.
As for the call-up of players, I spoke with Ruslan Petrovych about the performers who will go to the youth team. I think the first thing to do is to understand which team has the prerogative. In my opinion, this is the national team. If anyone thinks that Malta can be played with any team, then I will say that in 2017 we already played against this team like that... So we have to focus on the national team, and we will decide everything about the youth team after our game on June 19 . Now the "youth" has a coach. What will happen after the Euro - let's see.
— Can you tell us about your assistants in the national team?
- We are still negotiating, but I think that these will be the same assistants that I had in Al-Ain. These are Alberto Bosch and Vicente Gomez. There will also be Ukrainian assistants, Gleb Platov is already with us. I have known him for a long time, he worked with me in Kyiv Dynamo, then he went to Qatar, and now he works in Dnipro-1. Goalkeeper coach — Rustam Khudzhamov. We invited a physical training coach from Shakhtar to this gathering, as it was a very difficult situation. But it's only for three games, and then we'll see.
— Have you followed the last rounds of the championship of Ukraine, what impressions did you have? Who do you see as the main striker of the Ukrainian national team, given the good form of Dovbyk and Vanat, as well as Yaremchuk's problems?
— Unfortunately, Yaremchuk's injury prevents him from joining the national team. He apologized and will prepare for the season at his club. We have called up enough new candidates who have earned the right to be in the national team. The same Vanat has been showing very stable football in the last half-season, which is very important for the national team. Vlad Kochergin, whom I followed when he was still at Zora. With his performance in Poland, he earned a place in the national team. Many candidates, there is competition for every position.
— Mykhailo Mudryk and Ruslan Malinovsky are not in the best shape. Do you see them as starting or reserve players, particularly for the June matches?
— There are many performers who do not receive the kind of practice that we would consider satisfactory. When they arrive for the national team, they will have to be watched. That's why we create competition for each position - in order to see how football players will look during training. Right now I can't tell you who will be in the main squad for Germany, North Macedonia or Malta. In the training process, we should decide who is better prepared for these matches.
— Do you have enough time to prepare the national team of Ukraine for important matches?
- Yes, time is short. But what to do with it? I proposed to start the collection a day or two earlier, but it is not possible now. We have to work on the dates we have.
— Did you communicate with football players when you already understood that you will train the national team of Ukraine?
— I communicate with many football players, not only candidates for the national team. It is very important not to communicate, but to watch them in action. I watched many matches of the Ukrainian championship, championships where other candidates play, I have enough information. It is very important to start training and see how they are doing.
— When did your contract start?
— We agreed with "Al-Ain" because the contract was until June 30. Now we have received the necessary papers, so we can sign.
— Andriy Yarmolenko is likely to play for Dynamo Kyiv. How do you rate his form?
— In general, I think that Andrii is in very good shape now. I watch how he prepares at Al Ain, how he works on himself. Therefore, I will only be happy for his return to Dynamo, because this is his native home. I'm sure they're waiting for him here.
— It is believed that Andriy Shevchenko and his staff broke certain stylistic stereotypes regarding the national team of Ukraine, brought it to a new level. Is this given direction close to your concept of football?
- Maybe, but the important question is when it happened. After two years of work, when Andriy Shevchenko was practically "killed" by all the journalists for his style of play. And in two years, the national team got to the European Championship. I remember best the game against Malta, what was done after it with Andriy Mykolayovych. So I don't think style is very important. I believe that the national team of Ukraine should be more aggressive than it was in the last match against England. And you will see the style.
— What are the details of your contract, what are your challenges?
— The term of the contract is three years. The tasks, as for all coaches of the national team of Ukraine, are maximum.
— Danylo Ignatenko had a good season at Bordeaux. Do you consider him the main replacement for Taras Stepanenko?
— We also have Brazhko, who has been called up to the youth team. I like this player, he is important in the U-21 team. I look at many Ukrainian football players, I see several who can compete with Stepanenko and Sydorchuk. I know Danylo very well because he played with me in Ferencvarosh. I am confident in this football player.
There are three games ahead. We called enough performers. Perhaps Serhiy Kryvtsov will arrive later, because he is now in America. I think we have enough competition in all positions to prepare for three important matches.
— Mykolenko, Sobol, Zinchenko missed the end of the season due to injuries. Matvienko played a lot for Shakhtar. Who will take the left back position in the upcoming matches?
— If you looked at the list, you saw how many players claim this position. Unfortunately, Zinchenko is injured, we called Sobol and Mykolenko. Matvienko can play left back, but now his position is more in the center. Sobol already played 45 minutes in the last match. Mykolenko was also ready, but said that he would better prepare for the matches of the national team.
— Two official matches and a test game against Germany are ahead. How will you allocate forces for these matches?
— Unfortunately, we can only use six substitutes. In this game, it would be important to use 10, but it is what it is. This match is very important for the relations between Ukraine and Germany, for them it is the 1000th match in history. When I see the status of the players, then we will decide who will play and how many minutes.
We remind you that the contracts with the head coach and his staff are concluded until July 30, 2026. And it is these specialists who will prepare the blue-yellow team for the upcoming matches - the test against Germany, which has the status of charity and will be held in Bremen on June 12, as well as the Euro 2024 qualifying matches with the teams of North Macedonia and Malta, which will be held on June 16 and 19 in Skopje and Slovak Trnava, respectively.
The roster of the national team of Ukraine
Goalkeepers: Georgiy Bushchan (Dynamo Kyiv), Anatoliy Trubin (Shakhtar Donetsk), Andriy Lunin (Real Madrid, Spain).
Defenders: Mykola Matvienko, Valeriy Bondar, Yukhym Konoplya (all Shakhtar Donetsk), Oleksandr Tymchyk (Dynamo Kyiv), Oleksandr Svatok (SC Dnipro-1 Dnipro), Vitaliy Mykolenko (Everton, Liverpool, England), Illia Zabarnyi (Bournemouth, England), Eduard Sobol (Strasbourg, France), Serhiy Kryvtsov (Inter Miami, USA).
Midfielders: Taras Stepanenko, Oleksandr Zubkov, Georgy Sudakov (all Shakhtar Donetsk), Serhiy Sydorchuk, Vitaly Buyalskyi (both Dynamo Kyiv), Oleksandr Pikhalyonok (SC Dnipro-1 Dnipro), Andriy Yarmolenko (Al-Ain ", UAE), Ruslan Malinovskyi ("Olympic" Marseille, France), Viktor Tsygankov ("Girona", Spain), Mykhailo Mudryk ("Chelsea", London, England), Danylo Ignatenko ("Bordeaux", France), Vladyslav Kochergin ( "Rakuw" Czestochowa, Poland).
Forwards: Artem Dovbyk (SC "Dnipro-1" Dnipro), Vladyslav Vanat ("Dynamo" Kyiv), Nazariy Rusyn ("Zorya" Luhansk).
The national team of Ukraine will begin training on June 8 in Bremen.