Euro-2024 (WU-17): the women's national team of Ukraine learned about the opponents in the first round of selection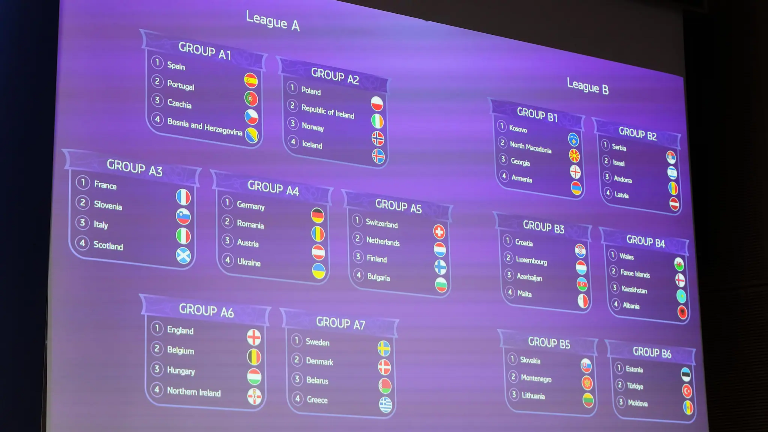 The draw ceremony for the first round of Euro 2023/2024 (WU-17) selection took place today in Nyon, Switzerland.
Before it, 50 participants were divided into League A (28 teams) and League B (22 teams) based on the ranking based on the results of the second round of Euro 2022/2023 selection. According to the results of the draw, the composition of the groups of both leagues was determined.
The women's national team of Ukraine WU-17 was drawn into Group 4 of League A along with Germany, Romania and Austria.
Draw of the first round of Euro-2024 selection (WU-17)
League A
Group 1: Spain, Portugal, the Czech Republic, Bosnia and Herzegovina.
Group 2: Poland, Ireland, Norway, Iceland.
Group 3: France, Slovenia, Italy, Scotland.
Group 4: Germany, Romania, Austria, Ukraine.
Group 5: Switzerland, the Netherlands, Finland, Bulgaria.
Group 6: England, Belgium, Hungary, Northern Ireland.
Group 7: Sweden, Denmark, Belarus, Greece.
League B.
Group 1: Kosovo, North Macedonia, Georgia, Armenia.
Group 2: Serbia, Israel, Andorra, Latvia.
Group 3: Croatia, Luxembourg, Azerbaijan, Malta.
Group 4: Wales, Faroe Islands, Kazakhstan, Albania.
Group 5: Slovakia, Montenegro, Lithuania.
Group 6: Estonia, Turkey, Moldova.
After the draw, the hosts of the mini-tournaments will be determined. The matches will take place between August 1 and November 20, 2023.
The fourth-placed teams in League A will continue their season in the second round of League B. The seeding of the participants before the second round will depend on the places in their groups that the teams occupy in the first round. Sweden also participates in the competition, despite the direct ticket to the final part, which belongs to them as hosts.
League B teams (including teams relegated from League A in the second qualifying round for Euro 2022/2023) will compete for promotion to League A in six groups. The group winners and the runner-up with the best record against the first and third-placed teams in their groups will advance to the top division.