VBET Ukraine presents a campaign that unites all of Ukraine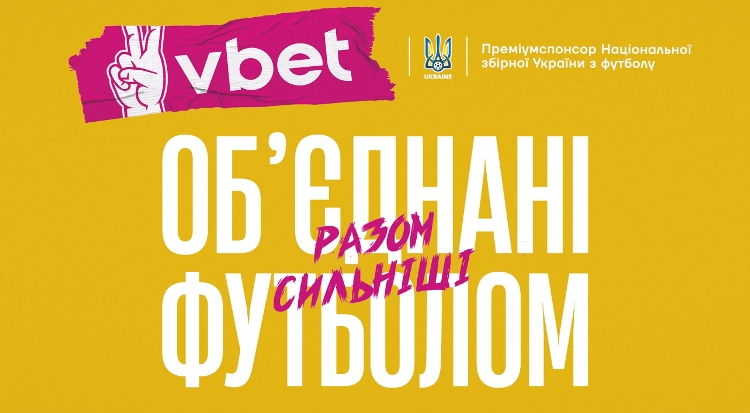 The organizer of gambling games VBET Ukraine — a premium partner of the national football team of Ukraine presents a large-scale and multi-component advertising campaign "United by football. Stronger together."
The heroes of the campaign were the footballers of the national team: Mykhailo Mudryk, Viktor Tsygankov, Vitaly Mykolenko, Ruslan Malinovskyi, Vitaly Buyalskyi, Ilya Zabarnyi, Georgy Sudakov, Taras Stepanenko, Mykola Matvienko, Andriy Yarmolenko, Serhiy Sydorchuk, Yukhym Konoplia and the head coach of the national team of Ukraine, Serhiy Rebrov.
"Football is the number one sport in Ukraine, and the games of the national team unite all Ukrainians in their crazy support. The new advertising campaign from VBET is our thanks to all fans in all corners of Ukraine and the world. We tried to visualize all the emotions: wild applause, exhalation of relief after a tense moment on the field, the referee's whistle, the severity of the gaze towards the opponent. In the same way, all Ukrainians are united in a single emotional rush against their enemy," Artem Ivanytskyi, SMO VBET Ukraine, comments on the idea of ​​the campaign.
In the video, the main color of which is yellow, the map of Ukraine is visualized, and the cities of the country are identified with the heroes of the video. The campaign symbolizes a single, united and indivisible Ukraine.
Soon the elements of the campaign "United by football. Stronger Together" will appear on television, in digital and outdoor advertising. And the global presentation of the video will take place on September 9, on the day of the duel between the national teams of Ukraine and England.
COMPANY
VBET Ukraine is the official representative of the international VBET brand, operating in Ukraine since 2020. The company was the first to receive all three licenses for the conduct of gambling games from the Commission for the Regulation of Gambling Games and Lotteries of Ukraine: for the organization and conduct of bookmaking activities, for the organization and conduct of poker gambling games on the Internet, for the organization and conduct of casino gambling games on the Internet. VBET Ukraine is the title partner of the Ukrainian Premier League, a premium sponsor of the Ukrainian national football team and a number of sports clubs and federations. In 2022, the company presented a social initiative We Care Fund, within which it accumulated more than 14 million hryvnias for the implementation of charitable projects.