Serhii Rebrov: "Italy played very intensively, sometimes we couldn't keep up with this rhythm"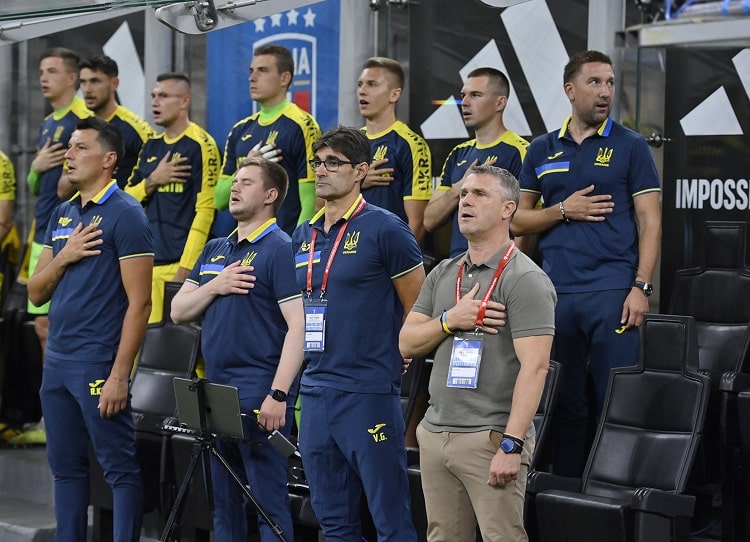 The head coach of the national team of Ukraine, Serhiy Rebrov, commented on the defeat in the match against Italy (1:2) within the framework of Euro-2024 qualification.
— What analysis can you do after the match? Did the Italians surprise you with their game?
— It is too early to make an analysis, but we will definitely conduct it. The Italians did not surprise, they tried to play very intensively from the first minute. They were helped by a quick goal. Yes, they created chances, but I am grateful to the lads for getting back into the game. We scored the ball, had several chances in the second half to equalize. I would like to thank the boys once again, because it is very difficult to play after a difficult match against England. I repeat, Italy acted very intensively, we sometimes did not keep up with this rhythm.
— What do you say about the support of fans at "San Siro"?
— As in the game with England, there was a good atmosphere. Today there were fewer Ukrainians, but I saw how Italians supported Ukraine. We are very grateful for that. Although such an atmosphere favors the home team, San Siro helped the Italian team a lot. But we are grateful that we are playing here, that Italy has accepted us in this way.
— How do you assess your team's chances of getting out of the group?
— There are chances, even when there are none. We got into a very difficult group. Two games - against England and Italy - were key. If we look at the tournament standings, we have a chance. We will prepare very seriously for the next two matches. I am sure that we have a chance.
— A difficult match, Italy controlled the game almost all the time. What was missing for the national team of Ukraine to change the course of this match?
- One goal was not enough. It is very difficult to play after two days. We tried to press the opponent more, but I could see from the boys that it was very difficult for them - in the game against England, they gave a lot of effort. I want to remind once again who we are playing with. I don't understand why everyone says that the Italian national team is in crisis now.
— At the beginning of the second half, your team came out charged for attack, looked very active. How did you manage to get players?
— The football players simply rested after a very difficult first half. At the beginning of the second, they created several opportunities, tried to play with the ball. We pointed out a few mistakes, made certain remarks, but I think it's more the psychology of the players themselves.