Alexander Ceferin: "As long as I am in this position, UEFA will not be a closed organization"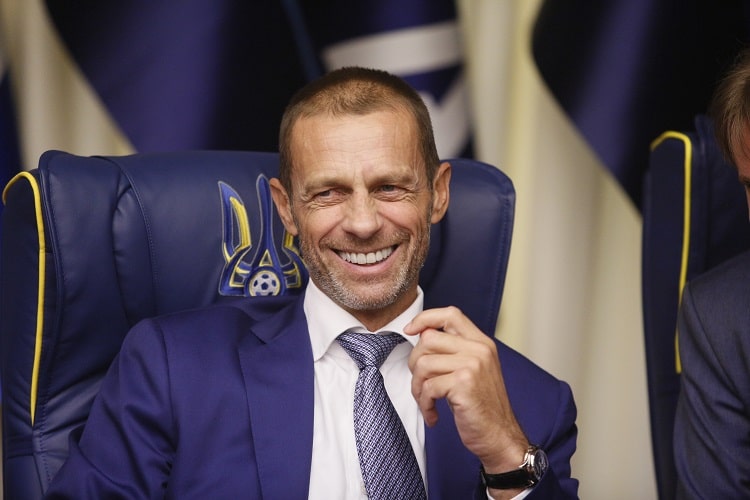 UEFA President Aleksandar Ceferin in an interview for a Slovenian publication N 1 answered questions about limiting the gigantic salaries of football stars, about murderous invitations and offers from Arab countries, and about the attitude towards women in football. Čeferin also told newspaper N 1 that Russia would be excluded from European football competitions until the end of the war.
— Mr. Ceferin, on September 15, a whole bunch of football legends will gather for a charity match to help the flood-affected areas in Stožytsia. How did the idea to organize it come about?
— When we saw the situation in Slovenia, we immediately transferred 300 euros of aid, which UEFA has on hand for such cases. Half went to the Red Cross and half to Caritas (International Confederation of Catholic Charities. — Approx. Ed.).
As for the All-Star Match, we organize similar events in other UEFA member countries. I decided that the match could bring a lot of additional funds to help the victims, and also be a positive thing for the country. Something beautiful that does not happen so often in Slovenia, Europe and the world. And it looks like it will be something very pleasant, because the players are in a good mood. For example, big football stars who won Golden Balls went on a diet for two days because they are trying to get in shape... This is very interesting. And me personally too.
- Will you play yourself?
- No, I don't like that idea. I don't want to make a footballer out of myself because of my position and expect football legends to play for me. I will be happy to watch the match from the stands.
— Are all the tickets already sold out?
- They were sold out instantly. Even 500 VIP tickets for 100 euros. There is no mention of others at all. Tickets for no match of the Slovenian national team were sold out so quickly.
— What amount of potential assistance do you expect for the victims?
— I would be surprised if about 3 million euros were not collected (the final amount announced after the end of the match was more than 3,5 million euros. — Approx. Ed.).
"Salary restrictions in football will increase, not decrease, competition"
— 3 million euros! This is a large amount. But, let's say, this is the amount the best football players earn in a month or two. I do not want to belittle the importance of this assistance - I only note the size of salaries in football. When we spoke six years ago, you first mentioned the possibility of introducing a salary cap for players. But little has changed in this direction since then. Have you given up, or is the restriction still in your plans?
"I still think we'll have to do it." However, this largely depends on the European Commission. The classic wage limit is prohibited by European law, so without the EU's participation we would have to somehow circumvent this rule. However, we talk a lot about this with the European Commission, because we are convinced that such a restriction will not harm competition, but on the contrary, it will strengthen it. In sports, the rules are a little different than elsewhere. If in any other industry the wage limit leads to the restriction of competition, then in football it is precisely with its help that competition could be increased. Without such restrictions, the richest clubs will be able to buy the best players and there will be less competition, which could be a problem for football.
— Would you say that such a decision is a big problem?
- I wouldn't say so. It seems positive to me that the vast majority of clubs agree with this intention. When I spoke about the limitation of salaries and sums for the acquisition of football players, small, medium, and even large clubs agreed with me. Even those clubs that are constantly accused of excessive spending. At the end of the day, everyone comes to football to make money. And it is not in anyone's interest to start competing with unreasonably high sums.
"History with Saudi Arabia will not last long"
— Can we say that limiting salaries at a time when Saudi Arabia is showering football stars with incredible sums of money is at all possible without the risk of an additional outflow of football players?
— I think this story with Saudi Arabia will be relatively short-lived. I have already said several times that, in my opinion, this is the wrong approach to the development of football. By attracting football players who have practically finished their careers in Europe, you are not developing your own football. China did the same thing years ago, but its national team still failed to qualify for the World Cup. Therefore, I do not have to pay attention to the actions of any national league - I will defend my position.
— However, Saudi Arabia began to buy European stars of a completely different level than China at the time. They have acquired some of the biggest names, including current Ballon d'Or winner Karim Benzema, one of the greatest players of all time, Cristiano Ronaldo...
— In a certain sense, we can really talk about another level, at least in terms of artist names. But this is the same level of monetary amounts. Carlos Tevez, who was a very famous football player, had a 100 million dollar contract in China at that time. The numbers are probably a bit higher these days, but I don't see young stars like Erling Holland or Kylian Mbappe being interested in moving to the Saudi league.
— Which of the football stars who left Europe this year will you miss the most?
- I wouldn't say that I will miss anyone. The Champions League starts next week, everyone is waiting for it. In April, I gave a lecture on football at Harvard University in the USA, which was attended by 400 students and teachers. And when I asked them who follows European soccer, 397 hands went up. Three said they follow MLS, the American professional soccer league. One of the three was wearing a Bayern Munich shirt.
That's why European football is really great. Our research shows that in football people follow two things - their club or national team and the competition. For example, you can follow Olimpia Ljubljana, the Slovenian Championship, the Champions League and the Slovenian national team. If your favorite player goes to Mars, you will no longer follow him. Such news is interesting only during the transfer period. Can you tell me which Saudi club Benzema has joined?
- I confess, I did not remember. Maybe Al-Ahli or Al-Hilal? I'm not sure (the correct answer is "Al-Ittihad." — Editor's Note).
- Where did he play before?
— In Madrid "Real".
- You see, they answered - how they shot. This is the essence of what I want to tell you.
— And what influence do the Persian Gulf countries have on football?
— Of course, they have a certain influence. But it is important: three clubs are already owned by the state. Also influential are American businessmen who control many clubs through financial funds. European corporations also have influence. Adidas, for example, is a co-owner of Bayern Munich. The countries of the Persian Gulf are still far from having a decisive influence on football. Among the biggest European clubs, especially in England, there are several American owners.
"Illegitimate invitations and offers?"
— Have you recently received unacceptable offers or invitations from representatives of the Persian Gulf countries, which you had to refuse?
- No offers or invitations. It is mentioned that Saudi Arabia was very keen to host the Champions League final, or for their clubs to even play in the Champions League, but I always found out through some intermediaries. Nobody offered me anything personally. Sometimes I read in very "reliable" media that we are already discussing some nonsense. The Champions League will be held in Europe, and teams from UEFA member countries will participate in it. We didn't even talk about other options.
— But do you allow the possibility of holding the final of the Champions League, for example, in Riyadh?
— I don't see any chance yet. Once in an interview in New York, a journalist asked me, they say, do I allow the possibility that in 20 years the final will be held here? I replied that, of course, I allow such a possibility. But I would have said the same thing if an Indonesian journalist had asked me about the possibility of a final in Jakarta. The next day I was reading summaries of interviews and headlines in the European media that the 2026 Champions League final would be held in New York. Therefore, I answer this time that now I do not allow such a possibility, but in 20 years a lot can happen. I probably won't be in this position in 20 years.
"When you don't know for sure who owns the club..."
— Currently, the practice is becoming increasingly common when different foundations or companies simultaneously own several clubs in different countries and in different leagues. Is there too much concentration of such ownership, and do you think action should be taken?
— For me, this is one of the most important issues of European football at the moment. So-called multi-club ownership, the simultaneous ownership of several clubs, is not prohibited, but if two clubs of the same owner qualify for the same European tournament, they cannot play each other. With all these cases where you don't know exactly who the owner is and where the ownership may be hidden, we are faced with the question of whether it is better to ban it outright to avoid the risk of matches between clubs with hidden ownership links, or to allow such matches with simultaneous introduction of strict rules according to which it is permissible. Even today we often see signs that the two clubs are linked by ownership, but this is done so skillfully that it is very difficult to prove such a connection.
I have to say that I don't have a definitive answer yet. We started talking about it. But this is a very relevant issue. There is a lot of interest in investing in football right now, and we don't want to scare investors away with unnecessary restrictions. On the other hand, we have to take care of maintaining confidence in the competition.
"Russia will be excluded from European football competitions until the end of the war"
— The Russian gas giant Gazprom has been a sponsor of the Champions League and other tournaments under the auspices of UEFA for 10 years. You terminated the sponsorship contract a few days after Russia attacked Ukraine. Wasn't it too late?
- It simply had to be done as a kind of symbolic act. Shortly after the start of the war, in the stadiums where hundreds of millions of people watch the matches, we show this company's advertisement... I'm sorry that it happened, but we had to do it. However, the fact is that those who still buy gas from this company are making the most noise about this.
- Don't you think that the quality of the sponsor could have been considered even before the start of the war?
— No, it seems to me to be pure populism. You know, Europe is not the world champion of human rights either, and we know it well. And the populists, who are now crying about who should not be dealt with, are doing it exclusively for self-promotion. We put 97 percent of all money we make back into football and I will do everything to keep the sport growing throughout Europe. I will not list other sponsors or other companies in Europe, but many are criticized in one way or another. And then the question arises, with whom you can do business. People would like us to invest as much as possible in football, but at the same time we did not take money from almost anyone. As the president of one of the English clubs told me, the fans want the most expensive players and the cheapest tickets. It's just a bit difficult to combine.
— Until when will Russia be excluded from European football competitions?
- Until the end of the war.
"Luis Rubiales was spoken to several times about his inappropriate behavior"
— The president of the Spanish soccer federation, Luis Rubiales, resigned last week after weeks of denying his guilt and trying to downplay the importance of kissing Spain player Jenny Hermoso. Did you have anything to do with it?
- We spoke with him several times. His action was inappropriate and unreasonable, which is why he couldn't win this fight in the end. He could not stay. We spoke several times and I thought it would be better for the Spanish federation if he resigned. However, I cannot say how decisive my advice was.
— "We will have to change something," you said recently in an interview with the publication L'Staff regarding the attitude towards women in football. Can you be more specific?
- Basically, we talked about the fact that we need to create a code that would clearly establish the boundaries of acceptable behavior and determine the consequences when you cross these boundaries. What Rubiales did was, as I said, inappropriate and unreasonable. But when I read that it's a criminal offense... As a criminal lawyer, that seems completely illogical to me. It is you journalists who have brought this story to such a level. Women are important in every business. For example, I have three daughters and a wife, and I do not mind introducing a male quota at home (laughs).
On the one hand, we really need more women in football, but on the other hand, they are not easy to find there. In Europe, we have only three women - presidents of national football associations. From the 52nd. There are very few women in football. I hope that soon we will increase the number of seats reserved for women in the UEFA bodies.
— The head coach of the Slovenian women's national team, Borut Jark, also recently resigned, but has long denied the allegations made in an open letter by the team's players. They accused the leadership of the FSS of inadequate and humiliating treatment of them. How do you comment on the events in Slovenia?
— This issue was obviously decided by the Football Union of Slovenia. It is difficult for me to comment on all the developments in every football association without knowing all the facts. As a rule, journalists tend to comment on everything before they know all the facts. Journalists and politicians. I spoke with the president of the FSS about the resignation of the coach, and, in my opinion, the story should end with this resignation. How everything will develop further is a question for the football union, not for me.
"The future president of UEFA should have the same salary as me"
— Do you think that the players of the women's team deserve the same conditions as the players of the men's team? The men's national teams rent charters for trips, while the women's teams are forced to use tedious regular flights. So, for example, the N 1 representative of the women's national team, Dominika Chonch, recently told.
— On the one hand, I agree with the concern, but on the other hand, from the time when I myself was the president of the Football Union of Slovenia, I know how much he invests in football and how difficult it is to find money for everything. To illustrate, I will say: at the last men's European Championship, in 2021, we made an extremely large profit. Last year in England we had the most successful European Women's Football Championship and still suffered huge financial losses. However, I don't call it losses, I call it investments.
I do not want to comment on this specific case in Slovenia, because I do not have information on how much money the FSS has. The U-21 and under teams are likely to use regular flights as well. Are young people less valuable than older people? I just want to say that it's not all black and white. We are constantly improving the conditions for women's football. Women's football is growing exponentially, and that's great. We have invested a lot of money in its development and I believe that it is the sport of the future. I always say to sponsors and TV rights holders that it is worth investing in women's football now, before it becomes too expensive, just as men's football has become too expensive for most investors.
On the other hand, we all have to remember that so far all competitions, except the men's national team, are unprofitable or come to nothing. All other football is funded by profits from men's competitions. Look, a potential UEFA president should have exactly the same salary as me. Your fellow journalist should be paid as much as you. UEFA is the first sports organization in the world to receive the EqualPay certificate. There is no gender pay difference here. In a situation where investments are constantly flowing and there is no profit, the market must also determine the conditions to some extent. Many forget that women's football is a young sport and it will take some time to become even remotely financially sustainable.
"These are criminals, idiots who don't care if the national team loses"
— The summer was marked by the death of an AEK fan in a fight with supporters of Dynamo Zagreb. The Greeks demanded the exclusion of "Dynamo" from the European Cups, but it all ended with the fact that its fans were banned from visiting away matches. Do you think this is an adequate punishment?
— This is what our security commission decided, and I agree with it. "Dynamo" (Zagreb) as a club was not involved in the disciplinary case at all. We made a decision based on the conclusions of the special services. In the specific case of the tragic event, "Dynamo" as a club did not even know that this group of fans had gone to Athens. These are criminals who organized themselves, came to Athens two days before the game and did what they did. Would it be right to punish the club and 99,9% of the innocent fans because of a few idiots who are now in prison? How could the club know that some hooligans and criminals got into a rented minibus at two o'clock in the morning and went to Greece? So, for example, a group of Slovenians will do something similar, and then demand the resignation of the prime minister and the president of the country?
— As for hooliganism in football, the situation today is, of course, better than a decade ago. But violence, racist, homophobic and nationalist outbursts still occur regularly. Do you have a plan to end this?
— Yes, we have now finally, due to a couple of tragic events that happened, actively started talking about it with European countries. We need the help of the states in this. I talked about it, for example, with the Croatian Prime Minister. They are determined to stop it. If any racist, Ustasha or similar symbols and shouts are recorded, these people will be removed from the stadium and will be banned from football matches. It should be like that everywhere, in my opinion. We need to unify the rules for all of Europe. In UEFA, we see and know a lot, but we can do a little more. We only punish the club or the national team, but this is not enough, because there are idiots who do not care if their national team loses. They go to the match only to demonstrate their idiotic nature.
In my opinion, we can be much more effective in dealing with the state police. After the events in Greece, the Croatian police acted very professionally, as did the police in Montenegro and Albania. They constantly monitored what was happening and informed their Greek colleagues. It's bad that something has to happen to make us all wake up together. But I think the key is that we have the help of states to take precautionary measures. If the countries do not help us, we will have nothing left but to punish the national teams.
"If the actions of the fan groups are too aggressive, we will be forced to leave the stadiums without fans"
— But it is true that some fan groups are almost like armies, that they have some support and protection from the police. It is often difficult to reach the people who are the main initiators and organizers of such actions.
— It is true, as we know, in some countries the leaders of fan groups are very influential. Because there are many of them, they have some political power. They can influence the outcome of elections, take part in protests... As it was said, we contact the official representatives of the countries when we act. If one of the countries cannot react adequately, if the protection of fan groups is too strong, we will be forced to leave the stadium without fans. And this may soon happen to some clubs and national teams. In this case, 99% of fans will have to think about whether they consider it acceptable that they are deprived of the right to watch matches. I hope that the pressure of public opinion on politicians will be so great that something will change as a result. Most people are not racists, nazis, or bullies. Just the loudest ones. In society, negativity is always the loudest.
— Thanks to digital media and social networks with instant news, people have fewer and fewer opportunities to focus on one thing. Do you think there will come a time when the rules of football will have to be adjusted because of this? Maybe shorten the playing time, ensure more goals?
- No, football is beautiful as it is. At least 20% more people follow it every year. It is true that we have all become a little lazier, a little more "instant". I'm also mad at myself for constantly checking some online media to see if there's anything new. We used to wait for the evening reports, tomorrow morning's paper... People actually want shorter and shorter information. But I am convinced that football is still great. What passion he still evokes in children! I watched a five-year-old West Ham fan break down in tears when his club won the Conference League. It is incorrect to say that children are no longer interested in football. In general, football is beautiful as it is, and we have no reason to change it.
"I took a course in using a defibrillator"
— Is the head game now a necessary part of football action?
— Yes, this is an absolutely necessary component of football. I know some studies point to some problems. I must say that I did not deal with it much, because the medical committee and the football department, which is headed by Zvonimir Boban, deal with it. I believe that these studies should be adapted to the present. When I was young myself, we played football with a ball soaked in the rain, which weighed at least 5 kg. Today the balls are different, lighter. Banning head games, according to our football and health experts, is pointless.
— But this is already happening in children's competitions in some countries. In England and the United States, it is illegal for younger children to play with their heads. In its recommendations, UEFA also advises a limited frequency of headers during training. The problem is not only the hard blows to the head that can cause a concussion, but also the repeated light blows that can trigger changes in the brain. And research shows that football players have an increased risk of developing dementia.
- What about boxers? What about American football?
- In any case, hockey is also problematic.
- What about basketball? In basketball, the problem of blows to the head is not very pronounced. But there are other problems, for example, spinal defects, etc. In my opinion, what should concern us more and what we try to deal with more is the problem of body overload and sudden cardiac arrests in football players. This is the biggest health problem in football at the moment. Because of this, athletes die instantly. We are currently running a new campaign where we will teach everyone how to use a defibrillator so that we can help not only the players and referees but also the spectators. I took this course myself and found it to be really key learning.
— Why do you still not allow additional substitutions in case of a concussion, substitution of a player if he received a strong blow to the head?
- Because it is difficult to understand whether he really hit his head hard or not. At the World Cup in Qatar, where such substitutions were allowed, according to our analysis, it happened several times that a football player "hit his head" when he was tired and his team no longer had a substitute. However, replays later showed that there was no blow to the head at all. It is difficult to allow at least one exception. What about a knee injury? Spine? Ankles? In case of injury, you can always perform a normal replacement. We increased their number from three to five. According to the rules in football, there are no temporary substitutions.
"The cancellation of the creation of the Super League became one of the most important events in football"
— Your greatest achievement is the termination of the Super League project, the intention of the 12 richest European clubs to create a closed competition. Do you also put this merit first for yourself?
— In principle, I don't like to talk about my achievements, in the flow of things we deal with every day, I also don't have time to analyze. Undoubtedly, it was one of the most important events for football. That's what everyone says. Football would not be the way it is now if this project, this crazy idea, had not been stopped.
— Do you think this idea is dead now, or is it still waiting for a new opportunity?
— I see no possibility for this idea, at least in the next 20-30 years. It is very difficult to predict what will happen next.
— Now the Champions League has also become a Super League to some extent. It is very difficult for national champions from small countries to break through there. Don't you think that only champions should play in the Champions League?
— I already said in an interview with L'Equipe that whoever claims that the Champions League is somewhat similar to the Super League does not know or does not want to know football. The champion of any country has the opportunity to enter the Champions League. Currently, there are 32 teams playing in the Champions League, and next season there will be 36. So, there are four additional opportunities.
However, in order to pass the qualification, it is necessary to win in it, which is logical. But if you compare it with the closed Super League... Last year, Maribor lost all qualifying matches for the European Cups, but received a million euros from UEFA. The system implemented by UEFA supports all of football. There will be 12 clubs in the Super League that will never let anyone in there. How you can compare it, I don't know.
"Should we drag out a fictitious applicant? I wouldn't be able to look at myself in the mirror in the morning"
— I am fully aware of important differences. I'm just saying that given the name of the competition, even champions from smaller countries could have a better chance of getting into the Champions League...
— Let me answer with a comparison. In this case, the European Parliament is also somewhat of a Super League, because the Slovenians cannot have as many MPs as the Germans. That's how it is - one country is smaller, has a smaller market and must have fewer seats than large countries. But UEFA is not a closed system and, as long as I am here, it will never be.
— In April, you were elected for a new four-year term, and you did not have a competitor, an opponent in the elections. Would you like to have one?
- I do not care. When people ask me about it, I tell everyone to come themselves. I will not look for an applicant. The candidacy must be supported by three national football associations. As far as I know, a non-footballer went around Europe trying to get enough support, but ended up not getting support even in his own country. People seem to be happy with my work.
- Wouldn't it be better for the appearance of democracy if you had a serious opponent?
— I don't care about the appearance of democracy, I care about democracy. And democracy consists in the fact that everyone can propose their candidate. People, especially in the West, are too concerned with the appearance of democracy. I have repeatedly heard it said that it would be wise to have a rival. Is it worth bringing a fictitious applicant? If I did, I wouldn't be able to look in the mirror in the morning.
— Have you already decided whether you will run again in four years for the last term, during which you can hold this position because of the limit?
- Hard to say. Life has taught me that there is always something new and interesting waiting around the corner, so predicting four years in advance is a very thankless task. Or maybe I'm superstitious too. For now, I still love my job, although we have had more crisis moments in recent years than in the previous 60 years of UEFA's existence combined.
"Life like James Bond"
— Have you changed during the seven years that you have been the president of UEFA?
— I don't think that I have changed personally. But I changed my lifestyle a lot. I'm on a plane almost every day. Next week, for example, I am going to Andorra, from there to Croatia, then to Cyprus, and from Cyprus to Israel. I practically live like some kind of James Bond. Life is dynamic, sometimes tiring. But - I am well paid for what I do, I like it, and there is no reason to complain about fatigue.
— You are constantly asked about Slovenian politics. Just theoretically, if you could choose, would the position of prime minister or president of the country be closer to you?
- Hard to say. On the one hand, the prime minister has much more authority to make decisions, but in the current system with coalitions, this is a very difficult task. On the other hand, the president of the country does not have many formal powers, but he does have some moral authority. I am not interested in either.