Champions League. "Shakhtar" started the performance in the group round with a defeat against "Porto"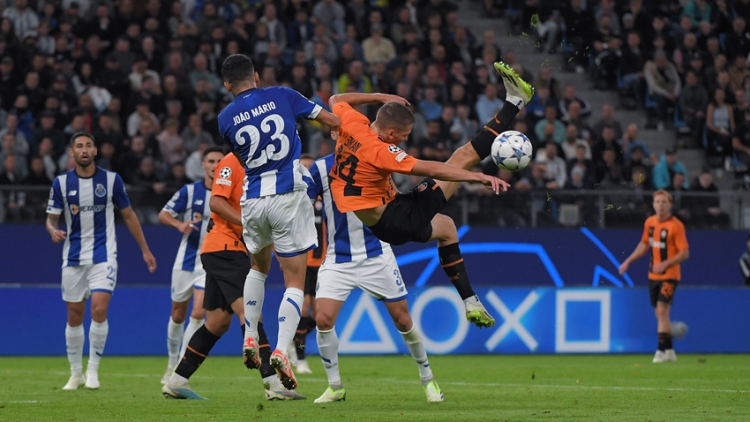 For Shakhtar Donetsk, the start in the tournament among the best clubs in Europe was already the 18th in history. The players got to the group stage directly in the status of champions of Ukraine.
In the first round, the orange and black faced the second team of the last round of the Portuguese championship, Porto. Nominally, Shakhtar played its home game in Hamburg, Germany, at the Volksparkstadion.
The teams quickly exchanged goals. "Porto" scored first - Riznyk parried Franko's shot, but Galeno managed to finish. "Shakhtar" responded with a counterattack, which was dispersed by Zubkov and passed to Konoplya, who passed exactly to Kelsey, who sent the ball into the net.
In the future, the Portuguese dominated the field. In the 15th minute, Galeno scored a double, intercepting Sikan's pass to Lemkin at the entrance to the miners' penalty area. Later, the same Galeno broke through on the left flank and shot right at the foot of Taremi, who increased the advantage of Porto. By the end of the first half, Riznik had to save Shakhtar several times.
The miners started the second half of the meeting well, Nazaryn shot dangerously from a sharp angle. Then Riznyk had to save after the blows of Eustachio and Franko. In the 65th minute, Sikan found Zubkov in the penalty area, but Kosta pulled away his shot from a sharp corner.
At the end of the match, "Porto" openly played for the score, and "Shakhtar" distinguished itself with Zubkov's shot in the plane. So the miners started in the Champions League with a defeat - 1:3.
The Shakhtar team included players who were called up for the national team's September training session: Konoplya (goal assist, yellow card, substituted in the 76th minute), Stepanenko (yellow card, substituted in the 65th minute), Zubkov, Sudakov, Nazarina.
Champions League. Group round. Group N
1 round
"Shakhtar" (Ukraine) — "Porto" (Portugal) — 1:3 (1:3)
Goals: Kelsey (13) — Galeno (8, 15), Taremi (29).
Shakhtar: Riznyk, Konoplia (Gocholeishvili, 76), Lemkin (Azarov, 65), Rakitsky, Miroshi, Stepanenko (k) (Bondarenko, 65), Zubkov, Sudakov, Nazarina, Sikan (Eginaldu, 81), Kelsey (Kashchuk, 65).
Substitutions: Rudko, Puzankov, Castillo, Kryskiv, Vyunnyk, Ocheretko, Kozik.
Trainer: Patrick van Leeuwen.
"Porto": Costa, Mario (Sanchez, 73), Pepe (k), Karma, Zayda (Wendell, 46), Franko (Borges, 82), Varela, Eustaquiu, Jaime (Gonzalez, 73), Taremi, Galeno (F. Conceisau, 90) +1).
Substitutions: Ramush, Cardoso, Gruych, Navarro, Baro, Martinez.
Trainer: Sergio Conceição.
Referee: Davide Massa (Italy).
Booked: Sikan (6), Stepanenko (31), Konoplia (76) — Karmu (4), Mario (54).
September 19. Hamburg. Volksparkstadion.
"Barcelona" (Spain) — "Antwerp" (Belgium) — 5:0 (3:0)
2 round
04.10.2023
"Antwerp" — Shakhtar (19.45)
"Porto" - "Barcelona" (22.00)