The women's beach soccer team of Ukraine will compete for the fifth place in the Euroleague 2023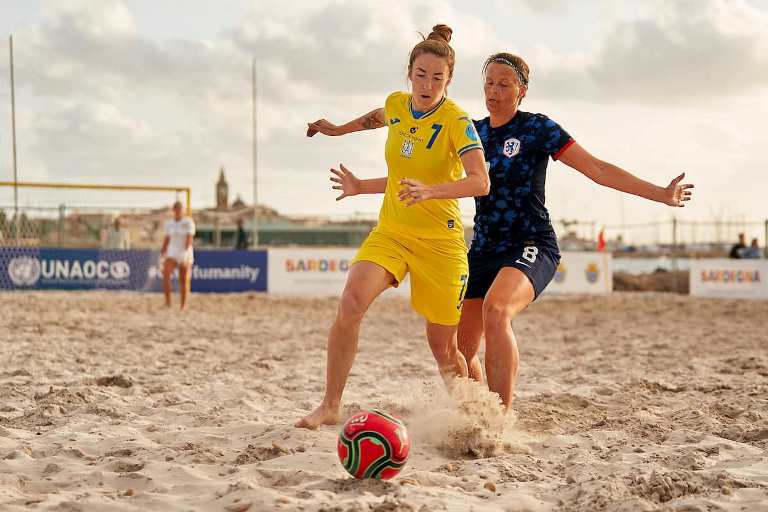 Today, the women's beach soccer team of Ukraine met with the team of the Netherlands in the semi-final playoff match for the 5th-8th places.
The day before, Yuriy Klymenko's wards lost to the Portuguese national team in overtime (2:3) and could not secure a place in the semi-finals of the prestigious competition. Now the Ukrainian women have to fight for the 5th-8th places, and their first opponent is the Netherlands national team, to which they previously lost in the group (2:3).
In the first period, Myroslava Vypasniak led the blue-yellow team to the lead, in the second, Iryna Dubytska doubled our team's advantage, and in the third, the opponents only managed to reduce the gap.
2:1 — the victory of the Ukrainian national team.
Euroleague-2023. Super final. Women's tournament. Matches for 5th-8th places
23.09.2023
Netherlands — Ukraine — 1:2
Goals: S. Tieleman (26) — Vypasnyak (5), Dubytska (22).
Netherlands: van den Hurck, Visch, Miedema, De Kraa, Bos, S. Thielemann, Dekkers, S. Thielemann, Lot.
Ukraine: Tereh, Tikhonova, Dekhtyar, Kostyuk, Vypasnyak, Kirylchuk, Klipachenko, Dubytska, Volovenko.
Warning: Dubytska (35).
Thus, tomorrow the national team of Ukraine will play in a match for the 5th-6th places. Her opponent will be the Italian team.