Second League: Minaj goes back to the top, and Crystal reduces the gap to a minimum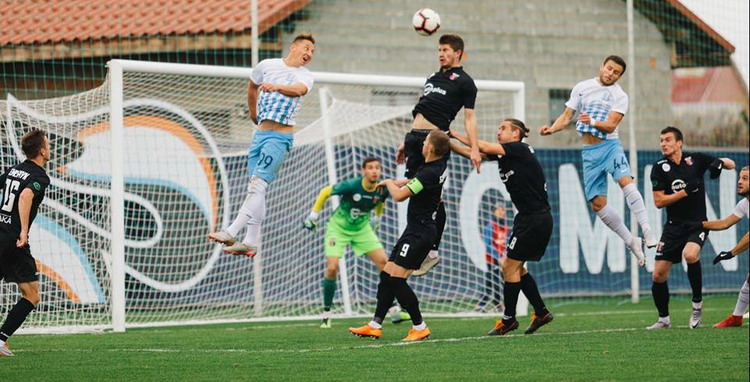 The intrigue in Group A rivalry does not disappear. Teams from the lead group seem to be leading the standings in turn.
Here and after regular calendar matches, "Minaj" returned to the top again, taking advantage of the defeat of the main competitor in the struggle for promotion in the class - "Kalusha". The Transcarpathian tortoise over Heather makes it even more important that they were not in the strongest lineup, in particular, their captain Mikhail Kopolovets was absent.
The main events of the match unfolded after the break. The top scorer of the group, Robert Hegedos, opened the scoring on the third attempt, though he had twice missed from the goal line. Double the advantage of the hosts Basil Betz. It all went to the smashing of the guests, but after the shot of Vasyl Kobin, their ally became a crossbar.
"Today, we have not had any problems," said Minaya Steering Master Igor Kharkovchenko after the game. - The guys did a good job, they agreed on what we agreed. I believe that we are dominated by equations in all components. Although we still have a knack for realizing the goals. We had great opportunities long before the final whistle to score three or four goals, remove the winner from the agenda and play to our pleasure ... "
Oleg Shandruk, a colleague of Kharkiv's Veres, recognized the victory of Minaya as well deserved. "Unfortunately, in many episodes we have not been through to the end," he commented on the actions of his wards. - I hoped that in the second half we would play more aggressively in the attack and push the game away from our goal. But this was not our day. It is very difficult to defend against a team such as Minaj for a long time, because its players have good control of the ball, and without quality counter-attack on our part, it was only a matter of time before we missed ... "
The competition for the first place and in the group "B" intensified. The favorite, "Kremin", crushed its advantage over the pursuers, and "Crystal" after a scourge over "Miner" reduced the gap to a minimum. Anton Bryzhchuk and Vladislav Ignatiev scored in the central match of the round for the Khersonites, who also couldn't be helped by the team captain, Sergei Tsoi.
"We were aware that it was going to be a very difficult game," said Sergey Shevtsov, the manager of "Crystal", because there were neighbors in the standings. Not all of my wards played the way we wanted, in particular, we gave way to the bloodthirsty in mobility. But, fortunately, their goals were realized, and when it was difficult, they suffered, clenched their teeth, and still gained a very valuable three points… "
Girnyk did not show what he is capable of, - the head coach of the guests Gennady Prikhodko said after the match. - Yes, we had a territorial advantage, more often controlled the ball, but the goal was not reached. So, they have not worked well in preparation for the match, so I also do not remove the guilt… "
15 round
Group A
26.10. 2018
Kalush - Polissya 0: 1
Minaj - Heather - 2: 0
27.10.2018
"Seagull" - "Cherkassy region-Academy" - 1: 0
28.10.2018
Bukovina - Niva B - 0: 4
Niva T-Podillya - 1: 0
Standings
| | | | | | | | |
| --- | --- | --- | --- | --- | --- | --- | --- |
| | | G | W | D | L | GD | О |
| 1. | Mynai | 15 | 8 | 3 | 4 | 23—13 | 27 |
| 2. | Kalush | 15 | 7 | 5 | 3 | 15—10 | 26 |
| 3. | Woodlands | 15 | 6 | 6 | 3 | 10—9 | 24 |
| 4. | Levels B | 15 | 5 | 8 | 2 | 16—10 | 23 |
| 5. | Cherkasy-Academy | 15 | 6 | 4 | 5 | 16—13 | 22 |
| 6. | Heather | 15 | 6 | 3 | 6 | 10—12 | 21 |
| 7. | Levels T | 15 | 5 | 4 | 6 | 12—14 | 19 |
| 8. | Podillya | 15 | 4 | 4 | 7 | 11—13 | 16 |
| 9. | Gull | 15 | 2 | 7 | 6 | 10—13 | 13 |
| 10. | Bukovina | 15 | 3 | 2 | 10 | 12—28 | 11 |
Group B
27.10.2018
Crystal - Miner - 2: 0
«Nikolaev-2» - «Real Pharma» - 2: 0
Energy - Peace - 0: 1
Kremin - Tavriya Simferopol - 0: 0
29.10.2018
Metalurh - Nikopol 2: 0
Standings
| | | | | | | | |
| --- | --- | --- | --- | --- | --- | --- | --- |
| | | G | W | D | L | GD | О |
| 1. | Kremin | 15 | 9 | 5 | 1 | 23—6 | 32 |
| 2. | Crystal | 15 | 10 | 1 | 4 | 27—15 | 31 |
| 3. | Miner | 15 | 7 | 5 | 3 | 27—21 | 26 |
| 4. | World | 15 | 7 | 3 | 5 | 22—18 | 24 |
| 5. | Metalurh | 15 | 7 | 2 | 6 | 24—18 | 23 |
| 6. | Tavriya Simferopol | 15 | 4 | 7 | 4 | 19—18 | 19 |
| 7. | Nikolaev-2 | 15 | 4 | 4 | 7 | 13—23 | 16 |
| 8. | Energy | 15 | 4 | 3 | 8 | 14—18 | 15 |
| 9. | Real Pharma | 15 | 3 | 4 | 8 | 12—24 | 13 |
| 10. | Nykopol | 15 | 2 | 2 | 11 | 8—28 | 8 |