Breakfast with Champions: Pyatov and Karavayev - about quarantine, leisure, Euro postponement and collections of jerseys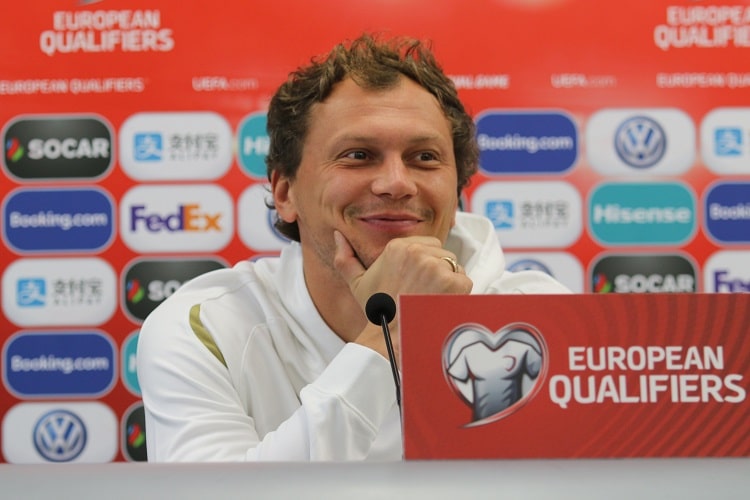 Today, within the Breakfast with Champions project of TM Parimatch and Ukrainian Association of Football, online communication with players of the national team of Ukraine Andrii Pyatov and Oleksandr Karavayev took place.
The players answered live questions from journalists and fans about quarantine and the postponement of Euro XNUMX, spoke about their life preferences and mentioned the most memorable moments in their sports careers.
Before the start of the conversation, moderated by the press attaché of the national team of Ukraine Oleksandr Hlyvynskyi, TM Parimatch representative Vadym Misyura made the opening statement:
"The Parimatch brand would like to congratulate all the viewers who have joined us on YouTube channel Ukrainian Association of Football. The Breakfast with the Champion project has been ongoing for two years. Among our guests were such world stars as Conor McGregor, Mike Tyson, our champions Oleh Vernayev, Yurii Cheban, Oleksandr Abramenko, Taras Stepanenko and others.
Unfortunately, the current crisis related to the coronavirus pandemic and quarantine is making adjustments to the world and Ukrainian sports. However, the Parimatch brand is always close to the Ukrainian sport and continues the Breakfast with the Champion project. We are launching a series of online meetings with national athletes to help us grow stronger in this challenging time.
Photo by Pavlo Kubanov
I want to thank our legendary football players Andrii Pyatov and Oleksandr Karavayev for supporting and participating in the project. From the Parimatch brand, I wish all our viewers good luck and health. I am sure that together we will overcome our temporary troubles. "
About quarantine, daily routine and nutrition
- Where do you live during quarantine?
Andrii Pyatov: - My wife and I purchased the cottage in time and arranged it for children. We have a place to walk and breathe in the fresh air. It has been a little easier than to the people who are in the city at this time.
Oleksandr Karavayev: - We live in an apartment in the center of Kyiv. Yesterday was great weather, I wanted to go for a walk or go to the forest, but this was impossible. I'm still running, breathing in the fresh air, but my wife and I have to sit at home.
- How did you build your daily routine?
Oleksandr Karavayev: - The first week I slept until 11-12 a.m., it was difficult to get up without an alarm clock. And in recent days I get up at 9 or even earlier. Plus, we are allowed to visit the base every day to do jogging, ball work, one or two times. Such a schedule is built that you do not want to sleep.
Andrii Pyatov: - I have my own one-year-old "alarm clock", so we focus on him and get up around 7.30. Then the daughters, who have a school schedule at 9.00am, wake up. Everyone tries to make the schedule closer to what is in the ordinary life. As for me, I practice with coaches online two or three times a week. A physical coch sends me a schedule of exercises that I have to do myself. There are jogs, bicycle, you vary the load throughout the day.
Photo by Pavlo Kubanov
- Andrii, together with Serhii Kryvtsov, you are engaged in the project "Digital-fizkultura dlya shkolyariv". Is this a recipe for how to burn calories during quarantine?
Andrii Pyatov: - Now more free time has appeared. There are many projects from different organizations in which I'm offered to participate. We all understand what the situation is. This is not an excuse to lower your hands and lie on the couch. You need to monitor your health, especially in the current situation, when immunity is very important. It needs to be raised to a higher level. Of course, these exercises focus more on teens and children. Elementary warm-ups, strips, stretch marks.
- About the diet. Do you cook or order food yourself?
Andrii Pyatov: - I have a completely homemade diet, but I try to follow the rules, because the club nutritionist sends a nutrition schedule. However, there are some days a week when you can eat a little more. Sometimes you start cooking yourself.
- What is your specialty dish?
Andrii Pyatov: - Borsch, which my wife cooks. I don't need to be surprised, I'm not picky. I prefer Ukrainian cuisine.
Oleksandr Karavayev: - My specialties are scrambled eggs, sandwiches. Also, my wife asks me to make coffee. Sometimes I eat not three times a day, but twice. I try to eat less because you move less, you sit at home. Every day we have a variety of dishes.
- Oleksandr, how did you manage to get a haircut?
Oleksandr Karavayev: - My barber accepts clients at home or comes by. Now he has to earn money that way. So I came to him and cut my hair.
- Andrii, how is the father of four children dping on quarantine?
Andrii Pyatov: - Funny. The first two weeks are a true paradise for a dad. During football life, you do not have so much time to communicate with your family. It is now the children are used to having a dad nearby. The first half of the day we spend studying, while the youngest sleeps from 10 to 12. After lunch we gladly go out to our playground.
- Can homework without going outside replace workouts?
Andrii Pyatov: - Completely no. You will not do the amount of work you can do on training ground with the ball. At home, you can exercise, exercycle, but not all muscle groups will be involved. It is even harder for goalkeeper than to the field player. You won't just fall on the lawn.
Photo by Pavlo Kubanov
Oleksandr Karavayev: - It will not replace the competitive process when you play against other players. There is also no way to train shots.
About youth, daughters and pay cuts
- How do you react if your daughters want to play football professionally?
Andrii Pyatov: - I respect women's football. I know our girls who play for national team, for clubs. But I don't want my kids playing football. Let them deal with other areas. At least I don't see them in this sport.
Oleksandr Karavayev: - I have two daughters. Polina is not interested in football at all, while Ariana supports dad every time. But I tell her that she would better not to play football, but to become a model. After all, all players know what a difficult path to go to professional football. You understand that everything depends on luck and work, there must be several factors to coincide.
Andrii Pyatov: - Considering how the players like to learn in the period of formation, education goes into the background. There is a risk that you will not receive full education if you aren't fit enough for football. So you want your child to find himself. May it be not football, but a different kind of sport. But as parents, we support any choice.
Photo by Pavlo Kubanov
- Can you remember a moment of transition to professionals?? Were there any doubts about future prospects?
Andrii Pyatov: - It seems that at that age we didn't particularly understand how things were going. At first, I performed at an amateur level, which was good for me. Then the head of Poltava football federation, the goalkeeper himself, saw me and invited to Poltava. Then my career developed further. However, this is only the case that I was seen. It is unclear what I would do if this did not happen. That is why you are already thinking when you go this route.
Oleksandr Karavayev: - The basics of a professional football career begin at school, in 7-9 grades. You get an education and also play football. You need to understand whether you are going to study somewhere, or fully commit to the sport. Now this is happening even before - the teams are completed with guys who are 18-19 years old. You need to take a step from youth football to an adult. You can't just take that step. In adult football, no one expects you to come and move someone from the squad. They will show you what you need to do to achieve your goals.
As Andrii said, many things are solved accidentally. I was trying to enter Shakhtar's academy in youth football, but they didn't take me. I returned to Kherson, not knowing what was next. But a month or two later, I was called and invited. I came back and started making step my step.
Andrii Pyatov: - Nowadays, there have been U-19 teams, when there are two or three years to prove themselves, to get to the reserve team. At the age of 16, you graduate from school and either get you into the second league or go to work. It was much harder then.
- How do the players relate to the possible reduction of salaries in Ukrainian clubs?
Andrii Pyatov: - Everyone understands that this is an economic crisis. Everything is discussed with management. This is done to retain support staff. No wonder here. If the club keeps going, fine. If not, then it appeals to the players. So at the moment I don't think there will be problems if the club goes to pay cuts. We will meet with all our colleagues online and discuss this issue. Let's hope the quarantine would end soon and the economy and our health would not suffer.
Photo by Pavlo Kubanov
Oleksandr Karavayev: - There are no delays at the moment. However, if such conversations take place, there will be no problems and all the players will meet. I think we will come to a common denominator. I am sure that both management and players will respond adequately.
- Do you follow the championship of Belarus, which matches are still ongoing?
Andrii Pyatov: - Of course, we follow. There's a lot of our guys out there that we are familiar with. Interesting to watch.
Oleksandr Karavayev: - For example, recently there was a game with Ukrainians in the squads in Belarus Cup. The team of Artem Milevskyi and Oleksandr Noyok played against the team that is being trained by Yurii Vernydub.
- Andrii, which player's shot was the hardest to save?
Andrii Pyatov: - Many players have powerful shots. The most unpleasant for the goalkeeper to save from players who have small legs. I know many players, like Oleksandr Aliyev, Arthur Karnosa, who made powerful shots. Now, we pley the balls that need to be beaten not very strong, but correctly. For me, I like most the balls played with in the Champions League.
- Oleksandr, in the national team of Ukraine you play on the right flank of defense. What does Andriy Shevchenko's decision mean to you, considering that you usually play higher upfield?
Oleksandr Karavayev: - I am a generalist, I can take many positions. The main thing for me is the confidence of the coach. When Andrii Shevchenko first called me, he put it in this position. At that time there were a lot of injured players and there was no special competition, unlike in midfield. I have made every effort to consolidate and be useful to the team. Coache's confidence is one of the most important factors in football. Then you try your best to justify it.
About the EURO postponement and plans for the end of the season
- Is carrying out European Championship for a year a positive or negative decision for the national team of Ukraine?
Andrii Pyatov: - This is a double-edged stick. We can say that we just had two injured major players - Taras Stepanenko and Roman Yaremchuk. Nobody knows if they can make it to Euro 2020. On the other hand, we will have a tight schedule next year. There will be more games - more injuries.
Photo by Pavlo Kubanov
Oleksandr Karavayev: - These decisions can be interpreted in different ways. I try to look at it positively, hoping that the postponement will be in our hands. We will have more time to prepare, to build relationships on the field, as the coaching staff always tells us. In addition, there will be competition, as there are young players who step up and want to play. When there is competition, you do not stop.
Andrii Pyatov: - I will add that during this period we will have six games in Nations League against strong rivals. One can only imagine what preparation for European Championship will get the Ukrainian team. I think this will only go to the plus.
- Do you communicate with teammates?
Oleksandr Karavayev: - Of course, we communicate through gadgets. Everyone passes the challenges to each other.
Andrii Pyatov: - When Italy came to the peak of the pandemic, all the guys started writing to Ruslan Malinovskyi and our Italian coaches. Continue talking to Andrii Shevchenko as well.
- How does the team head coach support the team?
Andrii Pyatov: - He communicates with coaches who are at the very epicenter of the pandemic. He knows better what people are going through in Italy, in London. There is a group on social networks where we keep in touch.
- There are various options for ending this season. But it is already clear that there will be no break between the seasons. How do you feel about such a schedule?
Andrii Pyatov: - Everybody ha been playing on the third or fourth day in the championships. There should be no problems. There is a rumour to hold three matches per one collection among the national teams. From my point of view, in that case, it would be better to expand applications to have more fresh players. Hopefully the football executives will find a way out of this situation.
We are football players and have something to sacrifice. Of course, clubs will complain about a lot of injuries. If we return to the field by the beginning of June, then nothing bad will happen. You just have to endure to this schedule. In Premier League in July-August we played once a week, except for those clubs that participated in the European Cups. For me personally, it is better to have a match every three days than to do a weekly cycle. If a football player is a professional, then he should have no problems with recovery.
- Will the percentage of unexpected results now increase?
Oleksandr Karavayev: - Anything can happen. I support only for the absence of a break. In the top championships players rest only in summer. That way, we can feel the season pass in these leagues. There will always be a rotation, as everyone will not be able to play without substitutions, so players without playing practice will have a better chance to show themselves. More matches will mean more practice for everyone. Yes, it will be difficult, we understand it perfectly. Have to go through a small training camp now and work through untill the winter.
Photo by Pavlo Kubanov
- Do you think that a small training camp will still be possible?
Oleksandr Karavayev: - I think every team on its own will conduct a training camp. I think that such a mini-collection will be the preparation for the championship.
- How do you feel about the early season end option? Shakhtar to be recognized as a champion?
Oleksandr Karavayev: - Of course, the gap is very large, it will be difficult to catch up with the leader. Moreover, there is now a fight for second place. We will accept any option, but no one wants the season to end this way. Everyone wants to finish it on a sporting principle.
Andrii Pyatov: - Everything must be decided on the field. We want to get back to the matches as soon as possible. Shakhtar want to prove that they are stronger than others. Moreover, the top six has many interesting games ahead. Football is our job and our life. We want to come back and actively participate in it.
- Andrii, will Shakhtar be able to go past Wolfsburg in the Europa League on aggregate?
- In the first game we have already won, we can do it again. It is unknown how the pause will affect the match. We are confident in our abilities.
- How about playing in the empty stands?
Andrii Pyatov: - It is ideal for goalkeepers and defenders in terms of tips. For us, it was one of the best matches in defense. More confidently, Wolfsburg had almost no chances. But playing in the empty stands is not good.
About the debut in the national team and the jerseys collection
- Did you feel shaky during the debut for Ukraine's national team?
Andrii Pyatov: - If there is no shaking before the game, you can already hang boots on the nail. This is football, you are always worried about your mistakes, you want to maximize your results.
Photo by Pavlo Kubanov
Oleksandr Karavayev: - I made my debut in the away match with Macedonia. There were positive emotions, I also was a bit shuffled. Then I went out for 5-10 minutes, running back and up to avoid getting lost on the field. And soon Artem Kravets scored the second goal. As a result, positive emotions became even greater.
- What are some of the most memorable players' jerseys that you managed to exchange?
Oleksandr Karavayev: - Ciro Immobile, when we played with Italy. There's a Wayne Rooney jersey he personally signed. It was nice for me to trade with Robin van Persie when I played at Fenerbahce. He expressed his words of support. I was pleased to hear this from a football legend. He talked to me on an equal footing, which shocked me.
In a recent Euro-2020 matches against Portugal, I often crossed with Cristiano Ronaldo on a wing, asked him for a jersey several times. In both matches our team upset him, so maybe he didn't want to change it.
Andrii Pyatov: - Goalkeepers are getting easier with this. We approach each other after the game, we wish good luck. I have a collection of 50-60 t-shirts. I have the idol Gianluigi Buffon, I have his Juventus and Italy jerseys. There are also jerseys of Oleksandr Shovkovskyi, David De Gea, Dida, Claudio Bravo. My wife bought me a special hanger where I hung them.
- Oleksandr, what were your feelings about NSC Olimpiyskyi when you first visited it?
Oleksandr Karavayev: - There were a lot of matches already played at this stadium, I do not remember when I played for the first time. Apparently when i was at Zorya. Standing on the lawn of Olimpiyskyi for the first time, I said "Wow!". Playing on such stadiums is an emotion that is not conveyed. Especially during the matches like with Portugal. You have great pleasure.
Photo by Pavlo Kubanov
- Andrii, you probably have the most feelings of Donbass Arena...?
Andrii Pyatov: - Of course. We always mention it with sadness. It is unknown when we will return there. There was an atmosphere at each match. The family nearby, went to every home game. Now only during games in Kyiv can they visit the stands.
- Do you see yourself as a coach after your career ends?
Andrii Pyatov: - Of course, I do not see myself in a field other than football. But first of all, I need to take courses, get a license, and decide what to do next. Apparently, I'm more prepared to be a goalkeeping coach. But after the courses, who knows, I can change your mind.
Oleksandr Karavayev: - Everything is possible, but not in the near future. I think to play for years 10. When you have a life connected with football, you only think about it. Nowadays, I don't think about the role of the coach globally. Towards the end of my career, I will start.
- Andrii, do you think you have enough time to exceed the age of Oleksandr Shovkovskyi, who played for the national team up to 37 years?? You will be 36 in June…
Andrii Pyatov: - I will not prescribe in advance. We had to play for Euro 2020 this year, and the final tournament was postponed ... While I'm living with my dream to play in the European Championship. After that I will make some decision.
About movies and virtual games
- Do you watch previous matches of Ukraine during your leisure time?
Andrii Pyatov: - I recently watched a match with Italy, but only one half. I also watched the match with Poland, the same day when he had to play a friendly game...
Oleksandr Karavayev: - My friends and I are constantly asked, but I do not watch matches in particular. When you have experienced these emotions, you do not want to look much anymore.
- What films have you watched lately?
Andrii Pyatov: - Recently I've watched "Gentlemen" with my wife and friends. We are also watching different series. There are no problems with this. The daughter is connected to Netflix, watching English.
Oleksandr Karavayev: - We watch cartoons to make children more interesting, comedies. I have reviewed all parts of Harry Potter. And all the new things I have already looked at in the cinema. From recent films, I have liked "Gentlemen" and "Outsiders" very much.
- Oleksandr, what club have you been a fan of since childhood?
Oleksandr Karavayev: - I've always been a fan of Barcelona. I had a Rivaldo jersey. I lost my shorts, and jersey is still somewhere at my parents. I remember playing on console for Juventus.
Photo by Pavlo Kubanov
- Do you play any computer games?'.
Andrii Pyatov: - I play with Xbox kids. And in cyberfootball I am not strong.
- Which social network do you prefer?
Andrii Pyatov: - Probably more Telegram. I'm following the news on coronavirus, politics. This social network is convenient in terms of ease of use. Instagram is more for leisure.
Oleksandr Karavayev: - I have exactly the same. Telegram has available channels for events in the world. I also use Instagram, browse photos, stories.
- What do you wish for the fans?
Andrii Pyatov: - In the current situation we have to protect ourselves, to observe certain norms. We need to set ourselves the goal of getting things right if you stay home and follow the rules. I wish everyone health.
Oleksandr Karavayev: - I wish the audience health and discipline. This is important in any case. Follow all the rules and then everything will be fine. Soon we will return to normal life. Thank you for your support! Good luck to all!