Retro match Ukraine - England on May 9 on the UAF YouTube channel!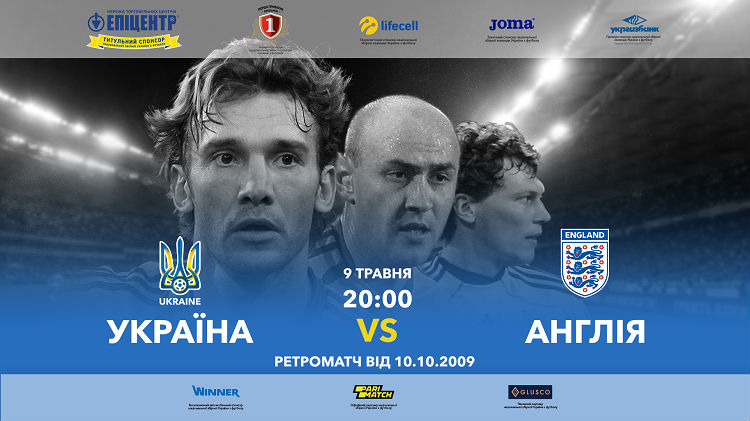 On Saturday, May 9, at 20.00 pm on the YouTube channel of the Ukrainian Football Association, watch the broadcast of the match between the national teams of Ukraine and England, which took place on October 10, 2009.
Autumn 2009. The national team of Ukraine tried to get to the World Cup in South Africa, and the mission of Oleksiy Mykhailychenko's team looked almost impossible. The blue and yellows were on the second step of the sixth qualifying group, but in the backs of our guys breathed powerful Croats, who were waiting for the misfire of the Ukrainians in a face-to-face confrontation with the British.
The England national team has already secured a ticket to the World Cup, but the wards of Fabio Capello did not give up in qualifying and wanted to end the campaign with one hundred percent result. The stars of not only European but also world football - John Terry, Steven Gerrard, Frank Lampard and Wayne Rooney - came to Dnipro.
The Ukrainian national team had nowhere to retreat, the fate of the second place in the group was to be decided in a home battle with the ancestors of football. In April of the same year, our Cossacks almost managed to catch a draw at Wembley thanks to a shot by Andriy Shevchenko in the second half, but before the final whistle Terry still brought the "three lions" three points.
Until then, Ukraine has never won at home in the top team of the top ten FIFA rankings. But the completely crowded "Dnipro-Arena" from the starting whistle sent the boys Mykhailychenko to the gates of famous rivals, 31 thousand fans demanded from their favorites only victory!
The game turned out to be a real gift for football gourmets, it had everything - goalkeeping, withdrawal and penalties, and its result eventually entered the hall of fame of Ukrainian football.
How did the match between the national teams of Ukraine and England in the selection for the 2010 World Cup end?
Don't miss the broadcast on the UAF YouTube channel on May 9 at 20.00 pm!