GOAT team of Ukraine: choose a right back!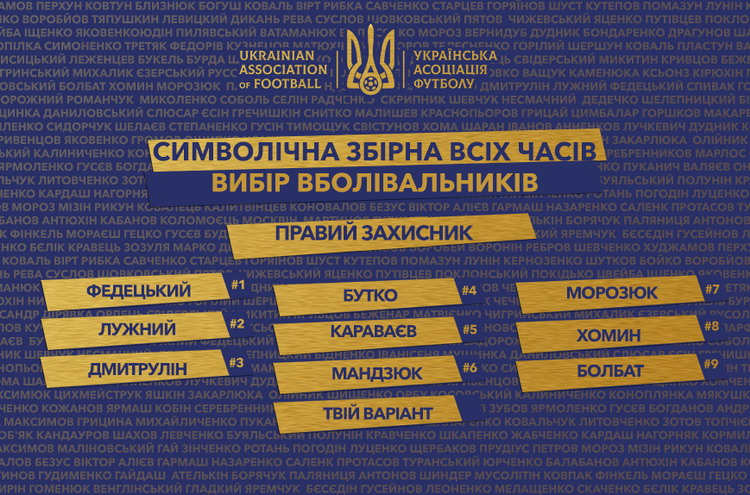 Ukrainian Association of Football proposes to recall the most prominent players who wore blue-and-yellow jerseys and to form the greatest all-time team of our country.
All those who wish can join the selection of the 11 best by voting on UAF's official web pages Facebook, Instagram and Telegram.
The rules are simple: every day on the UAF pages there will be lists of players by position, and you only need to vote for those whom you consider the best in your role. According to the results of the voting, we will determine the Ukrainian dream team according to the fans' version!
The GOAT team of Ukraine:
Right backs:
- Artem Fedetsky;
- Oleg Luzhny;
- Yuri Dmitrulin;
- Bogdan Butko;
- Alexander Karavaev;
- Vitaly Mandzyuk;
- Mykola Morozyuk;
- Andrey Khomin;
- Sergey Bolbat;
- your choice.
Join, vote for your favorite players and decide who should get a place in the GOAT team of Ukraine!
GOAT team of Ukraine: choose a goalkeeper!
GOAT team of Ukraine: choose a left back!