League of conferences. Vorskla lost to KuPS in extra time and finished the tournament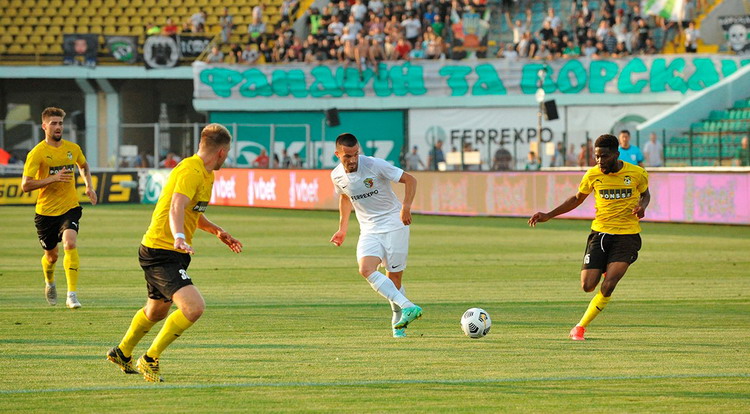 Poltava's Vorskla, which was the first Ukrainian club to start in the European Cups this season, played a return match against Finland's KuPS today.
In view of the abolition rules of away goal, the result of the first match (2:2) did not give Poltava an advantage, and to reach the next stage they only needed to win. But in the first half, in general, the players of the Finnish club acted more sharply, and Riznyk twice had to show skill, saving the goal.
After the break, one of the first attacks of the hosts brought them success. After playing the ball from their own goal, the white and greens quickly took it to the penalty area of ​​KuPS, and Till scored his second goal in a two-match confrontation from Stepanyuk's pass. The guests recovered fairly quickly, but soon after the corner corner Perdut hung on Sklyar, and he not without the help of a ricochet again brought "Vorskla" forward. But, as in the first match, the Finnish team equalized in the last minutes of regular time.
In overtime, Poltava remained in the minority after Kushnirenko played hard against Uzochukva. As a result, the guests realized their numerical advantage. 2: 3.
League of conferences. Second qualifying round. Match-response
Vorskla (Ukraine) - KuPS (Finland) - 2: 3 (0: 0, 2: 2)
Goals: Till (47), Sklar (55) - Sebban (49), Nissil (90 + 3), Rangel (111).
Vorskla: Riznyk, Chesnakov (k) (Luizao, 105 + 1), Tamm, Bondarenko, Perduta, Putzlin (Chelyadin, 63), Till, Yakubu (Kushnirenko, 79), Sklyar (Yavorsky, 72), Kane (Peshich, 105), Stepaniuk (Vakula, 105 + 1).
Substitutions: Tkachenko, Isenko, Kravchuk, Eseola.
Head coach: Yuriy Maximov.
KuPS: Kreidl, Hämäläinen (Nissilla, 63), Toivomaki, Thomas (Heinonen, 85), Carrillo (Harala, 81), Uzochukwu, Popovic (Rangel, 62), Ajay-Boateng (k), Sebban, Udo, Icauniex (Niba, 91) ).
Substitutions: Rissanen, Juryu, Järvinen, Wiedeskog
Head coach: Simo Valakari.
Referee: Pavel Orel (Czech Republic).
Booked: Stepaniuk (90), Perduta (92), Tamm (119) - Hämäläinen (34), Nissil (100), Rangel (115), Udo (120).
Sent off: Kushnirenko (95).
July 29. Poltava. Vorskla Stadium O. Butovsky.
The first match - 2: 2.