Attention to the media! Media events of the national team of Ukraine before the matches with the teams of Bulgaria and Bosnia and Herzegovina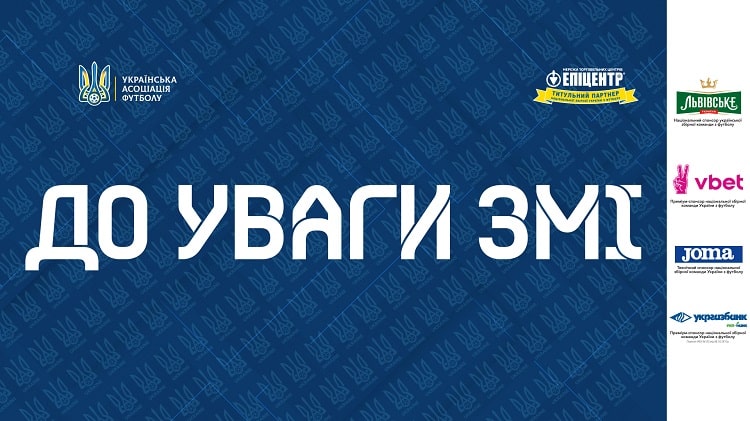 On Monday, November 8, the blue and yellows begin preparations for the upcoming matches - a control match with the Bulgarian national team (November 11 in Odessa) and the away match of the 2022 World Cup qualifiers against Bosnia and Herzegovina (November 16 in Zenica).
On the first day of the training camp, the national team will hold events for the media. A press conference will begin at 18.30:XNUMX p.m. at. head coach of the national team Alexander Petrakov. Please note that communication will take place online, without the physical presence of journalists.
At 19.00 at the STC. V. Bannikov's training of blue-yellows will begin, the first 15 minutes of which will be open to the media. Journalists will be able to watch the training session of the team from the stands of the stadium, keeping a distance of 1,5 m from each other.
Media representatives who wish to receive a link to the Zoom press conference and be present at the open part of the training must be pre-accredited. Editorial applications should be sent by 14.00 on November 8 to the e-mail address [email protected].
We also remind you that during the quarantine restrictions on the territory of Ukraine due to the spread of COVID-19, the participation of journalists in media events is allowed only if there are personal protective equipment, as well as:
- a negative test result for COVID-19 by the polymerase chain reaction method, obtained not later than 72 hours before the start of the event;
- rapid test to determine the coronavirus antigen SARS-CoV-2, obtained not later than 72 hours before the event;
- a document confirming the full course of vaccination.
Contacts: +38 097 962 18 08 or +38 097 294 25 40 and [email protected]