League of conferences. Zorya defeated CSKA Sofia for the second time in the current tournament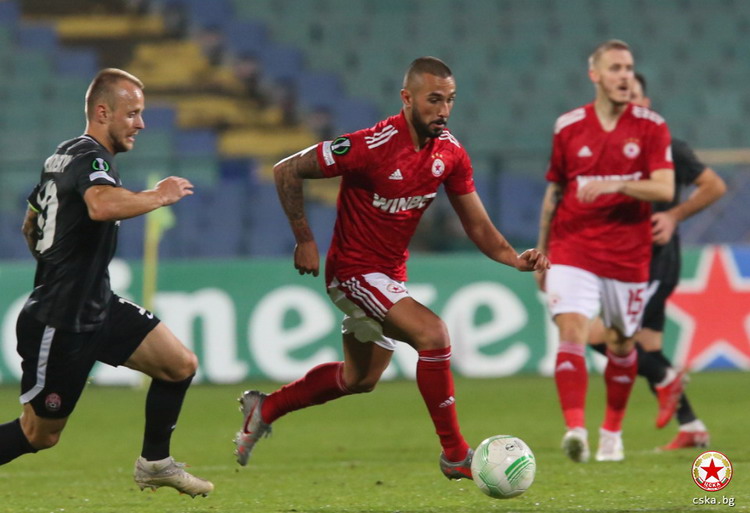 In the previous match with CSKA Luhansk earned their first points in the tournament, but today they added three more points to the balance.
Zorya approached the second meeting with the Bulgarian club, being in a difficult personnel situation. For various reasons, Viktor Skrypnyk's team had a total of six players, of which only four were field players. With such a limited resource, we had to confront an opponent who was serious about taking revenge for home defeat two weeks old.
The guests tried to give the game an intense character through the use of medium and long passes, greeted the opponent highly. Luhansk accepted the challenge, and the fight took place at a high pace, with a lot of martial arts. But at the same time, oddly enough, there were difficulties with the creation of goal moments. In the first half, CSKA could record only a few shots from a considerable distance, in "Zora" Favorov dangerously punched at the goal after Allahjar's shot, hitting the goalkeeper.
And after a break in the actions of the players there was a lot of marriage. Khomchenovsky made a serious mistake, losing the ball near his goal, but CSKA players, finding themselves together against one defender, managed to get offside. In general, the guests attacked more in the second half, but they failed to score. Instead, Zorya, withstanding the pressure, scored at the end of the game. Shahab took the ball from Lama, went to the penalty area and struck a striking blow. And in overtime, Allahyar scored the second goal from Shahab's pass, ending the counterattack. 2: 0, and Luhansk have a chance to leave the group.
League of conferences. Group round. Group C
4 round
Zorya (Ukraine) - CSKA (Bulgaria) - 2: 0 (0: 0)
Goals: Shahab (87), Allah (90 + 5).
"Star": Matsapura, Favorov, Vernidub (k), Imerekov, Snurnitsyn (Juninho, 71), Tsvek, Khomchenovsky, Buletsa (Alefirenko, 90), Shahab, Lunev (Christian, 78), Allahyar.
Substitutions: Saputin, Zhilkin, Gladky.
Head coach: Viktor Skrypnyk.
CSKA: Buzatto, Turitsov, Matthew (k), Lam, Maziku, Yuga (Krastev, 89), Jefferson, Wildshut (Be, 72), Yomov, Kerry, Kaysedo (Ahmedov, 83).
Substitutions: Evtimov, Varela, Chatakovich, Donchev, Mukhar, Galabov.
Head coach: Stoycho Mladenov.
Referee: Petri Villanen (Finland).
Booked: Vernydub (56), Snurnitsyn (70), Shahab (76).
November 4. Zaporizhzhia. Slavutych-Arena Stadium.
Roma (Italy) - Bude Glimt (Norway) - 2: 2
Standings
| | | | | | | | |
| --- | --- | --- | --- | --- | --- | --- | --- |
| | | G | W | D | L | GD | P |
| 1. | Will-Glimt | 4 | 2 | 2 | 0 | 11-4 | 8 |
| 2. | Roma | 4 | 2 | 1 | 1 | 11-9 | 7 |
| 3. | Zorya | 4 | 2 | 0 | 2 | 4-6 | 6 |
| 4. | CSKA | 4 | 0 | 1 | 3 | 1-8 | 1 |
5 round
25.11.2021
Roma (Italy) - Zorya (Ukraine)
"Bude Glimt" (Norway) - CSKA (Bulgaria)