Attention to the media! Schedule of events for the media on the eve of the match Ukraine - Bulgaria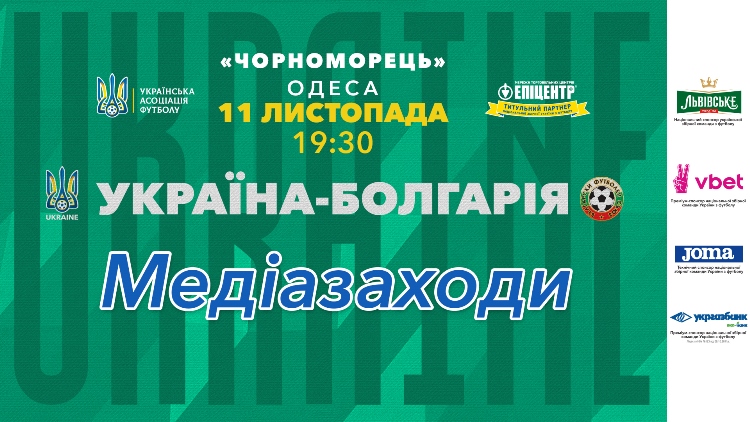 A control match between the national teams of Ukraine and Bulgaria will take place on November 11 in Odesa at the Chornomorets Stadium (starting at 19.30 pm).
On the eve of November 10, there will be events for the media with the participation of mentors and players of the participating teams.
The press conference of the acting head coach of the Ukrainian national team Oleksandr Petrakov and one of the team's footballers will start at 17.00 pm.
Please note that communication will take place online, without the presence of journalists in the press hall of the stadium. Match-accredited media will receive links to the Zoom conference.
The training of the national team of Ukraine starts at 17.30 pm and will be open to the press for the first 15 minutes.
At 18.30 pm at the virtual pre-match press conference, media representatives will have the opportunity to ask questions to the head coach of the Bulgarian national team Yasen Petrov and one of the players of his team.
The training session of the Bulgarian national team will start at 19.00, the first 15 minutes of the event will be open to the press.
Journalists will be able to watch the training of teams from the media stand, keeping a distance of 1,5 m from each other.
We also remind you that during the quarantine restrictions on the territory of Ukraine due to the spread of COVID-19, the participation of journalists in media events is allowed only if there are personal protective equipment, as well as:
- a negative test result for COVID-19 by the polymerase chain reaction method, obtained not later than 72 hours before the start of the event;
- rapid test to determine the coronavirus antigen SARS-CoV-2, obtained not later than 72 hours before the event;
- a document confirming the full course of vaccination.
Contacts: +38 097 962 18 08 or +38 097 294 25 40 and [email protected]