Legionnaires of the Ukrainian national team in the first part of the 2022/2023 club season: Andriy Lunin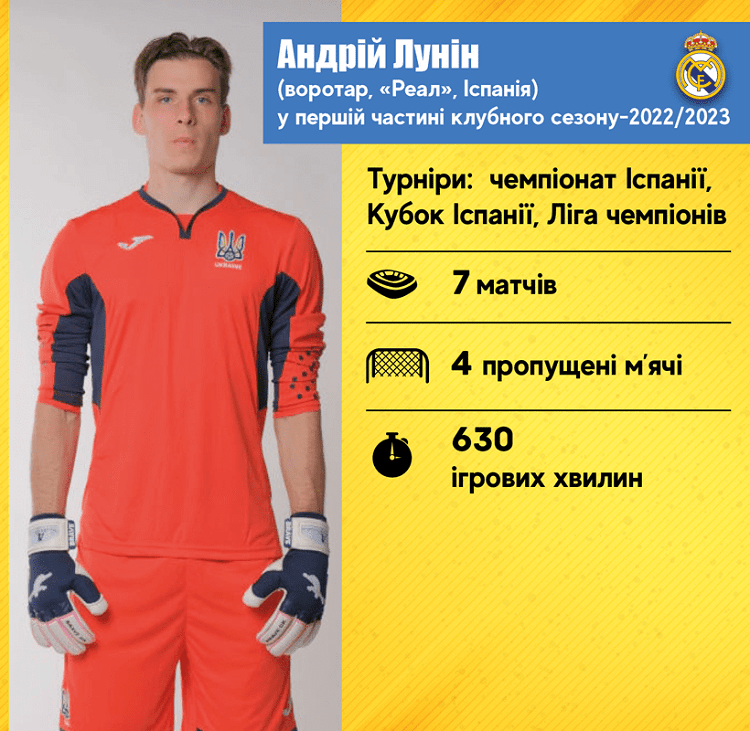 If you consider the status of a strong backup of one of the best goalkeepers today, then the first part of the club season for the goalkeeper of the national team of Ukraine Andrii Lunin in Madrid "Real" seemed to be quite good.
Due to the injury of the Belgian Thibaut Courtois, our boy, in addition to the guaranteed match in the Spanish Cup, managed to play four matches in La Liga and two games in the group round of the Champions League. In both tournaments, Lunin conceded two goals (in the cup match he played to zero), and in the Spanish championship he kept his goal intact in two more matches.
It is worth noting that Andriy played one of the matches in La Liga against the bitter rival of "Vershkovy", "Barcelona", and in this confrontation it was the Ukrainian's team that won the victory (3:1).
As for the club prospects of the goalkeeper of the national team of Ukraine in the second part of the season, if we exclude the cup matches, his playing time will depend on the readiness of Courtois to enter the field.