Andriy Pavelko: "The FFU coalition against contractual matches has united the best specialists, and we have already managed to achieve serious results"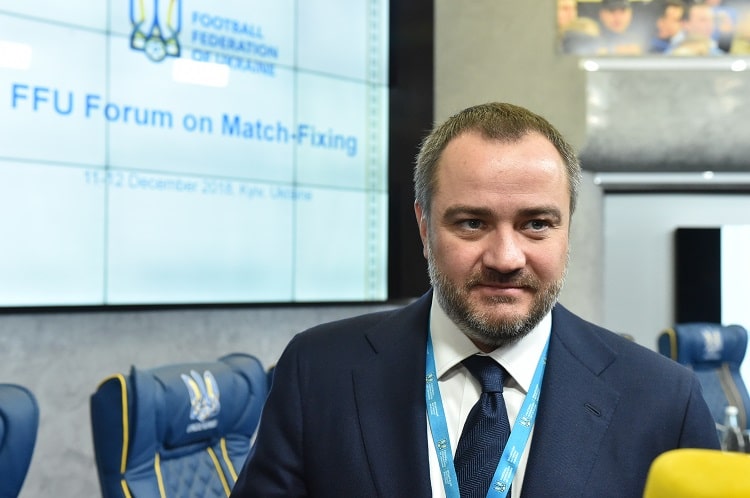 Today, December 11, the First International Forum on Countering Contract Matches, organized by the Football Federation of Ukraine, started its work in the Football House. The event is attended by representatives of FIFA, UEFA, football federations of Slovakia, Poland, the Czech Republic, Lithuania, Latvia, Georgia, Azerbaijan, as well as the Ministry of Youth and Sports of Ukraine and law enforcement agencies of our country.
"Contract matches are a major threat to modern football, as they destroy the key idea and philosophy of this great game - fair play, which is admired by millions of fans around the world, so it is important that this forum brings together professionals who dream of cleansing football from such a shameful phenomenon." - said FFU President Andriy Pavelko, opening the forum.
Andriy Pavelko reminded that FFU declared war on contract matches three years ago. "It all started with a legislative initiative developed by us and approved by the Verkhovna Rada of Ukraine, which allowed to create an effective mechanism for detecting match fixing facts, identified subjects of combating corruption offenses in sports and established responsibility for corrupt influence on competition results. Next, a team of experienced specialists was formed, who were members of the FFU Ethics and Fair Play Committee, the football prosecutor's office, and close cooperation was established with law enforcement agencies. For the first time in history, the FFU football justice authorities have gained access to police materials on match-fixing and official evidence that can be used in the detection and investigation of match-fixing, "said the FFU head.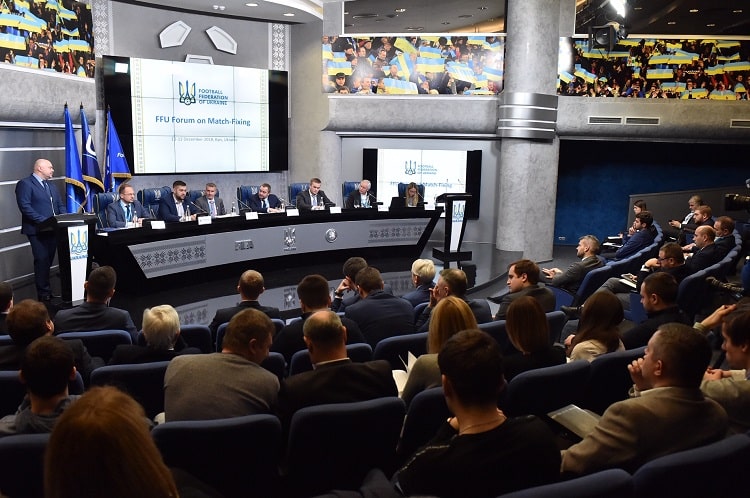 Photo by Pavlo Kubanov
Andriy Pavelko also noted that during the information campaign, which was conducted by FFU among football players, referees, owners and club managers during all this time, they managed to gain the support of many honest football people. "In general, the FFU coalition against match-fixing has united the best specialists and football people, which has helped law enforcement officers to conduct two large-scale special operations to identify and search suspects in the organization and participation in match-fixing. We understand perfectly well that this is just the beginning of a long way to clean football from the corruption that destroys it. However, we already have serious positive results. For example, football authorities now do not focus on just one individual match that has come under suspicion, but are investigating 20 to 30 matches involving the same organizers or participants in corruption schemes. This greatly simplifies the course of the investigation, saves time and allows to find a comprehensive solution to the problem, "Andriy Pavelko is convinced.
The FFU President considers a positive achievement that the FFU Ethics and Fair Play Committee together with the Children's and Youth Football League of Ukraine managed to block the transmission of statistics online from competitions of league clubs in which players under 18 participate. "This is a very important point in the overall strategy of combating contract matches, as it allows to localize the growth of the tumor of contract matches at an early stage and protect the younger generation of players from this scourge. Thank you to everyone who helps us in this important mission! FFU is ready to cooperate with everyone who, like us, dreams of clearing football of contract matches and providing a new generation of players with really fair and competitive conditions to reach the top of football, "Andriy Pavelko emphasized.