Oleksandr Zinchenko: "Thanks to the chosen tactics we had the advantage in the center of the field"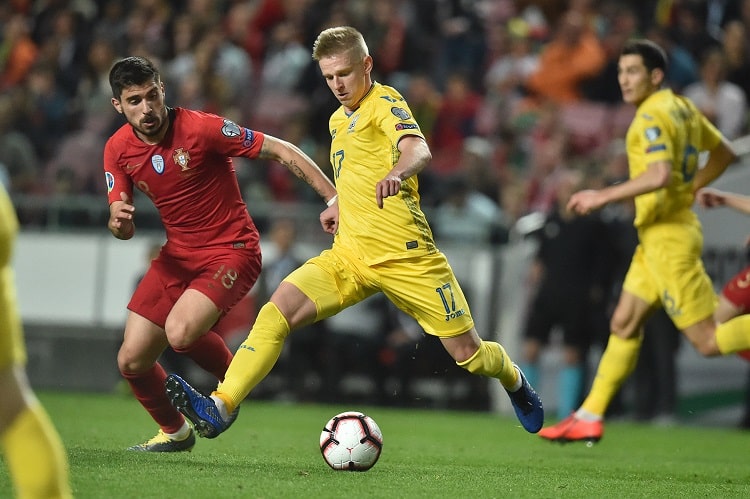 Oleksandr Zinchenko, a midfielder of the national team of Ukraine, shared his thoughts after the away game of the Euro 2020 selection in Lisbon.
In the first round of the qualifying tournament national teams of Portugal and Ukraine managed to score no goals. In the composition of blue-yellows the full match was played by Alexander Zinchenko, who later commented on the events on the field.
- Alexander, what can you say about the Portugal national team game?
- We all know that the Portuguese have a lot of quality football players, and they play hard at home. Luck may have been on our side, but I want to say that we worked very well without the ball. We also had a good chance to score. It would be nice if Moraes excelled.
- Rivals filed as many as 18 corners. When did you realize that you could still stand?
- It's football - anything can happen. But it should be noted that we have allowed a lot of angles near our goal. Most of them might not happen if we kicked the ball out or kept it. It needs to be eradicated.
- How difficult was it to get out of the defense into the attack, given the constant pressing of opponents?
- The Portuguese gave us moments to play. We could have gone out of defense better. Thanks to the tactics we chose, we had the advantage in the center of the field. Of course, there was a lack of simple situations, we have something to work on.
- After the match, your Manchester City partner Bernard Silva was surprised by the result?
"I managed to throw myself a few phrases after the game. Bernard said he was very tired. All in all, the Portuguese are disappointed.
- Now the Luxembourg national team is waiting for you - group leader ...
- We need to start preparing for the next match right now.