The Premier League. "Zorya" won a strong-willed victory over "Desna" and was drawn to the leaders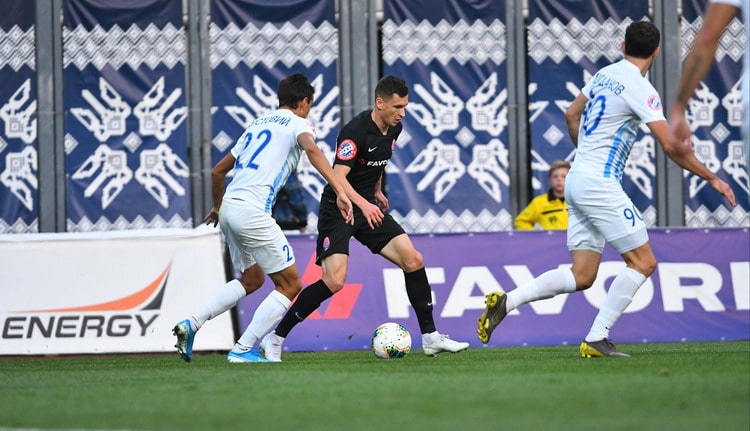 In Zaporizhzhya contenders for the prize places, and in Lviv - outsiders of the championship.
Zorya has taken on Desna, who is also in the leader group in her second season in the elite division. Chernihiv opened the account after a head kick by Degtyarev - ex-striker Olimpik scored his first goal in the current championship on Kalitvintsev's transfer. But at the end of the meeting the Luhansks turned the course of the game. Yurchenko gave a goal pass to Lednev, and then issued a winning ball from a penalty, which earned Rusin.
The Lviv derby went without goals, but there were enough other events in the match. Opponents did not score on the 11-meter, and in both cases, the goalkeepers played great: first Sarnavsky won a duel against Hutsulak, and then Kudrick parried a punch to Pernambuco. Also, each of the contenders earned by seizure. Carpathian player Verbniy and FC Lviv representative Sabino leave for a rough game ahead of schedule.
Premier League-2019/2020
11 round
18.10.2019
Shakhtar vs Kolos 6-0 (5-0)
19.10.2019
Carpathians - Lviv - 0: 0
At the 7th minute Gutsulyak ("K") and at the 75th minute Pernambuco ("L") not implemented penalty.
Removed: Willow (44, K), Sabino (79, L).
Zorya - Desna - 2: 1 (0: 1)
Goals: Lednev (81), Yurchenko (85, from penalty) - Degtyarev (17).
Standings
 

 

G

W

D

L

GD

О

1.

Shakhtar

11

11

0

0

36—6

33

2.

Desna

11

6

2

3

15—6

20

3.

Dynamo

10

6

2

2

22—7

20

4.

Oleksandriya

10

6

1

3

14—12

19

5.

Zorya

11

5

4

2

19—11

19

6.

Kolos

11

4

2

5

9—21

14

7.

Dnipro-1

10

3

2

5

10—13

11

8.

Mariupol

10

2

4

4

8—16

10

9.

Karpaty

11

2

3

6

8—15

9

10.

Vorskla

10

2

2

6

9—19

8

11.

Lviv

11

2

2

7

7—16

8

12.

Olimpik

10

1

2

7

5—20

5

20.10.2019

Mariupol - Dnipro-1

14.00

Dynamo vs Oleksandriya

17.00

Olimpik - Vorskla

19.30