The Premier League. Shakhtar lost in the championship for the first time in a year and a half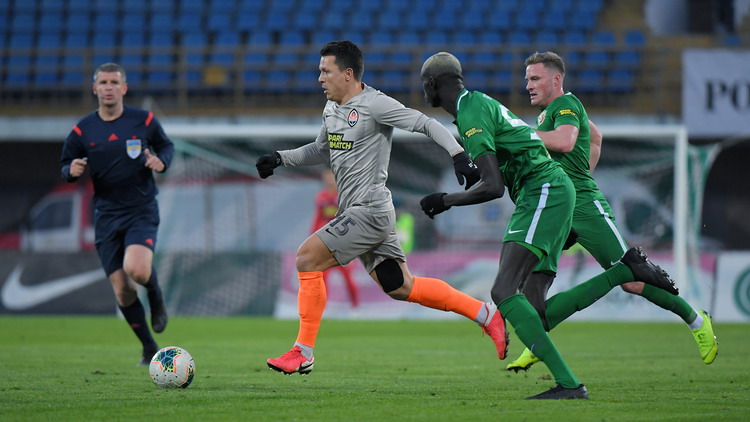 The 20th round of the Ukrainian Premier League ended with two matches on Sunday.
For the second time in a row after a Europa League match, Shakhtar's coaching staff has started a massive rotation. This time for a match against Vorskla versus playing in Lisbon against Benfica Eight new players in the black and black have entered the starting line-up.
The hosts very aggressively held the first half against the experimental composition of the Pitmen. And in the 30th minute, there was no pressure from the opponents Alan Alan Patrick, who lost the ball in his own free kick. Sclar saved on Stepanyuk, and he opened the account. By the way, a newcomer to Poltava, who in the last round scored and Dynamo, held only the second official match for Vorskla ...
In the second half, 19-year-old Artem Bondarenko, who made his debut in the first team of the Orange and Blacks, was replaced. Donetsk had territorial advantage, but both rivals had chances to score. In the 84th minute after the elimination of Sklar, Vorskla remained in the minority, but the winning score remained. Shakhtar suffered their first defeat in the Premier League since 11 August 2018, interrupting their unbeaten streak of 48 matches.
Shakhtar players took part in the meeting with the players of the national team of Ukraine: Bolbat (replaced by 60 minutes), Krivtsov (yellow card), Marlos (yellow card), Konoplyanka.
Another match, which took place in Zaporozhye, influenced the location of the teams of the leading group. Zorya had a minimal victory over Marseille and beat Dynamo in the second row. Three points went to Victor Skrypnyk's team in a tough fight. The Olympians were worthy rivals, missing the only ball at the end of the game, and at the last minute they almost didn't win the draw when Shahab's shot was sustained. The VAR system worked on this match, but there were no conflicting episodes that would require a referee to watch the video.
20 round
28.02.2020
Dnepr-1 - Dynamo 3: 1 (0: 1)
29.02.2020
"Lviv" - "Alexandria" - 1: 1 (0: 1)
Desna - Mariupol - 4-0 (2-0)
Kolos - Karpaty - 2: 1 (2: 0)
01.03.2020
Zorya - Olimpik - 1: 0 (0: 0)
Goal: Kabayev (77).
Vorskla vs Shakhtar 1-0 (1-0)
Goal: Stepanyuk (30).
Sent off: Glazer (84, "B").
Standings
 

 

G

W

D

L

GD

О

1.

Shakhtar

20

17

2

1

51—10

53

2.

Zorya

20

12

4

4

37—17

40

3.

Dynamo

20

12

3

5

39—16

39

4.

Desna

20

11

3

6

33—14

36

5.

Oleksandriya

20

10

4

6

25—20

34

6.

Kolos

20

8

2

10

22—33

26

7.

Mariupol

20

5

7

8

18—32

22

8.

Dnipro-1

20

6

4

10

22—30

22

9.

Lviv

20

5

4

11

16—33

19

10.

Olimpik

20

5

3

12

16—34

18

11.

Vorskla

20

5

2

13

14—35

17

12.

Karpaty

20

2

6

12

17—36

12

21 round

03.03.2020

Dynamo - Kolos

19.30

04.03.2020

Mariupol - Vorskla

14.00

Zorya - Lviv

17.00

Olympic - Right

17.00

Shakhtar vs Dnipro-1

19.00

"Carpathians" - "Alexandria"

19.30