Premier League. Dynamo and Shakhtar won and increased their lead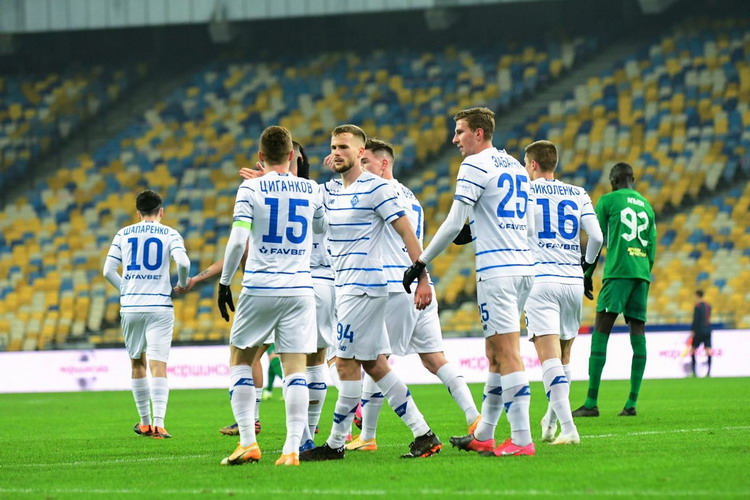 Today in the championship Prem'Air leagues were played by teams occupying the first three rows of the standings.
Dynamo and Vorskla, respectively, the leader and the third team, met. White and blue proved their superiority, winning without much trouble. The composition of Kyiv strengthened due to the return of Tsygankov, who finally gained the necessary condition. The captain of Dynamo opened the score, scoring after a pass from Verbych. And then the Slovenian doubled the advantage of the hosts, realizing the transfer of De Pena.
Twice the course of events was significantly affected by VAR. In the first half, with the help of a video assistant, De Pena's goal was canceled (due to Verbych's offside), and in the second half, the defender of the white and blue team, Zabarny, was sent off. However, Lucescu's charges played in the minority for only eight minutes - Cane soon saw the red light in front of him.
The game was attended by Dynamo players who were on the list called up for the November training camp of the national team of Ukraine: Bushchan, Mykolenko, Zabarny (red card), Popov, Shaparenko (replaced in the 85th minute), Tsygankov (goal), Supryaga ( came on as a substitute in the 80th minute), Karavaev (came on as a substitute in the 85th minute).
Shakhtar, which is second, also won its match. Thus, the gap between the first two clubs and the other participants increased. At the Dnipro Arena in a match against Igor Yovychevych's team, in the absence of the disqualified Moraes, the Pitmen had the advantage, but very rarely ended their attacks with blows. Only at the end of the meeting after the shot Cipriano accurately punched the bottom of Tete. 0: 1.
The players of Andriy Shevchenko included in the list of those called up for training in November: Matvienko, Bondar, Marlos (yellow card, substituted in the 90th minute), Kovalenko (substituted in the 61st minute) , Stepanenko (substitution in the 90th minute).
In another match, "Alexandria" with "Rukh" painted a goalless draw. The hosts played in the minority for more than half an hour after the removal of Bondarenko, who managed to earn two yellow cards in the 59th minute. But this did not help Lviv to win the first victory in the history of the club in the Premier League, which could allow them to rise from the last step. Moreover, they could have been left without points today if Banada had hit the goal from a few meters away.
11 round
27.11.2020
Lviv - Mariupol - 1: 3 (0: 2)
28.11.2020
"Alexandria" - "Movement" - 0:0
Sent off: Bondarenko (59, "O").
Dynamo - Vorskla - 2:0 (2:0)
Goals: Tsigankov (14), Verbich (36).
Removed: Zabarny (82) - Kane (90).
Dnipro-1 - Shakhtar - 0: 1 (0: 0)
Goal: Aunt (88).
Standings
| | | | | | | | |
| --- | --- | --- | --- | --- | --- | --- | --- |
| | | G | W | D | L | GD | О |
| 1. | Dynamo | 11 | 8 | 2 | 1 | 21-7 | 26 |
| 2. | Shakhtar | 11 | 6 | 5 | 0 | 25-10 | 23 |
| 3. | Vorskla | 11 | 5 | 4 | 2 | 16-8 | 19 |
| 4. | Desna | 10 | 4 | 4 | 2 | 14-9 | 16 |
| 5. | Mariupol | 11 | 4 | 4 | 3 | 13-15 | 16 |
| 6. | Oleksandriya | 11 | 4 | 3 | 4 | 18-15 | 15 |
| 7. | Kolos | 10 | 4 | 3 | 3 | 14-12 | 15 |
| 8. | Olimpik | 9 | 4 | 1 | 4 | 15-16 | 13 |
| 9. | Zorya | 9 | 2 | 5 | 2 | 15-9 | 11 |
| 10. | Mynai | 9 | 2 | 3 | 4 | 7-14 | 9 |
| 11. | Dnipro-1 | 11 | 2 | 2 | 7 | 14-21 | 8 |
| 12. | Inhulets | 10 | 0 | 7 | 3 | 10-15 | 7 |
| 13. | Lviv | 10 | 2 | 1 | 7 | 6-24 | 7 |
| 14. | Rukh | 11 | 0 | 6 | 5 | 7-19 | 6 |
29.11.2020
"Pass" - "Dawn" 14.00
Kolos - Desna 17.00
"Ingulets" - "Olympic" 19.30