Premier League. The teams go on vacation and start training sessions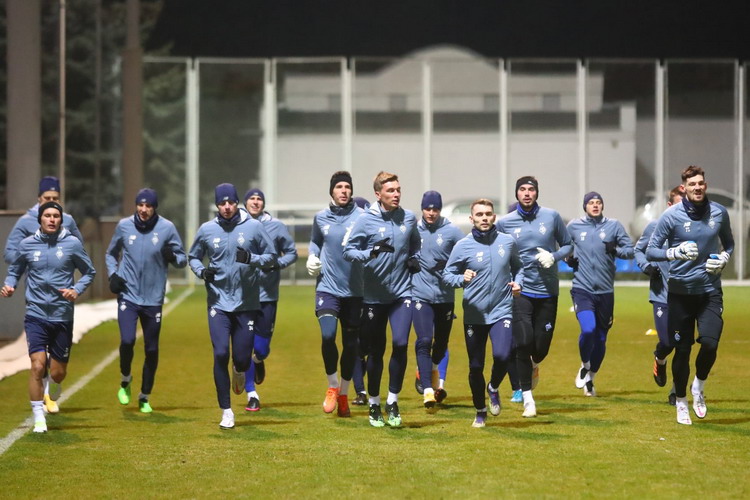 Most of the teams of the top division of the Ukrainian championship have started preparing for the second part of the season.
The current champion will leave on January 14 - Shakhtar, and on January 11 the preparatory process for the players of Kyiv began "Динамо". The footballers went through two stages of medical examination and will go to the first training camp on January 15 - to the UAE. In two weeks, the team will return to Kyiv, and then go to Turkey, where it will hold its second training camp abroad. The program of both stages of preparation includes a number of control matches. It is already known that on January 18 Mircea Lucescu's charges will meet the champion of Poland, Legia from Warsaw, and on January 21 they will play against the strongest team of Belarus - Shakhtar from Soligorsk.
Chernihiv began the first training sessions in his native Chernihiv, where Oleksandr Ryabokon's team will work until January 20. A flight to Turkey is scheduled for January 22.
Already in Turkey Zorya Luhansk й Mariupol. Azov managed to play with the Czech "Slovan" (1: 3). On January 20 and 28, Mariupol will play two more control matches. Zorya is training, and on January 12 it will play against Poland's Raków, on January 15 against Poland's Piast, on January 19 against Serbia's Vojvodina, on January 20 against Serbia's Voždovac, and on January 25 against Škendija. from Northern Macedonia. Zauri Maharadze, Ihor Tchaikovsky, Maksym Grechkin and Mykhailo Perovych did not go to the training camp with the first team. On January 14, Lovro Tsvek and Agron Rufati are to join Zorya, who are completing their recovery from injury.
Poltavska Vorskla left for Turkey on January 11 on the route Kharkiv - Istanbul - Antalya, where she will work until February 6. Dynamo midfielder Georgy Tsitaishvili, who will play for Yuri Maksimov's team on loan, went to the training camp with the green and whites. The Brazilian Luizao, who returned from Porto, also signed a contract with the club. At the same time, Volodymyr Baenko, Yevhen Opanasenko, Denys Vasin, Ivan Peshych and Mykita Tatarkov will leave Vorskla.
Kolos After the winter holidays, he spent a few days at home and on January 12 headed for Turkey, where Ruslan Kostyshyn's wards are facing seven sparring matches against teams from Hungary, Serbia, Belarus and Kazakhstan. Former Desna forward Dmytro Khlobas became the first newcomer to the Kovalev team.
On January 11, the players returned to work "Olympic". Igor Klimovsky announced plans for the players for the winter training period. On January 12 and 13, Donetsk residents will hold a training process, alternately working in the gym at the base in Shchaslyve and on the field of the Champion Stadium in Kyiv. On January 15, Olimpik will fly to Boryspil airport for a training camp in Antalya, Turkey. The first winter newcomers of the Donetsk team were defender Bohdan Veklyak and midfielder Vladyslav Khamelyuk. Both players signed contracts with "Olympic" for a period of 2,5 years.
On January 9, they went on vacation Oleksandriya and FC Lviv. Volodymyr Sharan's team will work at home until January 18 and will play two matches against their "youth". The Turkish training camp "Alexandria" will start in Alanya, and then move to Belek, where the second training camp will take place.
"On January 21, we are going to a meeting in Turkey. We will be based in Alanya. We have already planned four sparring matches there. Rivals of our team will be: January 24 - "Macedonia Gorce Petrov" (Northern Macedonia), January 26 - CSKA Sofia (Bulgaria), January 29 - "Slavia" (Bulgaria) and "Arda" (Bulgaria). Then the team will have two days off, after which four more matches are planned, "Volodymyr Sharan shared the team's plans.
As for Lviv, it will work in Lviv until January 22, then relocate to Mukachevo, and from there will go to Turkey on January 24. There, the team will play three sparring matches - against Pandev Academy and Shkupa from Northern Macedonia, as well as Rivne's Veres.
He will train in Vynnyky until January 20 Rukh, after which the team will go to the training camp in Turkey. Currently, two players have left Lviv - midfielder Ivan Kalyuzhny's contract has expired, which Rukh and Dynamo have decided not to extend. Also, Rukh, with the consent of the parties, stopped cooperating with defender Volodymyr Zastavny.
On January 10, he started work at his training base in Petrovo "Ingulets". The first stage of team preparation will last until January 18. On January 19, the Ingulec delegation will travel to Turkey, where it will hold six sparring matches, and will return home on February 11.
Mynai ended the winter holidays on January 11. Transcarpathians have decided on seven sparring partners during the winter training. The game program in Turkey will begin with two matches with Hungarian clubs, and then "Minai" will test its readiness to play with Serbs, Belarusians, Kazakhs and Macedonians, and will end the meeting with a meeting with compatriots - "Veres".
Dnipro-1 He is leaving for Turkey on January 14, where he will hold two meetings - until February 11. The game program "Dnipro-1" is quite rich - six sparring matches. A number of control matches are currently planned: against Serbian Spartak Subotica (January 21), Chukarychok (January 25), North Macedonian Silex (January 26), Montenegrin Buducnost (February 3) and Zeta (February 7). . There is also an agreement to play with Georgian Lokomotiv Tbilisi.