Shakhtar football club's project has received an award from UEFA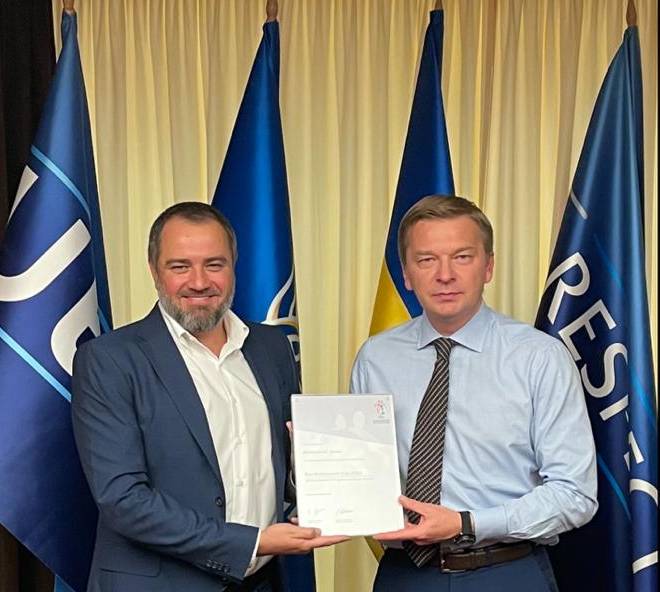 On behalf of UEFA President Alexander Cheferin, Andriy Pavelko, President of the Ukrainian Football Association and a member of the UEFA Executive Committee, presented an honorary award to Serhiy Palkin, Director General of FC Shakhtar Donetsk. The Ukrainian Shakhtar Social Foundation received a silver UEFA Grassroots Awards for its work in the development of grassroots football in the nomination "Best Professional Club 2020".
Every year, UEFA awards prizes to people and projects that ensure that everyone, regardless of age, ability, gender or background, can play football in a safe environment. This is a key goal of the UEFA Mass Football Program.
Shakhtar Social Foundation is a non-profit fund created by FC Shakhtar in 2018 for the implementation of social and charitable projects of the club, as well as for the development of mass children's football in Ukraine.
The honorable second place in the nomination "Best Professional Club" was awarded to the project of the foundation called "Come on, play!". This project performs not only sports and educational, but also socially inclusive function, creating conditions for children to live a normal life with the help of football.
The annual UEFA Grassroots Awards were launched in 2010, but the Best Professional Club category only appeared last year. Thus, the Ukrainian Shakhtar Social Foundation became its nominee for the second year of the award's existence.
Thank you to FC Shakhtar and its management for their fruitful work! It is gratifying that the club's efforts are aimed not only at successful performances in Ukrainian and international competitions, training players for various national teams of Ukraine. It is important that in our difficult times for all world football, Shakhtar is a leader among European clubs in the development of grassroots football and the implementation of social projects, "said Andriy Pavelko.