First League. The impressive series of "Heather" continues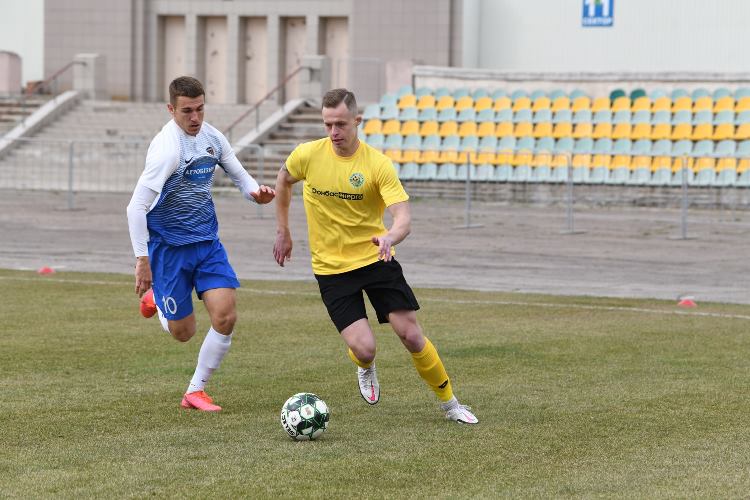 Today the record winning club series of "Veres" - eight matches in a row - was almost interrupted.
Footballers of "VPK-Agro" put up stubborn resistance, but in the fifth compensated minute Rivne still tilted the scales in their favor: Roman Goncharenko scored the decisive goal from the penalty spot. Yuri Wirt's wards continue to improve another club achievement: they have been keeping their goal at the castle in their home walls for 756 minutes.
Not far behind is the main pursuer, Chornomorets, who won a hard-fought victory over the unyielding Polissya. But other contenders for promotion in the class, "Metalist 1925" and "Agribusiness", lost important points. And Podolians should complain only about themselves, because in Kramatorsk allowed the hosts to escape defeat in overtime.
In the reporting round it was possible to expect victories from "Nikolaev" and "Prykarpattya", after all they met rivals convenient for themselves. Suffice it to say that the "citizens" scored six goals in the first round in the first round of the Pitmen's Sport, and conceded only one. And in Horishni Plavny Nikolaev without special efforts prevailed over owners.
Much more important was the victory of "Prykarpattia" over "Flint", because it not only allowed Ivano-Frankivsk to interrupt their six-match winless streak, but also helped increase the distance from the relegation zone.
First League
21 round
10.04.2021
Avanhard - Ahrobiznes- 1: 1
"Veres" - "VPK-Agro" - 1: 0
Obolon - Niva - 2: 1
"Alliance" - "Metalist 1925" - 0: 0
"Miner-Sport" - "Nikolaev" - 0: 3
"Prykarpattya" - "Flint" - 1: 0
"Volyn" - "Crystal" - 2: 0
"Chernomorets" - "Polissya" - 2: 1
Standings
| | | | | | | | |
| --- | --- | --- | --- | --- | --- | --- | --- |
| | | G | W | D | L | GD | О |
| 1. | Veres | 19 | 14 | 3 | 2 | 32-9 | 45 |
| 2. | Chornomorets | 21 | 13 | 5 | 3 | 33-17 | 44 |
| 3. | Metalist 1925 | 21 | 11 | 6 | 4 | 18-14 | 39 |
| 4. | Ahrobiznes | 20 | 11 | 4 | 5 | 36-18 | 37 |
| 5. | Volyn | 19 | 10 | 5 | 4 | 26-13 | 35 |
| 6. | Mykolayiv | 20 | 9 | 6 | 5 | 31-13 | 33 |
| 7. | Obolon | 20 | 10 | 3 | 7 | 32-18 | 33 |
| 8. | Alliance | 20 | 8 | 5 | 7 | 23-18 | 29 |
| 9. | Hirnyk Sport | 20 | 8 | 4 | 8 | 28-29 | 28 |
| 10. | VPK-Ahro | 20 | 7 | 2 | 11 | 19-35 | 23 |
| 11. | Polissya | 19 | 5 | 7 | 7 | 18-20 | 22 |
| 12. | Kremin | 20 | 5 | 4 | 11 | 17-30 | 19 |
| 13. | Nyva | 20 | 4 | 6 | 10 | 20-36 | 18 |
| 14. | Prykarpattya | 19 | 4 | 5 | 10 | 13-27 | 17 |
| 15. | Avanhard | 19 | 3 | 4 | 12 | 15-34 | 13 |
| 16. | Krystal | 21 | 1 | 3 | 17 | 13-43 | 6 |