Andriy Shevchenko named the expanded list of players of the national team of Ukraine to participate in the training camp before Euro 2020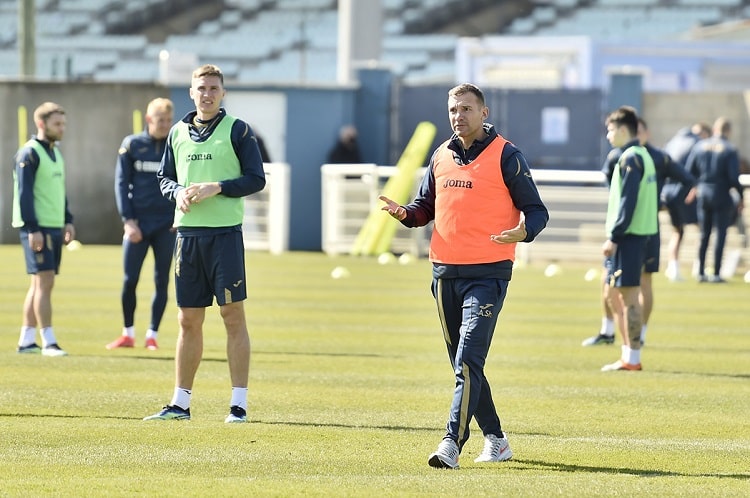 The head coach of the national team of Ukraine Andriy Shevchenko has announced an expanded list of candidates for the training camp, the results of which will determine the composition of the blue and yellows, which will represent the country in the final tournament of the European Championship.
The list includes 35 performers. Most of them - players of Ukrainian clubs, as well as two legionnaires, Alexander Zubkov from the Hungarian "Ferencvaros" and Eugene Makarenko from the Belgian "Kortrijk" - will arrive at the location of the national team on May 15. On this day, the team will begin a training camp in Kharkov, where it will be housed in the well-known hotel Superior Golf & Spa Resort. The rest (eight representatives of foreign clubs) will arrive at the blue-yellow camp after the end of their club seasons.
There are three completely new names in the extended list. These are midfielders Bohdan Lednev from Dynamo Kyiv, Heorhiy Sudakov from Shakhtar Donetsk and Artem Bondarenko from Mariupol, for each of whom this challenge to the national team is a debut. For the third time in his career, Shakhtar defender Viktor Kornienko was called up to the national team. He was injured twice in a row before the start of the training camp, which is why he has not trained in the main team's camp so far. Dynamo player Oleksandr Andrievskyi, who made his national team debut on November 10, 2017 in a friendly match against Slovakia, received an invitation for the second time.
Our team will hold the first control match at the preparatory training on May 23: a friendly match with Bahrain will take place in Kharkiv.
Extended composition of the national team of Ukraine
Goalkeepers: Heorhii Bushchan (Dynamo), Andrii Pyatov, Anatolii Trubin (both Shakhtar), Andrii Lunin (Real, Spain).
Defenders: Oleksandr Karavaev, Ilya Zabarny, Vitaliy Mykolenko, Oleksandr Tymchyk, Oleksandr Syrota, Denis Popov (all - Dynamo), Mykola Matvienko, Serhiy Kryvtsov, Viktor Kornienko (all - Shakhtar), Eduard Sobol (Brugge, Belgium) , Bogdan Mykhaylichenko (Anderlecht, Belgium).
Midfielders: Taras Stepanenko, Marlos, Georgy Sudakov (all - Shakhtar), Serhiy Sydorchuk, Volodymyr Shepelev, Mykola Shaparenko, Vitaliy Buyalsky, Oleksandr Andrievsky, Viktor Tsygankov, Bohdan Lednev (all - Dynamo), Artem Bondarenko (Mariupol) , Yevhen Makarenko (Kortrijk, Belgium), Oleksandr Zubkov (Ferencvaros, Hungary), Ruslan Malinovsky, Viktor Kovalenko (both Atalanta, Italy), Oleksandr Zinchenko (Manchester City, England), Andriy Yarmolenko ( West Ham, England).
Forwards: Roman Yaremchuk (Gent, Belgium), Artem Dovbyk (Dnipro-1), Artem Besedin (Dynamo).
Oleksandr Hlyvynskyi, spokesman for the national team of Ukraine