Officially. Andriy Shevchenko announced the application of the national team of Ukraine for Euro 2020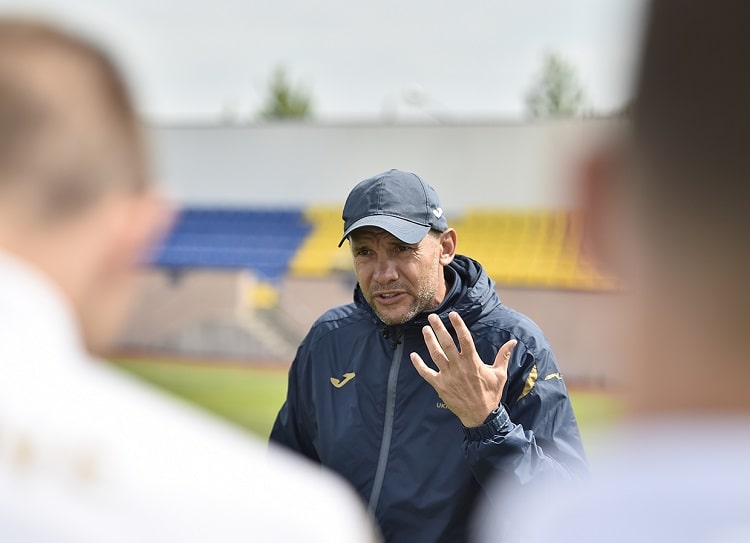 Today, the head coach of the national team of Ukraine Andriy Shevchenko announced the official application of the national team for Euro 2020.
Application of the national team of Ukraine for Euro 2020
Goalkeepers: 1. Georgy Bushchan (Dynamo), 12. Andriy Pyatov, 23. Anatoliy Trubin (both Shakhtar).
Defenders: 2. Eduard Sobol (Brugge, Belgium), 13. Ilya Zabarny, 16. Vitaliy Mykolenko, 21. Oleksandr Karavayev, 24. Oleksandr Tymchyk, 25. Denis Popov (all - Dynamo), 4. Serhiy Kryvtsov, 22 Mykola Matvienko (both Shakhtar).
Midfielders: 3. Georgy Sudakov, 6. Taras Stepanenko, 11. Marlos (all - Shakhtar), 5. Serhiy Sidorchuk, 10. Mykola Shaparenko, 15. Viktor Tsygankov (all - Dynamo), 7. Andriy Yarmolenko (West Ham), England), 8. Ruslan Malinowski (Atalanta, Italy), 14. Eugene Makarenko (Kortrijk, Belgium), 17. Alexander Zinchenko (Manchester City, England), 18. Roman Bezus (Gent ", Belgium), 20. Alexander Zubkov (" Ferencvaros ", Hungary).
Forwards: 9. Roman Yaremchuk (Gent, Belgium), 19. Artem Besedin (Dynamo), 26. Artem Dovbyk (Dnipro-1).
Before the name and surname of the football player - his permanent game number for Euro 2020.
Among those players who are in the training camp of the national team of Ukraine, the application did not include Andriy Lunin (Real, Spain), Oleksandr Syrota, Bohdan Lednev (both - Dynamo), Artem Bondarenko (Mariupol) and Bohdan Mykhailychenko ( Anderlecht).
Excerpt from the decision of the UEFA Executive Committee on possible changes in the announced application of the teams participating in Euro 2020
"After submitting the list of players on June 1, 2021, Art. 47.04 of the regulations allows unlimited replacements in the list of players in case of serious injuries or illnesses before the first match of the tournament provided that the replacements are medically certified.
According to the current rules, the list of players must include at least 3 goalkeepers (Article 47.01). Goalkeepers can also be replaced before each match of the final tournament in case of physical disability, even if one or two goalkeepers from the team list are still available. In the application for each game, three of the 23 players declared for a particular match must be goalkeepers.
To ensure the integrity of the competition, a player who is replaced in the list of players may not be re-included in the list. "