Andrii Pavelko: UAF is a powerful team, one of the most ambitious in Europe and the world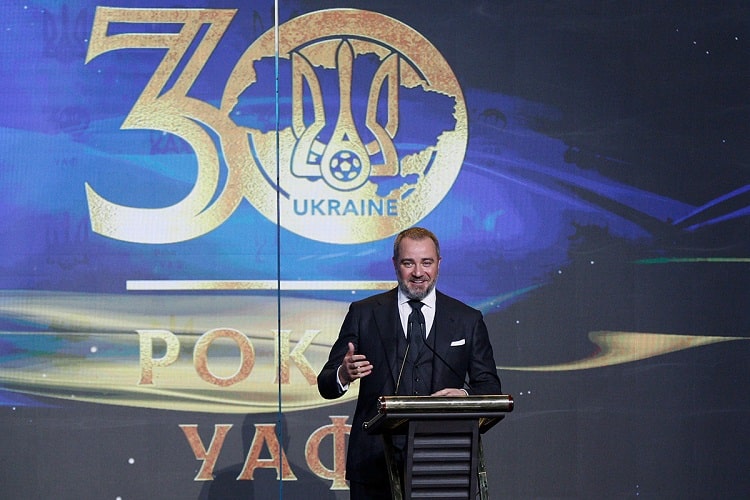 On December 9, the National Opera of Ukraine hosted a ceremony to celebrate the 30th anniversary of the Ukrainian Association of Football. On this occasion, the President of the UAF, a member of the UEFA Executive Committee Andrii Pavelko addressed the audience with a solemn speech:
"The 30th anniversary of the Ukrainian Association of Football is a celebration of the great football family of our country, which has been developing our favorite football all these years.
I am very grateful to each of you - veterans, coaches, footballers, managers, fans and our foreign partners. All the presidents of the association who are currently present at the celebration, I am grateful to each of you for your contribution to the development of football. Our legends, our regional associations, who work every day to develop our football. Our clubs, club presidents and patrons are all those who are now investing their energy and soul in the future of Ukrainian football. This is our common holiday, because in order to win our national teams in the future, today everyone needs to work to develop infrastructure, children's and youth schools, clubs. All this gives us the right to hope for our future victories.
I am sure that thanks to you we will not only remember the glorious history that we proudly honor in Ukraine, and all the achievements that have been before. It is important that each of you and we do everything together to attract millions of boys and girls to the game and a healthy lifestyle, so that they can play their favorite football, and we saw the future new owners of the Golden Ball grow in our country. . This is very important, because Ukraine has very talented young people, and we have very ambitious plans to attract millions of children to football.
Today was an extremely important moment. I thank the President of Ukraine Volodymyr Zelensky, who today during a meeting with UEFA President Aleksander Ceferin discussed with him plans for a long-held dream - to build a training base for our national teams. This is the dream of all our football generations, they all dreamed that our youth, youth and national teams would have their own home, where they would work to represent our country with dignity on the international arena.
I am grateful that it is thanks to such ambitious plans that a base for all national teams can be built in our country for the first time, and I think this will be the next step to the future victories of our teams.
It is also important that thanks to the development of infrastructure, children's and youth football, our clubs return to Ukraine victories in European Cups. It is important that our generation of children and fans see how our clubs will bring to Ukraine the Champions League Cup, the Europa League Cup. Everyone is waiting, and I believe that there are enough talented young people in Ukraine for this.
In particular, we remember very well how during Euro 2020 boys aged four or nine sang the National Anthem of Ukraine in the yard in Troieschyna before their match, they sang sincerely. It was so emotional that we quickly built a playground for them, and now they are playing on a modern field. I am sure that thanks to such patriotic children we will win everything.
Congratulations again, I am proud to work with you. We are a strong team, we are an extremely ambitious national association in Europe and in the world. "