UAF referee Dmytro Kubryak: "We had an understanding that we are captives of a terrorist state that does not have any moral principles"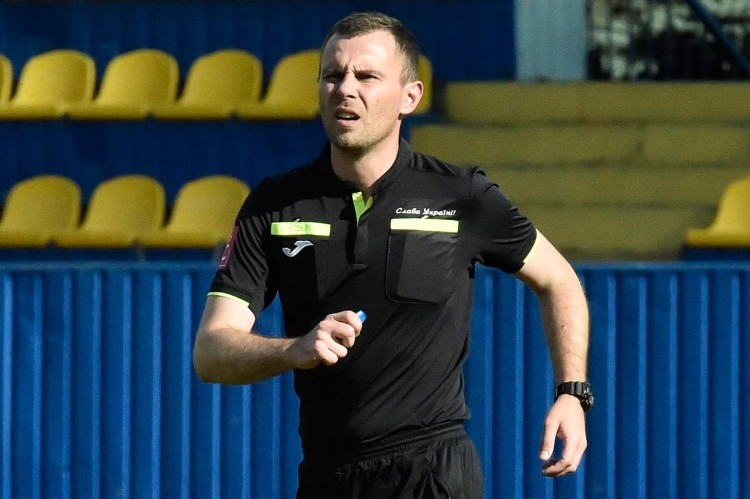 UAF referee and neurosurgeon Dmytro Kubryak talked about his football affairs, participation in the defense of Mariupol, capture and exchange and return to Ukraine.
By the decision of the UAF Referee Committee, Dmytro Kubryak returned to the ranks of referees of the PFL First League. On November 4, the man from Odessa worked on the match of the championship of Ukraine between the U-19 teams "Zorya" and "Metalist".
We will remind, Dmytro Kubryak was among the volunteers who at the end of March volunteered to go to the surrounded Mariupol. As a medic, Dmytro helped wounded soldiers who were in the shelter at Azovstal. In April, the neurosurgeon was captured together with the defenders of Mariupol, where he stayed for about five months, and was recently released.
Dmytro Kubryak told the UAF press service about his work in Mariupol, wandering in captivity and returning to Ukraine.
About release from captivity
"When I returned from captivity, I had a real explosion of emotions. It seems that even the air in Ukraine is different from where we were. For the exchange, we were transported for almost a day and a half - by KAMAZ trucks and by plane. We landed in Belarus and already arrived at our border by bus. All this time we were blindfolded and with our hands tied. In addition, there was no understanding of where we were going. The first thought was that we are simply being staged in another colony, because Olenivka is almost on the front line. And all the time we were there, there was shelling. Thoughts that this could be an exchange appeared already when we were loaded onto the plane. He landed on a long runway, and then we traveled by bus for an hour to the border together with Russian special forces, who psychologically terrorized us all the way. In a purely human way, even - they were not allowed to go to the toilet for a day. I am not saying that they did not feed for a day and a half. Moreover, they emphasized all the time that any manifestation of disobedience would be shot on the spot. This, of course, did not improve the mood.
But then at the border, a man in a suit entered the bus, and when I heard Ukrainian, I realized that I was already in Ukraine. Then it became 21% clear that it was an exchange. I don't know what else in life can compare to this feeling. They got off the bus, saw the roadblock, the sign "Ukraine" and crossed over to our side. A person came out to meet me, asked my name and immediately handed me the phone. And the first person I talked to after being released from captivity was Andriy Vasyliovych Pavelko. It was both a greeting and support from him. I was simply shocked, because it was the evening of September XNUMX, and our national team was playing in Scotland on that very day. Andriy Vasyliovych was at the stadium in Glasgow and went on a video call. In Ukraine, we were met by volunteers, doctors — it was a crazy moment. Everyone greeted us and hugged us."
About being in captivity
"I won't make it up - the treatment of the doctors directly in Olenivka was not the worst. They dealt most harshly with people who directly held weapons in their hands. These are snipers, gunners, tankmen. With those whom the Russians considered guilty of the destruction of Mariupol or the death of civilians, as they said. Doctors were also asked a lot of questions. They were repeatedly taken for questioning. They asked about the presence of biolaboratories in Ukraine, about torture, about foreign instructors. Have we seen this or not. It was eerie every time the name was called and called somewhere.
The interrogations were built in such a way that you are guilty a priori. Guilty of the fact that you are Ukrainian. They called us nationalists, Bandera people, fascists. They considered us some right-wing radical elements. It was blamed that Mariupol was destroyed. I tried to dismiss it, because everything that happened is still in front of my eyes. I explained to them that there was no opportunity in Ukraine to cause such destruction to the city. They didn't really object, but explained that it happened because the marine brigade and the "Azov" regiment were simply occupying their positions, and they had no other way to knock them out.
In Olenivka, we were in barracks, in which there were 500-600 of us. And at first, all 800. In general, it was called the Volnova correctional colony. Since 2014, it has been preserved due to Olenivka's proximity to the demarcation line. But the Russian command expected a large number of prisoners and in 2022 it was canned. There were just rooms without beds. At first there was a bare concrete floor, and then they began to create some conditions. Some mattresses, beds. They called this territory the local sector, and it was impossible to go beyond it. There were also premises - classic pre-trial detention centers. Cameras with a window for food transfer. We only dreamed of freedom there and fully understood what it was worth. We were under psychological pressure all the time. They said, Ukraine will cease to exist, and we will take Kyiv in two or three days. Poland and Hungary are already in the western regions. A Russian doctor came and offered a job. If there is a positive answer, then right now we take away, change clothes, give work. But I didn't even listen to the end of his monologue. I said that I am ready to sit here for at least 10 years, but I don't like Russia."
About Steven Seagal's visit to Olenivka
"A week or a half after the explosion in Olenivka, the famous Hollywood actor Steven Seagal, a well-known friend of Vladimir Putin, came there and walked around the colony from one barrack to another. There were a lot of reporters, many escorts. And he displayed the wreckage of a rocket near each barracks - a fragment of the "Highmars". He emphasized that he was allegedly found near that premises, and this proves Ukraine's guilt. He said: "You see what your brothers are doing to you." But it was obvious to us that this was a propaganda move. By the way, the actor did not enter the barracks. Segal addressed us through the bars like animals."
About the most difficult thing in captivity
"Personally, the most difficult thing for me in captivity was the uncertainty. Even compared to ordinary criminals... They know what time they have to serve. They have a limit when they have to go free. This landmark would make our stay in captivity much easier. And we, especially after the explosion, came to understand that we are not captives of a civilized state, but of a terrorist state that has no moral principles. Every day was a risk for life."
About staying in Mariupol
"Until the last moment, I did not understand the scale of what I would see in Mariupol. The helicopter landed in the port of Mariupol, and it was a maddening contrast to the peaceful Dnieper. They immediately heard the sounds of explosions, unloaded weapons and soldiers, loaded the wounded, who were taken to the landing place. All this took 10 minutes. And all this time, everything that the Russians had worked in Mariupol. And just artillery, and ship artillery, and mortars, and grenade launchers, and aviation, and everything else. They were waiting and afraid of the arrival, but they still made it. Unfortunately, in the evening we learned that one of the helicopters with the wounded did not fly back. We were in a bunker in the port for a while. Then we were taken by motor boat across the estuary to Azovstal. We could have perished in complete darkness at any moment, but now it feels like a movie. But I want to make such an emphasis - we arrived as reinforcements, and those boys and girls who were there all the time are all worthy of the title of Hero of Ukraine. Lack of sleep, lack of rest were normal things for them. And what struck me was that no one even raised the question of being tired. It's just incredible self-sacrifice. As for the doctors, Mariupol became the limit of their work at the highest level."