Vbet League. "Dynamo" lost to "Zorya" at home, "Dnipro-1" beat "Veres" thanks to a goal by Pikhalyonka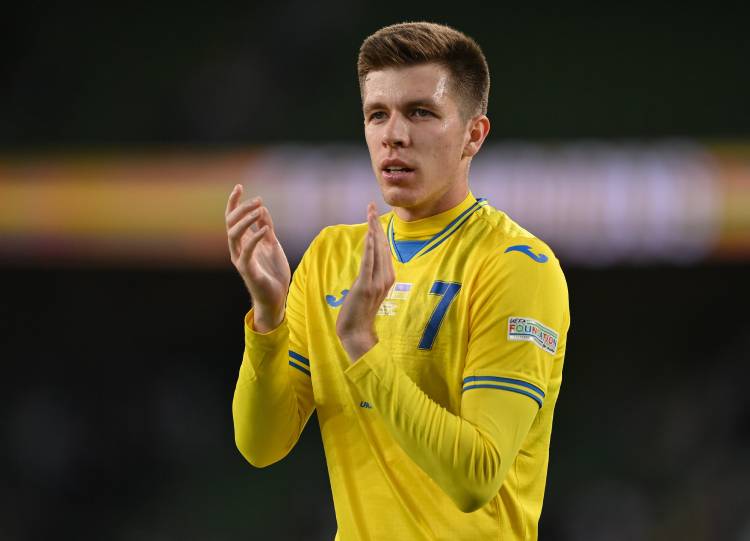 On Saturday, March 18, four matches of the 18th round of the championship of Ukraine took place The Ukrainian Premier League announced a Tour of Remembrance in honor of the representatives of the football fan community who died in the war.
In the central match, "Dynamo" lost at home to "Zora" (0:1), allowing it to break away from itself by four points. As part of Kyiv, football players took to the field, who got calls Ruslan Rotan for the March training of the national team, — Popov and Sydorchuk (yellow card).
Meanwhile, "Dnipro-1" beat "Veres" (1:0) in Rivne and returned to first place in the table. The players of the national team of Ukraine took part in the match: Svatok, Sarapii (yellow card), Pikhalyonok (goal, substituted in the 86th minute), Dovbyk.
Vbet League
18 round
17.03.2023
"Metalist" - "Alexandria" - 0:0
18.03.2023
"Vorskla" — "Metalist 1925" — 0:0
"Dynamo" — "Zorya" — 0:1 (0:0)
Goal: Guerrero (83).
"Lviv" — "Kryvbas" — 2:2 (0:1)
Goals: Bogunov (74), Belyaev (87) — Kapych (20, with a penalty, 78).
In the 74th minute, Bugai ("L") missed a penalty kick (goalkeeper).
Sent off: Tatarkov (42, "K").
"Veres" — "Dnipro-1" — 0:1 (0:1)
Goal: Pikhalyonok (10).
Standings
| | | | | | | | |
| --- | --- | --- | --- | --- | --- | --- | --- |
| | | G | W | D | L | GD | P |
| 1. | Dnipro-1 | 17 | 12 | 3 | 2 | 34-13 | 39 |
| 2. | Shakhtar | 16 | 12 | 3 | 1 | 43-12 | 39 |
| 3. | Zorya | 18 | 11 | 4 | 3 | 39-25 | 37 |
| 4. | Dynamo | 18 | 10 | 3 | 5 | 25-16 | 33 |
| 5. | Oleksandriya | 17 | 7 | 7 | 3 | 29-25 | 28 |
| 6. | Kolos | 17 | 6 | 5 | 6 | 15-19 | 23 |
| 7. | Kryvbas | 18 | 6 | 4 | 8 | 14-21 | 22 |
| 8. | Metalist 1925 | 18 | 4 | 9 | 5 | 17-28 | 21 |
| 9. | Vorskla | 18 | 5 | 5 | 8 | 22-25 | 20 |
| 10. | Inhulets | 16 | 5 | 4 | 7 | 16-19 | 19 |
| 11. | Veres | 18 | 5 | 3 | 10 | 20-26 | 18 |
| 12. | Rukh | 16 | 4 | 5 | 7 | 19-24 | 17 |
| 13. | Metalist | 18 | 4 | 5 | 9 | 17-27 | 17 |
| 14. | Chornomorets | 17 | 3 | 6 | 8 | 14-22 | 15 |
| 15. | Mynai | 17 | 3 | 6 | 8 | 12-21 | 15 |
| 16. | Lviv | 17 | 3 | 4 | 10 | 13-26 | 13 |
19.03.2023
"Ingulets" — "Chornomorets" (13.00)
Kolos - Minai (14.00)
Shakhtar vs Rukh (15.00)