The UEFA Pro-Diplomas were presented to a group of coaches at the Football House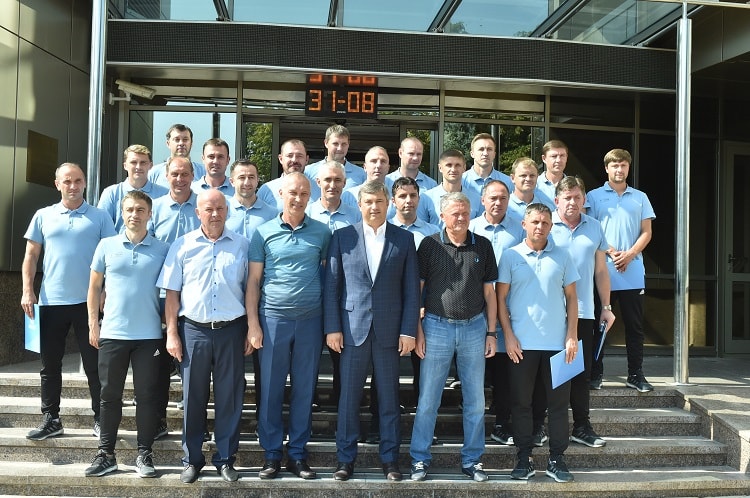 After two years of training under the UEFA Pro-Diploma program, domestic coaches received their UEFA diplomas. Relevant quality certificates were handed to them today at the Football House.
The award ceremony was opened by FFU Vice-President Vadym Kostyuchenko: "I am grateful to our colleagues from UEFA, representatives of foreign football unions, football clubs who sent and supported coaches, the leadership of the Ukrainian Premier League and the Professional Football League. I want to thank Mykola Pavlov for the high level at which the training took place. Thank you all for taking the time and desire to study. I wish victories to your teams, which you will represent in the future. "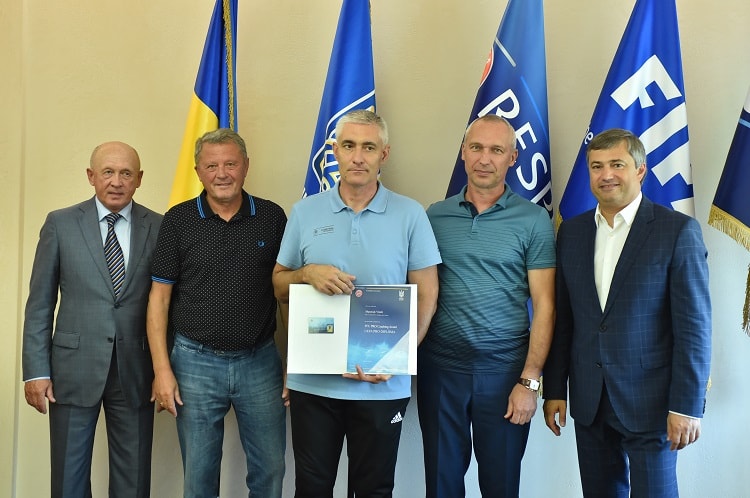 Photo by Pavlo Kubanov
FFU First Vice President Oleg Protasov called the receipt of Pro-diplomas a serious step in life and wished that these certificates "work". "Being a coach is a very interesting and creative job. Always look for something new and learn from colleagues. Modern footballers want to be taught, to be shown how to act on the field. I wish you to apply your knowledge and a successful football path, "Protasov said.
Myron Markevych, the Chairman of the Committee of National Teams of Ukraine, first mentioned his own coaching experience, and then addressed the specialists: "Congratulations on reaching a new level. I want your experience to increase and you to be part of a team where you will be understood and supported by the management. "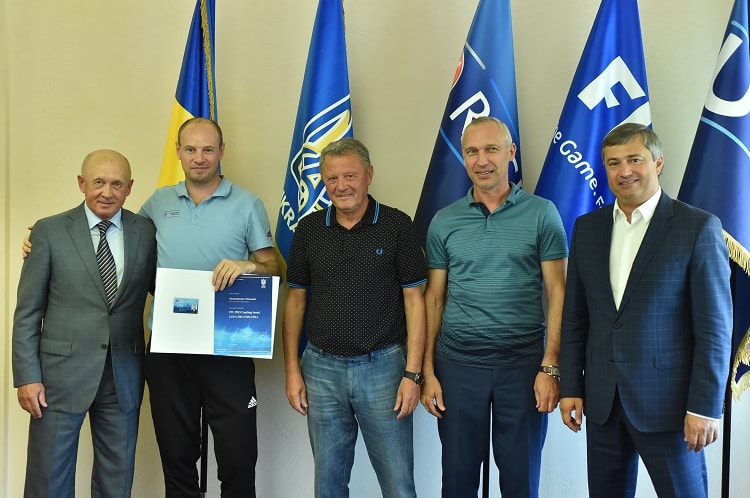 Photo by Pavlo Kubanov
Finally, the President of the All-Ukrainian Association of Football Coaches Mykola Pavlov made a parting speech: "I thank the Football Federation of Ukraine for the created conditions, for the opportunity for coaches to study, communicate and spend time together. I wish you good people in your life, because you can destroy something alone, and create - only by joint efforts.
List of coaches who have completed UEFA Pro-Diploma courses
Dmitry Abazadze
Bakhtadze David Avtandilovich
Berezovchuk Andriy Volodymyrovych
Wirth Yuriy Nikolaevich
Alexander Granovsky
Dzyuba Oleg Petrovich
Esme Louis
Yezerskyi Volodymyr Ivanovych
Kalinin Andriy Viktorovich
Maxim Kalinichenko
Kosovsky Vitaliy Vladislavovich
Mandrievsky Vadim Levkovich
Matviychenko Pavlo Vasilevich
Melashchenko Oleksandr Petrovych
Melikian Yegishe Melikovich
Monarev Roman Gennadiyovich
Nagornyak Sergiy Mykolayovych
Soldatov Sergey
Andrii Tlumak
Maxim Shatskikh
Vitaliy Spaniuk
After receiving the diplomas, the head of the group Volodymyr Yezerskyi thanked the organizers and leaders: "Many thanks to Mykola Petrovich and his team. Now we have the opportunity to apply the acquired knowledge and skills in practice. Thank you for taking the time, as coaches, we will always be equal to you. "