Ukraine national team profile. Guardsmen: in the top 10 there are three players from the team of Andriy Shevchenko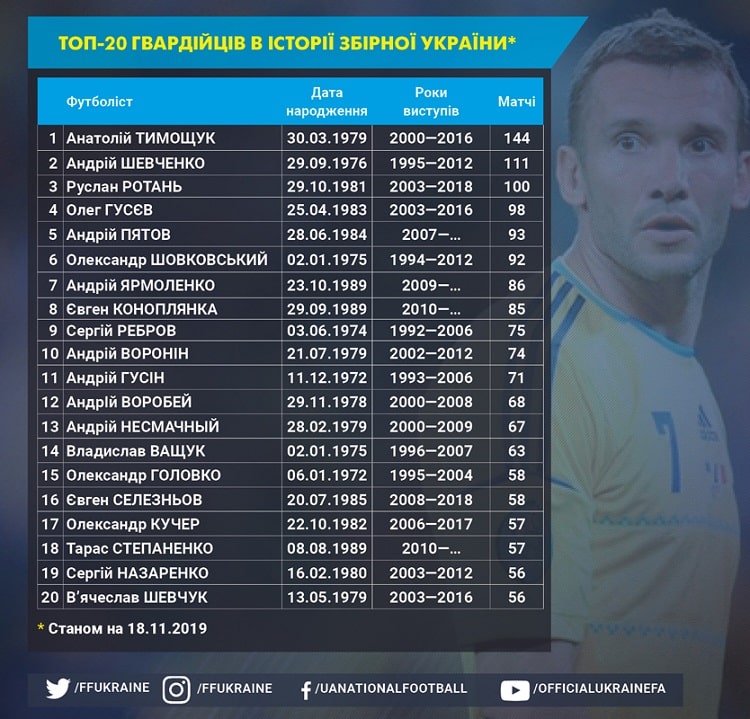 The current head coach of the national team of Ukraine Andriy Shevchenko ranks second in the list of players who have played the most matches as part of the national team. He has 111 fights.
There are currently three wards in the top 10 of the registry Andrii Shevchenko's results — Andrii Pyatov, Andrii Yarmolenko and Eugene Konoplianka.
After the matches that the national team of Ukraine held in November 2019 against Estonia points and Serbia points, Yarmolenko brought the number of his matches in the blue-yellow team to 86, which allowed him to overtake Konoplyanka, who played both matches in reserve.
And for Pyatov, the duel with Serbia became significant. Currently, the captain has 93 matches for the national team, which brought him to the fifth place in the historical register. Interestingly, our goalkeeper has already outplayed one game of his former colleague, and now - one of the national team coaches of Oleksandr Shovkovskyi.