Euro 2020. Eight steps of Ukraine to the final tournament: the devastating defeat of Serbia in Lviv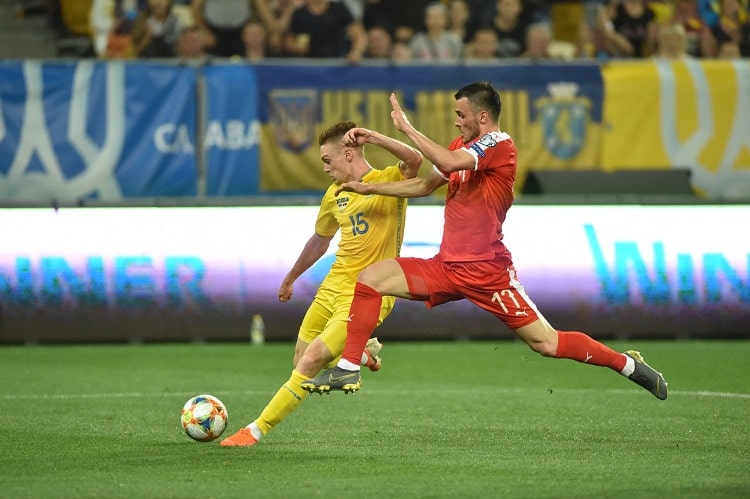 In the third match of the 2020 European Championship qualifying tournament, which was officially postponed to 2021, the Ukrainian national team in Lviv literally destroyed Serbia.
...Ближче до середини першого тайму гості налагодили контроль м'яча, але чіткі дії синьо-жовтих у захисті не дозволяли потенційно небезпечним ситуаціям біля воріт Пятова перетворитися на дійсно фатальні. Але й господарі, демонструючи чітку структуру гри в атаці, будували свої наступальні комбінації та регулярно наближалися до володінь Дмитровича — і врешті-решт досягли свого.
Маліновський віддав на Караваєва, захисник пройшов із м'ячем уперед та прострілив у центр штрафного, де набігав Циганков. Удар Віктора низом був невідпорним. 1:0. Не пройшло й двох хвилин, як Яремчук відібрав м'яч у центрі поля в Коларова та виконав відмінну передачу на хід Циганкову, який з-за меж штрафного влучив у дальній верхній кут. 2:0.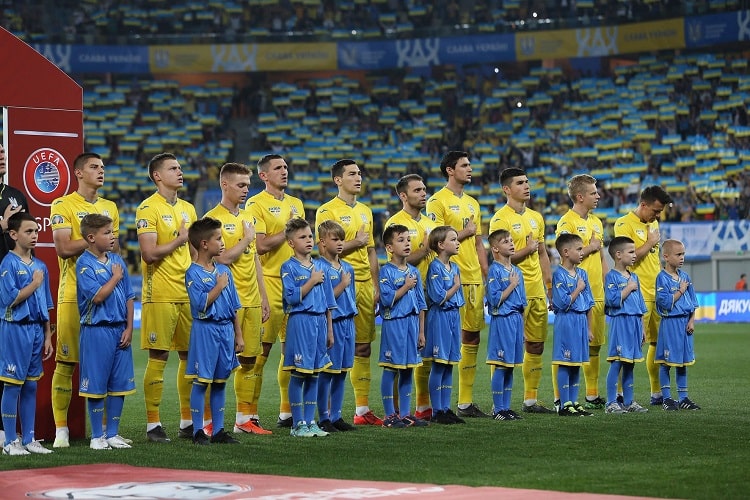 Photo by Pavlo Kubanov
Початок другого тайму додав господарям ще більше оптимізму. Знову відмінно спрацювала середня лінія синьо-жовтих: Маліновський пройшов із м'ячем та віддав на Коноплянку, а Євген завдав свого фірмового удару з-за меж штрафного низом у дальній кут, зробивши рахунок 3:0.
Але й цього українським збірникам здалося замало. Гра їм давалася, суперник виглядав розгубленим, тож вони продовжували плести свої комбінації. І, як наслідок, Яремчук оформив свій перший гол за національну команду, влучно пробивши в дотик після флангового прострілу Караваєва. А потім свій другий м'яч забив ще й Коноплянка, якого відправив у відрив пасом зі своєї половини поля Маліновський. Після того, як рахунок став 5:0, стадіон влаштував довгі, абсолютно заслужені овації головному тренеру збірної України Андрію Шевченку.
Україна – Сербія – 5:0 (2:0)
Goals: Tsyhankov (26, 28), Konoplyanka (46, 75), Yaremchuk (59).
Ukraine: Pyatov (k), Mykolenko, Matviyenko, Kryvtsov, Karavayev, Stepanenko (Shepelyev, 72), Zinchenko, Malinovskyi, Konoplyanka (Kovalenko, 76), Tsyhankov, Yaremchuk (A. Kravets, 67). Substitutions: Pankov, Lunin, Butko, Sobol, Burda, Bezus, Besedin, Plastun, Swede.
Serbia: Dmitrovic, Milenkovic, Spajic, Kolarov (k), Gacinovic, Ljajic (Feis, 60), Tadic, Maksimovic, Kostic, Jovic (Lazovic, 72), Prijovic (A. Mitrovic, 53). Substitutions: Raykovich, Vasilevich, Rukavina, Miletic, Zivkovich, S. Mitrovich, Katai, Radonich, Lukich.
Referee: Antonio Matteo Laos (Spain). Booked: Milenkovic (22), Spajic (32).
June 7, 2019. Lviv. Arena Lviv Stadium. 34 spectators.
After the match
Andrii Shevchenko (head coach of the national team of Ukraine): «Переломний момент сьогодні був, коли ми зуміли реалізувати свої можливості. Потім ми мали перевагу в рахунку, серби були вимушені відкривати зони. Рахунок великий, але він не має значення, для нас важлива була перемога. Так, ми провели гарний матч. Але в сербів чудова команда, й у нас буде важка гра на виїзді. Зараз в Європі не залишилося слабких команд. Якщо ти втратив п'ять—сім відсотків своєї форми, уже буде дуже важко».
Yevhen Konoplyanka (Ukraine midfielder): «Емоції переповнюють, не можу їх передати словами. Ми виконували план на гру, який обрали наші тренери. Ми відчували один одного, розуміли, що якщо на полі хтось опускається, то потрібно підніматися. Тут як у танцях — необхідно було відчувати партнера».
Viktor Tsygankov (Ukraine midfielder): «Грати на такому стадіоні — одне задоволення. Спасибі нашим уболівальникам. Сподіваюся, усій країні сподобалося, як ми зіграли й домоглися такого пристойного результату. Вітаю всю Україну із цією перемогою».