Karavaev and Shaparenko told about the arrival of Dynamo to the camp of the national team of Ukraine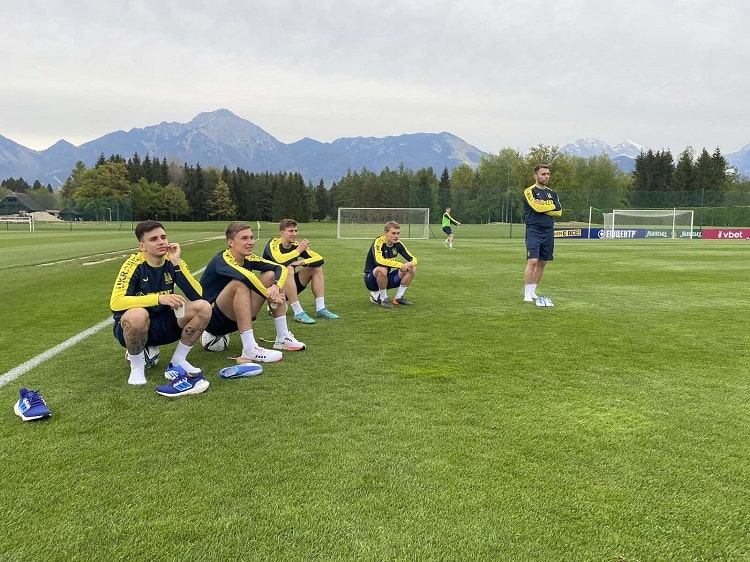 Players of the national team of Ukraine from Dynamo Kyiv commented on the start of work at the training camp in Slovenia.
On May 1, the national team of Ukraine started preparing to the playoff matches of the 2022 World Cup and the League of Nations. Later to the team joined players of Dynamo Kyiv, who held on May 4 charity match against the Swiss "Basel". Defender Oleksandr Karavayev and midfielder Mykola Shaparenko shared their emotions after arriving at the location of the blue and yellows.
Oleksandr Karavayev: "We've been flying since the morning, so it's a little difficult. But let's rest and be ready. As for the match with Basel, he, like everyone else, was charitable. Emotions overwhelm when we win and know why we are fighting. The funds raised go to help our compatriots.
When we win, it adds optimism and desire to win. During the charity games we see how many Ukrainians come, how they support us. This is very good. The idea of ​​our fastest victory is growing. Everyone sees how united not only our people, but also all other nations that help us.
No workout will replace the game. Even if it's a charity or exhibition match, it's completely different emotions, conditions, you feel the rhythm of the game. That's why you get in shape through matches.
We know why we are going to the national team. Every day in training, and then in games, we will give our all to win. Just as our soldiers are defending our country, so we will give our all on the football field. That's the best thing we can do. "
Mykola Shaparenko: "I am very happy to return to the national team, train and prepare for our main match, which will take place on June 1. We have good conditions, we had a good meeting in Bucharest, we had good sparring matches. We immediately got to work - one day break, and then training.
My relatives are more or less safe. Every day I communicate with them, find out about the situation, whether everything is fine. All the Ukrainian people are waiting for the victory of the national team, so we will try not to let them down. "
It will be recalled that the match of the semi-finals of the 1 World Cup qualifiers between the national teams of Scotland and Ukraine is scheduled for June 2 in Glasgow at the Hampden Park Stadium.