UAF appealed to UEFA regarding information regarding the possible holding of a football tournament on the territory of a terrorist country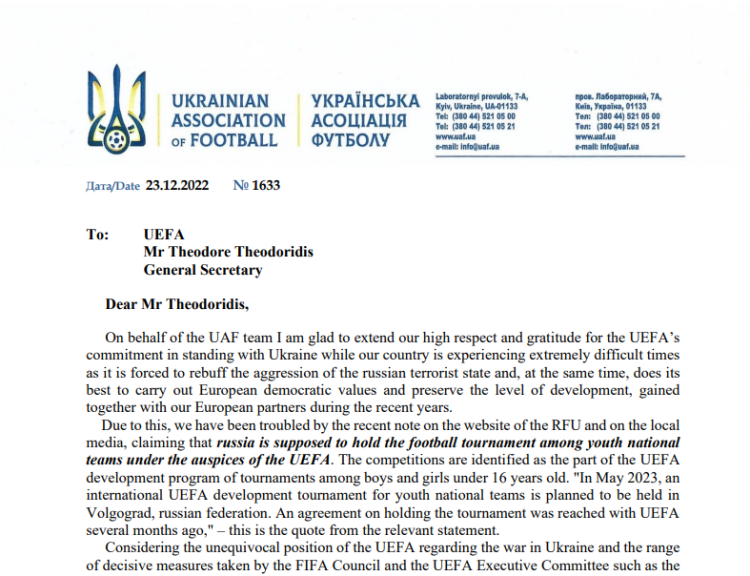 Information about possible tournament under the auspices of the Union of European Football Associations on the territory of the terrorist country.
In this regard, UAF asked UEFA for clarification. The letter addressed to the Secretary General of the organization, Theodor Theodoridis, reads, in particular:
"We were particularly concerned by the recent news on the RFS website and in local media that Russia will host a football tournament among youth national teams under the auspices of UEFA. The competition is defined as part of the UEFA development program for holding tournaments among boys and girls under 16 years of age. "In May 2023, an international UEFA development tournament for youth national teams is planned to be held in Volgograd. An agreement on the holding of the tournament was reached with UEFA several months ago," the corresponding publication reads.
Taking into account the unequivocal position of UEFA regarding the war in Ukraine and a number of decisive measures taken by the FIFA Council and the UEFA Executive Committee - such as the decision to suspend Russian teams (both national teams and club teams) from participation in both FIFA and UEFA competitions , which was adopted in the early days of the war, and the equivalent provisions for the next season - 2022/2023, adopted later, during the meeting of the UEFA Executive Committee in May 2022 - if the above statement from the RFC is true, this tournament will be the first international event held in the aggressor country since the beginning of the war in Ukraine, condemned by the entire civilized world, and in fact will be a violation of the sanctions justly imposed by FIFA and UEFA on Russia. We sincerely believe that the RFS statement mentioned above is false, and we ask for confirmation of this."