Roman Yaremchuk - star guest at LAVINA MALL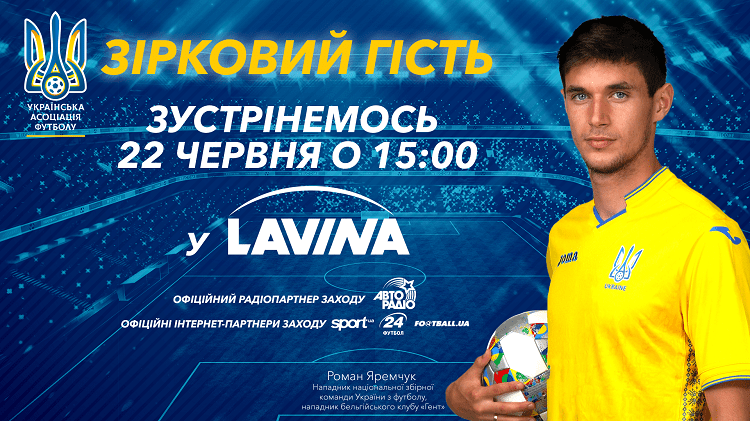 After two victorious matches in Lviv (with Serbia - 5:0 and Luxembourg - 1:0) the national team of Ukraine takes first place in its selection group of the European Championship 2020. And the players of the team - go on a well-deserved rest.
But first, the hero of both matches, the author of one of the goals in the match against Serbia and the only winning goal for Luxembourg, Roman Yaremchuk, will visit "LAVINA MALL".
The novel will be the second hero of the "Star Guest" project, implemented by the Ukrainian Football Association and LAVINA MALL.
On June 22 at 15.00 on the main stage "LAVINA MALL" (near the amusement park "Galaxy") all visitors of the shopping center will be able to personally communicate with the new football legend! Get autographs, take your dream photos, become participants in branded master classes from Roman Yaremchuk and take part in the prize draw!
Visit the LAVINA MALL shopping mall and meet your idol! Who knows, maybe Roman will visit the event more than one…
So, on June 22, "LAVINA MALL" will become the center of football events! And you have to be a part of them!
certificate
Lavina Shopping and Entertainment Center is the largest shopping and entertainment center in Ukraine, which recently turned one year old. Modern futuristic design, large spaces, unique store formats, the latest cinemas, unusual attractions, food courts for all tastes and a constant holiday atmosphere thanks to themed events, star concerts and special offers. This is a new format of shopping and entertainment that you should definitely try!
Address: Kyiv, str. Berdovetskaya 6d (Novobilichi).
Hotline telephone: 044 333 46 12.