2019: results of the year for U-19 youth team of Ukraine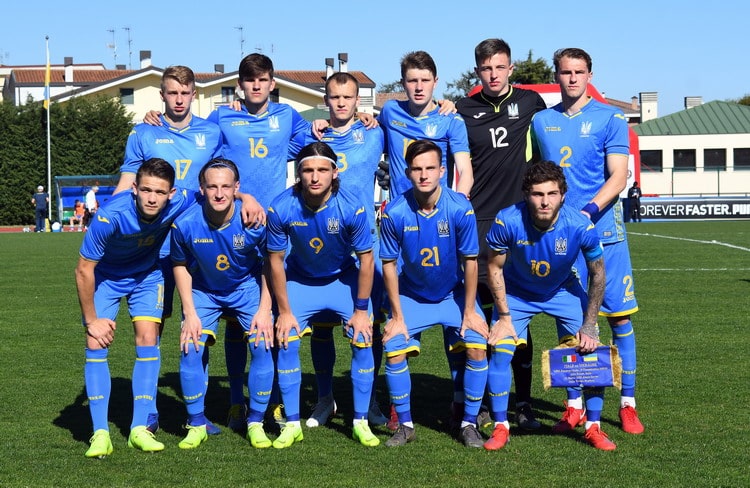 Previously, the national team of 1999 birth was terminated by another youth national team of Ukraine - made up of football players in 2000. She failed to pass the elite round of the Euro 2019 qualifying round and at the end of March only managed to knock the door very loudly. Apparently, the Belgians did not expect this.
After an unsuccessful start in the group tournament (in both matches - with Serbia and Italy - Georgy Tsitaishvili scored first, but failed to hold the lead) Sergei Nagornyak's team came together with strength and did not let Belgium go to the final tournament. The opponent needed a victory, the Ukrainians did not give up - 0: 1, 1: 1, 2: 1, 2: 2. By the 88th minute it was a draw, and the final part of the match turned for the Belgians to horror. The Ukrainian national team scored in the 88th, 92nd and 94th minutes and won by a big score.
And the final tournament was the Italians, who ended up performing unsuccessfully and did not leave the group.
U-19 Youth Team of Ukraine in 2019
U-19 matches
date

Status

Opponent

Score

Goals

26.02.2019

sociable

Israel

3:0 noon CEST

Wise, Kashchuk, Sikan

28.02.2019

sociable

Israel

0:4 noon CEST

20.03.2019

of UEFA EURO 2019

(elite selection round)

Serbia

2:2 noon CEST

Titoishvili, Sikan

23.03.2019

of UEFA EURO 2019

(elite selection round)

Italy

1:3 noon CEST

Titoishvili

26.03.2019

of UEFA EURO 2019

(elite selection round)

Belgium

5:2 noon CEST

Cold, Snurnicin, Wise (2), Titaishvili
Before the elite round there was a change of coach: Serhiy Popov, with whom the team played in the final tournament of Euro-2017 (U-17), in January 2019, accepted the offer to enter the coaching staff of "Dawn". He was replaced by Serhiy Nagornyak, who needed time to get acquainted with the potential of the players, to create a team in accordance with their views and to heat the composition. But, unfortunately, there were no opportunities for this, because to collect football players to the national team during the winter meeting in the current conditions is impossible.
Part of the players of this team went to the U-2019 World Cup in May 20, and the players of 2001 birth have a chance to prove themselves under the leadership of Oleg Kuznetsov selection of the Euro 2020 (U-19).
Team composition
| | | | | | |
| --- | --- | --- | --- | --- | --- |
| Goalkeepers | Date of birth | Club | Games | Minutes | Goals |
| | 01.08.2001 | Shakhtar | 3 | 270 | 7c |
| | 21.02.2000 | Karpaty | 1 | 90 | 4c |
| | 01.05.2000 | Donetsk | 1 | 90 | 0c |
| Defenders | Date of birth | Club | Games | Minutes | Goals |
| | 03.02.2000 | Shakhtar | 5 | 450 | 0 |
| | 23.09.2000 | Karpaty | 4 | 360 | 0 |
| | 28.02.2000 | Zorya Luhansk | 4 | 293 | 0 |
| | 07.03.2000 | Donetsk | 3 | 253 | 1 |
| | 05.02.2001 | Dynamo | 2 | 107 | 0 |
| | 03.01.2000 | Karpaty | 2 | 101 | 0 |
| | 21.02.2000 | Lviv | 2 | 56 | 0 |
| Midfielders | Date of birth | Club | Games | Minutes | Goals |
| | 06.10.2000 | Shakhtar | 5 | 348 | 0 |
| | 29.06.2000 | Shakhtar | 5 | 343 | 1 |
| | 05.01.2001 | Arsenal | 5 | 291 | 3 |
| | 21.08.2000 | Shakhtar | 5 | 214 | 0 |
| | 22.01.2000 | Shakhtar | 4 | 292 | 1 |
| | 18.11.2000 | Dynamo | 3 | 270 | 3 |
| | 02.02.2000 | Lviv | 3 | 265 | 0 |
| | 12.02.2001 | Karpaty | 3 | 78 | 0 |
| | 12.01.2000 | Dynamo | 2 | 180 | 0 |
| | 01.03.2001 | Dynamo | 2 | 101 | 0 |
| | 11.04.2001 | Dynamo | 1 | 19 | 0 |
| Forwards | Date of birth | Club | Games | Minutes | Goals |
| | 16.04.2001 | Mariupol. | 4 | 331 | 2 |
| | 24.05.2000 | Victoria (Germany) | 2 | 108 | 0 |
| | 18.01.2000 | Shakhtar | 2 | 21 | 0 |
| | 15.02.2000 | Dynamo | 1 | 19 | 0 |
| Coach | Date of birth |   | Games |   |   |
| | 05.09.1971 | | 5 |   | |