Nataliya Zinchenko: After a bad start, my wards no longer have the right for mistake, every game is like a final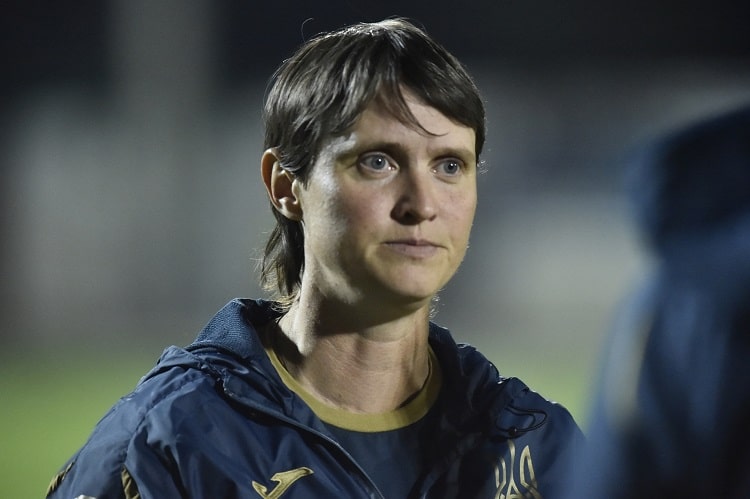 In the qualifying round of Euro-2022, the women's national team of Ukraine got two victories in a row, over Montenegro (3: 1) and Greece (4: 0), and continues to claim a place in the finals.
— Після невдалого старту мої підопічні вже не мають права на помилку, для них кожен поєдинок — немов фінальний, — сказала головний тренер жіночої збірної України Наталія Зінченко в коментарі офіційному сайту УАФ. — Ось чому на ці протистояння дівчат не треба було особливо налаштовувати. План був один — виходити на поле й перемагати…
— І все ж протягом матчу в Чорногорії опонентки чимось здивували?
— Ні. Вони діяли в притаманному їм стилі, намагаючись нав'язати нам жорстку боротьбу на кожному клаптику поля. Якщо відверто, то більше дошкуляв сильний вітер, треба було бути готовими до його вибриків. У першому таймі він був нашим союзником, після перерви, навпаки, грав уже за балканок. За рахунку 0:2 чорногорки взяли на озброєння довгі передачі ледь не від свого штрафного майданчика, і відбиватися від їхніх наскоків було нелегко.
— А пропущений гол не викликав у вас побоювання за підсумковий результат?
— Ні, бо перевага в класі України все ж відчувалася. Що ж до пропущеного м'яча, то він став наслідком втрати концентрації нашими захисниками при розіграші стандартного положення. Проте, як і слід було очікувати, ця відносна невдача тільки згуртувала моїх підопічних, і вони додали обертів, атакуючи суперника вже на його половині поля. Невдовзі м'яч утретє опинився в сітці воріт господарок, і питання про переможця можна було зняти з порядку денного.
— Наступний суперник, Греція, був значно серйознішим. Як ви готувалися до цього двобою?
— Повернулися до Києва чартером із Подгориці 19 вересня і проводили тренування на заміській базі «Оболоні» в Бучі.
— Якою інформацією про опонента володіли?
— Переглянули відеозаписи останніх матчів гречанок — з Ірландією та Німеччиною. Вони діяли в дещо іншій манері, ніж чорногорки: намагалися контролювати м'яч, проводити багатоходові комбінації. Є в їхньому складі й футболістки, що виступають за закордонні клуби. Отже, гречанок не можна було недооцінювати.
— Порівняно з поєдинком із чорногорками у стартовому складі з Грецією з'явилися відразу чотири нові гравці…
— Заміна Натії Панцулаї була вимушеною, вона в Подгориці отримала чергове попередження й уже не могла нам допомогти. Але оскільки у збірної України є два рівноцінні склади, то ротація нас не лякала. Тим паче, що ми збиралися взяти на озброєння високий пресинг, аби ускладнити гречанкам контроль над м'ячем, і важливо було, аби всі гравці були максимально готовими фізично.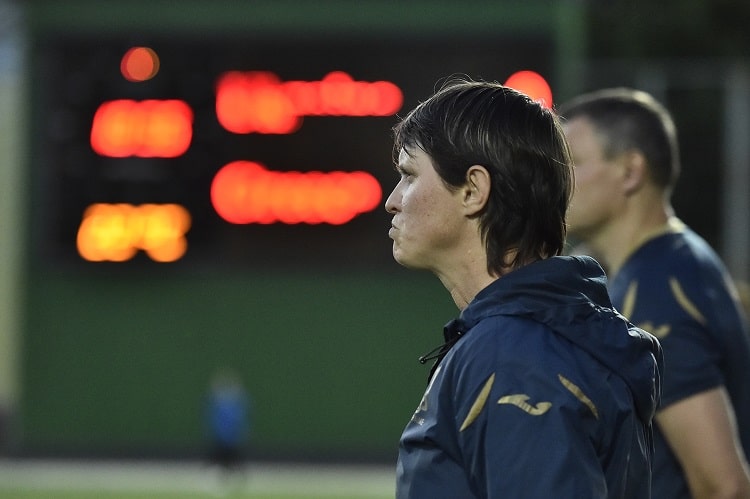 Photo by Pavlo Kubanov
— Поєдинок із Грецією складався непросто, але ситуація на полі кардинально змінилася після появи в другому таймі Ніколь Козлової…
— Козлова — універсальний гравець, у Подгориці вона діяла на вістрі атаки, виконала великий обсяг чорнової роботи, дещо втомилася, і тому ми вирішили, що із Грецією вона у старті не вийде. Але коли я відчула, що треба підсилити лівий фланг півзахисту, то кинула в бій саме Ніколь. І вона не підвела, двічі замикала гострі передачі партнерок, оформивши дубль. Відрадно, що мої підопічні на цьому не зупинилися, вони нагнітали темп і, скориставшись утомою своїх візаві, довели справу до розгрому.
— Кого б ви виділили серед своїх гравців?
— Я цього ніколи не роблю, у поєдинках із Чорногорією та Грецією ми були сильні командою.
— Що далі?
— Знову зберемося в Києві 19 жовтня для підготовки до наступних поєдинків відбору — домашнього з Ірландією та виїзного з Грецією. Буде важко, але завдяки неймовірній самовіддачі, сподіваюся, ми зможемо досягти бажаного…
Group standings I
| | | | | | | | |
| --- | --- | --- | --- | --- | --- | --- | --- |
| | | І | В | Н | П | М | О |
| 1 | Germany | 6 | 6 | 0 | 0 | 37-0 | 18 |
| 2 | Ireland | 6 | 4 | 1 | 1 | 10-6 | 13 |
| 3 | Ukraine | 5 | 2 | 0 | 3 | 9-20 | 6 |
| 4 | Greece | 5 | 1 | 1 | 3 | 5-11 | 4 |
| 5 | Montenegro | 6 | 0 | 0 | 6 | 1-25 | 0 |
Matches remaining in the Euro-2022 qualification in Group I.
22.10.2020/XNUMX/XNUMX Greece - Montenegro
23.10.2020 Ukraine - Ireland
27.10.2020/XNUMX/XNUMX Greece - Ukraine
28.11.2020/XNUMX/XNUMX Germany - Greece
01.12.2020 Ukraine - Montenegro
01.12.2020/XNUMX/XNUMX Ireland - Germany
Of the 47 teams participating in the Euro qualifiers, 15 will reach the decisive stage. Nine winners of the selected groups and the top three second teams will join England as the host of the European Championship. Six more teams, which will be second in their groups, will play in the last three matches in head-to-head matches. These matches will take place on April 5-13, 2021.