Premier League. Devastating victories of Dynamo and Zorya, a draw between Ingulets and Kolos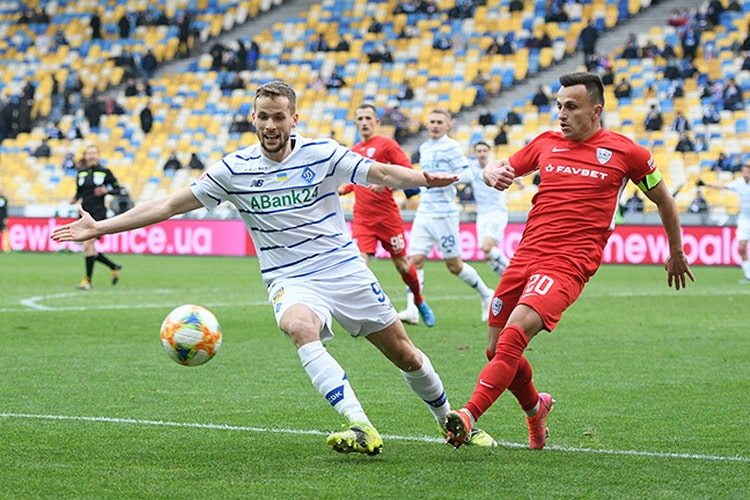 Following the matches of the 17th round of the Premier League, which were played today, Dynamo increased the gap from Shakhtar to four points, and Zorya broke away from Vorskla by the same distance.
The match between Dynamo and Minai was supposed to take place in Uzhhorod, but due to the deteriorating epidemiological situation in Zakarpattia, it was moved to Kyiv. At the NSC "Olympic" the guests lasted the whole half, but at the beginning of the second 45 minutes it rained. First, Sidorchuk scored a powerful shot from medium distance after Kendzora's discount, and then de Pena scored from the penalty spot. Moreover, Malepe's foul, after which this standard was set, also led to the withdrawal of the South African legionnaire Minaya. The final score was set by Rodriguez from the penalty spot in the 11th minute.
Kyiv not only increased the distance from Shakhtar in the table to quite comfortable four points, but also received a charge of positive emotions before the match 1/8 finals of the Europa League with "Villarreal".
As part of Dynamo, footballers came on the field, called up to the august's gathering of the national team of Ukraine: Bushchan, Mykolenko (replaced in the 82nd minute), Zabarny, Sirota, Sidorchuk (goal), Shaparenko (replaced in the 64th minute), Shepelev (replaced in the 64th minute), Karavaev, Besedin .
The gap between Zorya and Vorskla is four points from now on. However, this is when it comes to the struggle for bronze. After all, the distance between Luhansk and Shakhtar, which is second, is measured by the same figures. Today FC Lviv, which arrived in Zaporizhia after another change on the coaching staff, failed to compete with the hosts in the first match of Anatoliy Bezsmertny at the head of the "citizens". Already in the first half, Allahyar and Gladky scored a double. As a result - 4: 0 in favor of Viktor Skrypnyk's team.
Another today's match, between Ingults and Kolos, ended in a goalless draw. At the end of the match, Orikhovsky could have brought victory to the guests, but lost to the home team's goalkeeper Malysh.
17 round
06.03.2021
Mariupol - Vorskla - 0: 1 (0: 1)
Olympic - Shakhtar - 0: 1 (0: 1)
07.03.2021
Dynamo - Minai - 3: 0 (0: 0)
Goals: Sidorchuk (52), where Pena (56), Rodriguez (90, from the penalty spot).
Sent off: Malepe (54, "M").
Zorya - Lviv - 4: 0 (4: 0)
Goals: Smooth (9, 16), Allah (13, 39).
Ingulets - Kolos - 0: 0
In the 87th minute Orikhovsky ("K") missed a penalty.
Standings
| | | | | | | | |
| --- | --- | --- | --- | --- | --- | --- | --- |
| | | G | W | D | L | GD | О |
| 1. | Dynamo | 17 | 12 | 4 | 1 | 36-13 | 40 |
| 2. | Shakhtar | 17 | 10 | 6 | 1 | 36-12 | 36 |
| 3. | Zorya | 16 | 9 | 5 | 2 | 31-11 | 32 |
| 4. | Vorskla | 17 | 7 | 7 | 3 | 24-14 | 28 |
| 5. | Desna | 16 | 7 | 6 | 3 | 23-14 | 27 |
| 6. | Kolos | 17 | 5 | 8 | 4 | 21-18 | 23 |
| 7. | Oleksandriya | 16 | 6 | 4 | 6 | 24-21 | 22 |
| 8. | Olimpik | 16 | 5 | 2 | 9 | 22-28 | 17 |
| 9. | Mariupol | 17 | 4 | 5 | 8 | 16-24 | 17 |
| 10. | Dnipro-1 | 16 | 4 | 3 | 9 | 22-30 | 15 |
| 11. | Inhulets | 17 | 1 | 10 | 6 | 15-27 | 13 |
| 12. | Rukh | 16 | 2 | 7 | 7 | 15-27 | 13 |
| 13. | Mynai | 16 | 3 | 4 | 9 | 12-32 | 13 |
| 14. | Lviv | 16 | 3 | 3 | 10 | 11-37 | 12 |
08.03.2021
Rukh - Desna (14.00)
"Dnipro-1" - "Alexandria" (14.00)